Rachel Ashwell is relieved summer is over and fall has arrived. "Fall followed by winter are my favorite seasons of the year," Ashwell says. "I'm thrilled the day after Labor Day." She loves the cooler weather, the crunch of leaves under her feet, and finds fall to be a time when the hustle and bustle of summer quiets down. The British-born Ashwell likes to live by the rhythm of natural light, and as the days get shorter, the opportunity to go inward and reflect suits her temperament just fine.
Fall home decor
It's also a time for a fresh start, when structure reasserts itself and we resume our regular lives and routines, she says, and that can start with home décor. "The fall gives you the inspiration to add a layer of a warmer, kind of smokier palette."
When you have an intimate setting, it inspires meaningful, authentic, and interesting conversation.
Rachel Ashwell
Her classic Shabby Chic® shades of pastel pinks, blues, and greens go from lighter hues to jewel tones like raspberry, plum, violet, teal, and sage. "So the palette stays in the same lane," she says. At home, she adds a layer back to her windows, whether with velvet puddling curtains (very English) or muted floral window treatments. She pulls out the winter slipcovers and stacks her favorite cashmere and faux fur throws. "It's both a functional and an aesthetic change," she says.
That goes for bedding, too. Layering comforters and duvets is a practical and pleasing way to spruce and can help save a little on the heating bill as well. Lighting can be a cozy, too. "I'm big on having lamps around that give a beautiful romantic light. I buy bulbs in the 15 to 40 watt range for my lamps, unless they're for reading. I'm very much about where practical meets aesthetic in a mood."
Fall floral design at home
Decorating with flowers in the fall gets a little trickier, as the season is not exactly blooming season. "Obviously, in fall, we think of oranges and greens, but that's not my palette," Ashwell says. So, she brings in a lot of dried, smoky-colored hydrangea. Just be sure to toss dried flowers after a while, she says, adding, "There's nothing worse going into someone's home and seeing dusty, old dried flowers that have been in a vase for five years."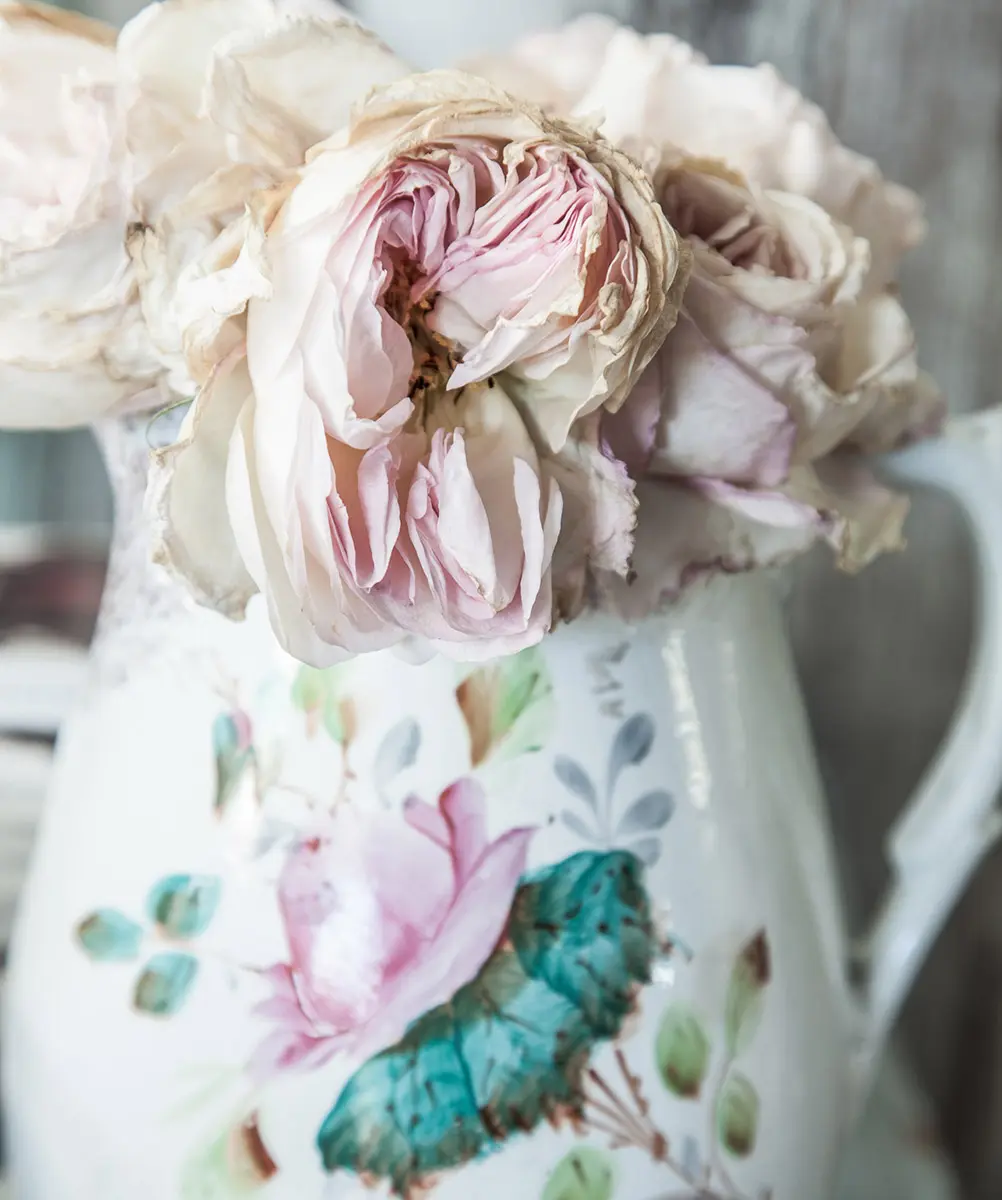 Ashwell is also a huge fan of fake flowers. Yes, fake. She even designs a line of them. "I consider fake flowers to be forever flowers," she says. "You can bring in the flowers you love all year round, which is especially helpful in these seasons where color and availability are more restrictive."
A rose is a rose…
The supermarket doesn't take the place of a garden, but it can fill in with roses. Of course, Ashwell loves garden roses way more than a hothouse variety, but if that's all she can find, "I just cut the stems and remove all the leaves of six hothouse roses so that all you see is a jar or vase of blossoms. Sometimes, they do open quite beautifully. I don't poo-poo them."
The same goes for carnations; though she doesn't go for the red varietals, she loves the white, minus the greenery. "It's all about the vase filled with buds."
Decorating the table for fall gatherings
Ashwell also sees the fall as an opportunity for gathering close family and friends, "to talk about what the summer was, what the fall opportunities are, what your fall intentions are." She prefers gathering six or eight people, not 50, so guests can really talk and share. "When you have that intimate setting, it inspires meaningful, authentic, and interesting conversation." She will often have a theme, game, or question for guests to inspire and act as an ice-breaker.
To create an intimate setting, Ashwell relies on her cherished items to evoke abundance. When she has a small dinner party, she places fabric runners in her fall palette of smoky jewel tones on the length and width of the table, sets places often with placemats she has designed, and stacks vintage plates on a side table along with a basket filled with extra napkins. "I let my extra vintage dinnerware be part of the décor without the table itself having to be more than what's needed." A practical tip? Ashwell suggests using vintage pieces as décor and chargers but serving food on plain white plates.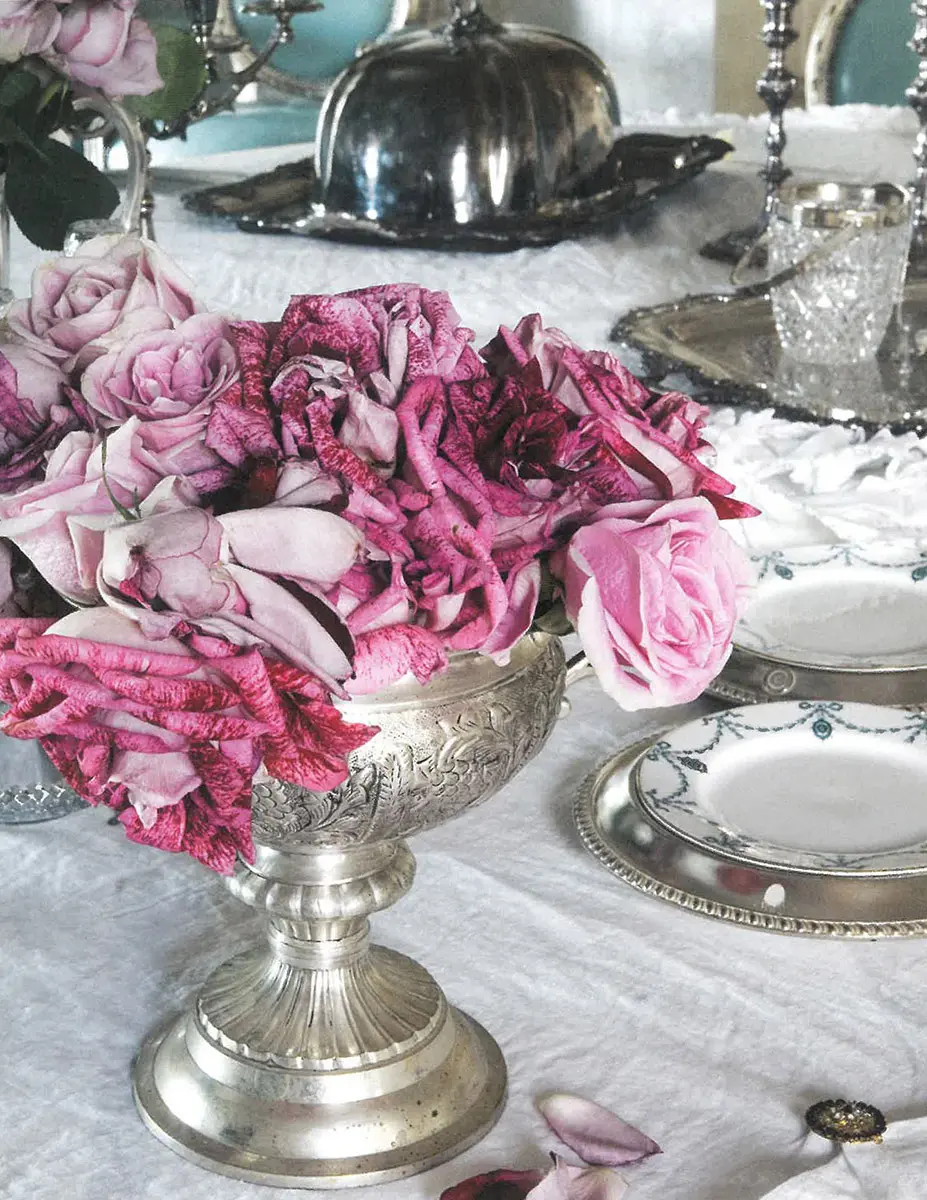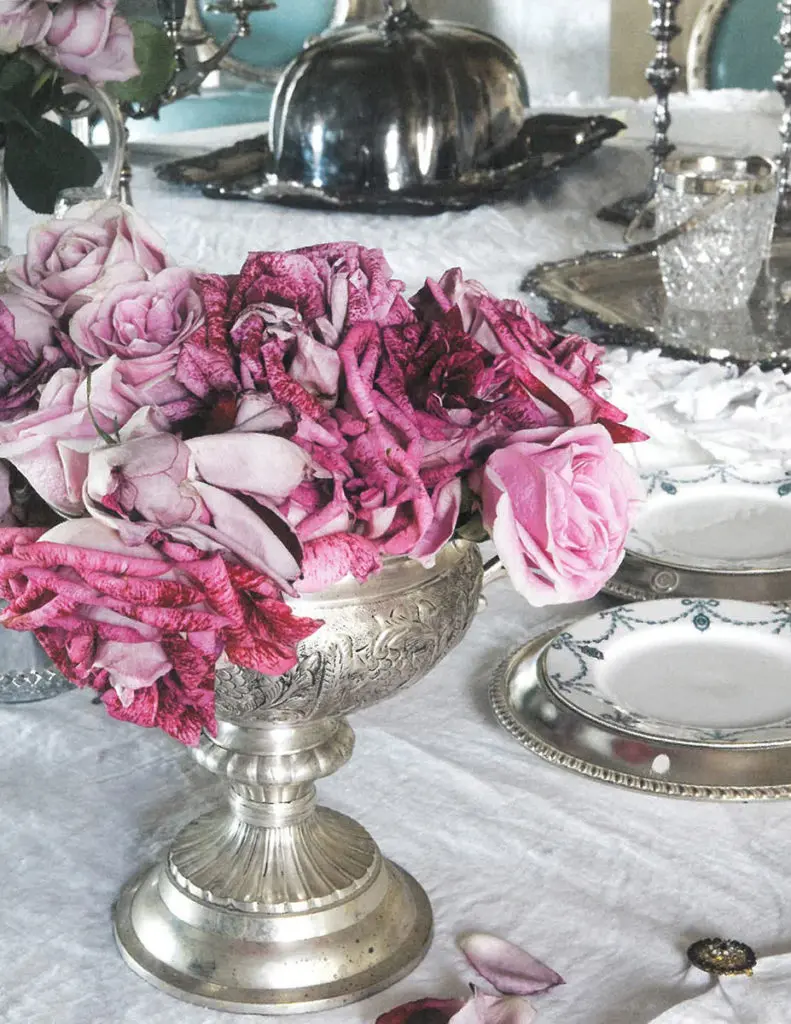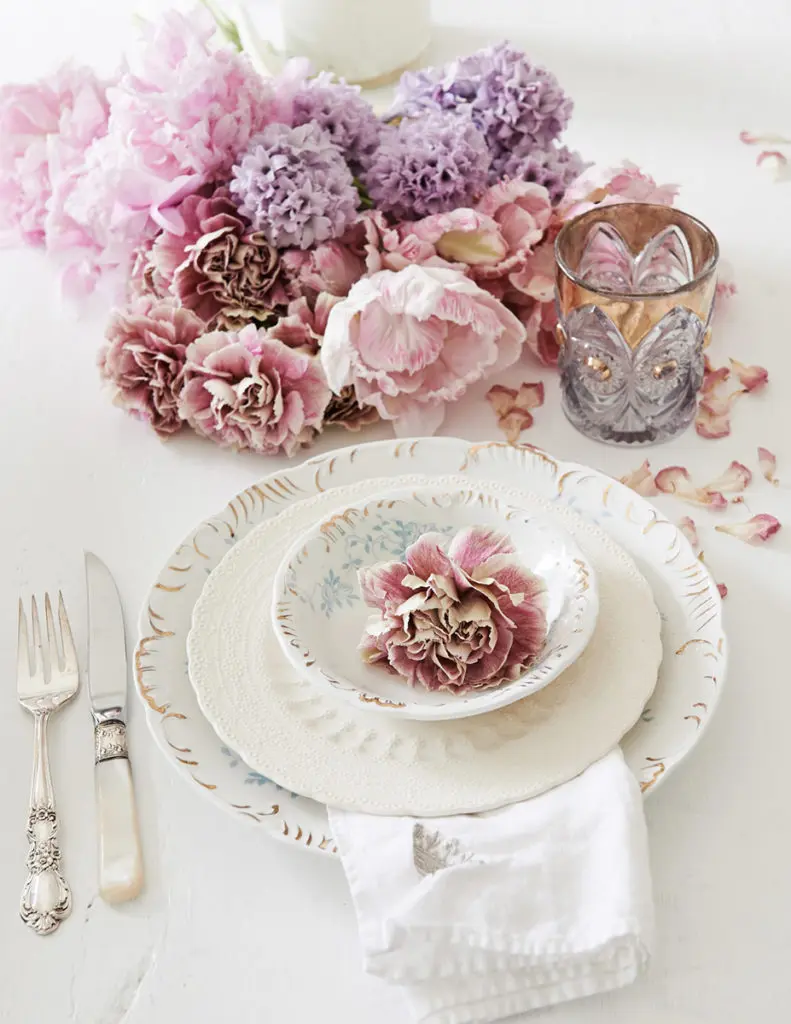 Layering — whether vintage or new plates, or runners and placemats on a previously loved painted or pine table — is part of Ashwell's mix-and-match philosophy. So, if you lose a couple of napkins or chip a plate, it's OK — just create a varied collection. "It's beautiful and practical," she says, another pillar of her style.
Avoiding holiday clichés
Palette is important to Ashwell, and a way to avoid holiday decorating clichés. "Pumpkins don't have to be orange," she says. So, instead of opting for an orange and black Halloween, try silvers and pinks. "Stay in tradition of elements but be flexible in the palette."
Fall allows you to be part of the outside. For me, it's experiencing what this transitional season is all about.
Rachel Ashwell
Fall activities and date ideas
The fall is a time for walking outside in nature, Ashwell believes. Collecting branches, berries, and foliage — she likes to bring inside what's outdoors and use it as décor — finding naturally dried hydrangea clinging to their stalks, and pruning a garden are all activities to do with someone, as is scouring flea markets and vintage shops for antique China and slightly worn vases. Sharing activities are part of getting to know and connecting with others. So, friends and family members, or even romantic dates, might be inspired by these outings, whether you are preparing to decorate for a gathering or not. "Having a backdrop of a common interest takes the walls down a little bit," she says.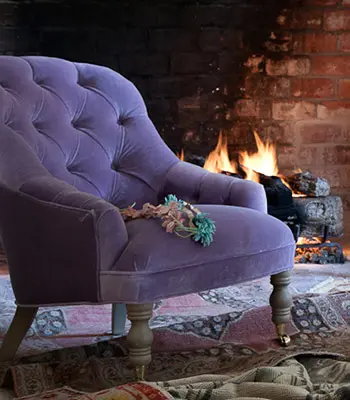 Looking forward to cozy time in fall
"From a comfort standpoint, it's a cozier time to go on dates in general. Bring out the shawls, light a fire, go into a local pub…there's just something a bit more romantic about a fall date than a summer date," she says. And since Ashwell likes to focus inward, the season's coziness is the perfect ambiance for also being creative, and that's what she looks forward to the most. "All that outward energy that's been expanded upon and let go of in summer now can come down to landing and be articulated, manifested, and communicated in a structured way."
Bringing the indoors out
The cooler vibe of fall doesn't mean staying inside, Ashwell urges. She likes to bring the indoors out, say, gathering on a screen porch with friends. With her beloved throws, "lots of lovely candlelight," or perhaps a fire, she creates a beautiful and comfortable environment to reconnect with herself and others. "Fall allows you to be part of the outside. For me, it's experiencing what this transitional season is all about."