The series "Seasonal Design" covers home decor and how flowers elevate an environment. Flowers are always a great way to decorate your home. These ideas for Mother's Day flower decorations with make mom feel like the special woman she is.
A mother's heart always welcomes hugs and kisses — that's a given — but on her special day why not show her how much you care by putting in a little extra effort? Take those fresh flowers you're getting her and use them to make a gorgeous and heartfelt decoration for her home. It's the perfect way to bring new life and energy to her space, and the permanence of the piece will remind her of your thoughtful gesture for years to come.
These five ideas for Mother's Day flower decorations will both wow mom and dress up her home at the same time.
1. Personalize pots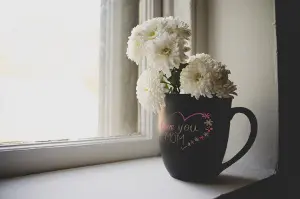 While the fresh blooms you buy her may not last forever, putting them in a pot or vase that she can use all year long will brighten her home. Purchase several different pots, planters, and vases of varying sizes. This will let Mom mix and match around the home later, and will give you a chance to include a Mother's Day plant with a little more staying power.
Now, take your pots and cover their exterior with a layer of chalkboard paint or black paint specially formulated to give you a flat, matte appearance. Then, decorate them using either chalk, for temporary messages that can be updated, or paint markers in bright colors that will pop against the black background. You can coordinate the colors and designs to create a fun display or make each one different so Mom can use them throughout her home.
2. Wake her up to a bedside arrangement
Give Mom a surprise by arranging a basketful of flowers or flowering plants on her bedside table. Take cues from her bedroom decor, picking up the colors from her bedding, curtains, or throw pillows in her Mother's Day arrangement. Then, choose a basket, bucket, or vase that will pull it all together. This will let Mom enjoy her flowers long after Mother's day has ended.
3. Add a vintage touch
If Mom loves antiques as much as she loves flowers, then take a quick trip to your local antique store or flea market and get thinking outside the box — or, in this case, the flower vase. Look for vintage porcelain in which to arrange your bouquet, or get creative and place your gift in an old watering can, wooden box, or basket lined with plastic, or even a birdhouse. Whatever vessel you choose, your gift should be unique, whimsical, and encompassing of Mom's passions.
4. Perennial flower plant for the porch or patio
It's nice to receive flowers, but it's even better to receive them again and again, year after year. If Mom loves to garden, consider purchasing her a set of sprouted bulbs to plant herself. Or, if she doesn't have a green thumb but loves flowers, get her a hardy perennial plant that doesn't require much care and she can enjoy on her front porch for years to come. Examples of these include paperwhites and hyacinth.
5.
Make the bathroom flourish
Flowering plants do more than look nice and brighten a home; they also clean the air of the room they're in. So, how better to brighten Mom's bathroom than with a hanging flowering plant? Look for low-light plants like calla lilies, and place one in a decorative hanging basket or planter. Screw a hook to the ceiling, and give Mom something that will leave a lasting impression within the room.