Use this handy Father's Day gift guide to make this Father's Day the best one yet!
Don't forget! Father's Day is just around the corner! Make sure you take this time to thank Dad for all of his hard work. And what better way to do that than with a Father's Day gift that he'll love? We know it's hard to find a gift that's just right for your dad, so we made this helpful guide. On top of being Dad-approved, these gifts are affordable—all under $40! So be sure to check out what we have to offer, and make this Father's Day memorable.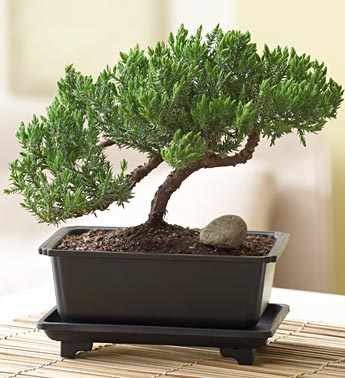 1. Father's Day Plants
Is your dad in love with nature? If so, he'll love a lasting Father's Day plant! With help from 1-800-Flowers and its vast array of options, finding a Father's Day plant under $40 is simple. If your dad likes bamboo, get the Pyramid Bamboo tree for only $39.99. If you're looking for a gift that will last a lifetime, the Oak Tree for Dad is just what you need! For just $39.99, you can't go wrong! If Dad likes Bonsai Trees, check out the Green Mound Juniper Bonsai pictured to the right. It's easy to care for and it's elegant look is sure to impress your dad! Only $29.99!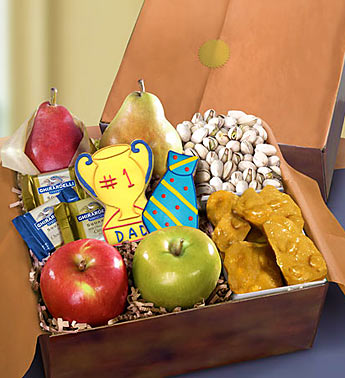 2. Sweet Tooth Gifts
If you're dad loves all kinds of sweets, whether it's chocolate or fruit, #1 Dad Fresh Fruit & Exceptional Sweets Box (pictured to the left) is the choice for him for only $39.99. Or, for just $24.99, you can get Dad Candy Bar Pretzels. These delectable pretzels are so mouth-watering that they can satisfy anyone's sweet tooth!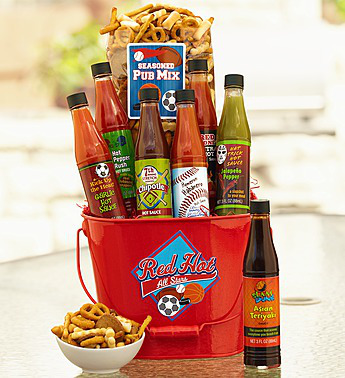 3. For the Sports Fanatic Dad
Looking to spice things up this Father's Day? Get Dad a Sports Fever Hot Sauce Gift Basket! Our wonderful hot sauces are sure to blow your father away! They aren't overwhelmingly spicy, but they are sure to give your taste buds a kick. On top of the hot sauces, Dad will get an appetizing seasoned pub mix to go with it. What better way to show your dad that you care?
4. Homemade Gifts
Dads always appreciate a homemade gift. Hone in on your Picasso spirit and create a masterpiece that dad will always cherish and display on his desk! Travel back in time with your dad by making a scrapbook of family photos or a decorated picture frame with a photo of you and him in it and revel in the nostalgia. With a little time and effort, you can make dad a gift this Father's Day that will always remind him of you.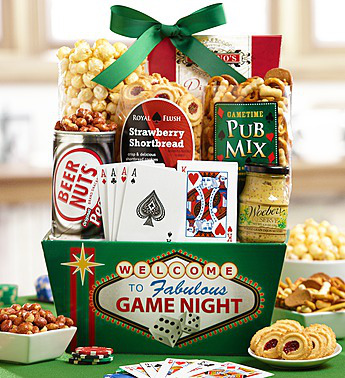 5. For the Card Shark Dad
Celebrate Father's Day right: Make it a poker night! What better way to thank your dad? With Dad's Best Poker Night Gift Basket, your Father's Day poker night will be one that you won't forget! This basket is chockfull of beer nuts peanuts, pub mix, whole-grain mustard, kettle popcorn, honey-wheat braided pretzels, and strawberry shortbread. Everything you need for a great night with Dad!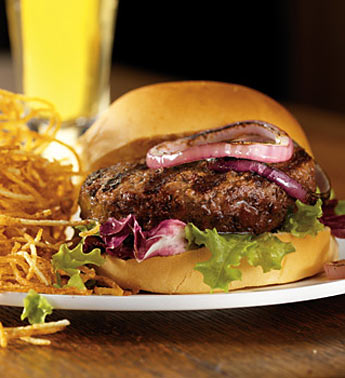 6. Meat Lovers Dream
This Father's Day, give your dad a gift that he will absolutely love. The Father's Day Lucca and Sons Sausage & Cheese Box includes gourmet sausages with mild Sonoma Jacks cheese. Dad will also get a delectable mustard dip and flatbread. The amazing tastes will leave your father speechless! If he's a steak guy, he'll love the Stock Yards Prime Steak Burgers! The tender meat is sure to be a hit with Dad!
7. Dad Time
Sending dad a Happy Father's Day doesn't mean you have to purchase a gift. Spending time with him, like playing catch outside or going on a fishing trip, will make him the proudest father in the world. Get the whole family involved too by going on a family picnic or playing board games! Show dad that you love him by spending quality time with him this Father's Day.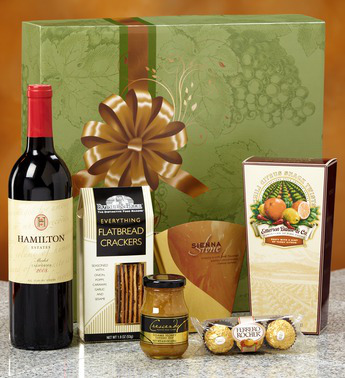 8. For the Wine Connoisseur
With help from 1800Flowers, give dad a sophisticated present for Father's Day. Make him feel classy with this Vineyard Select Red Wine Gift Box which includes a 2008 Hamilton Estates California Merlot, Brie Cheese Spread with Every Flatbread, Ferrero Rocher Chocolates, Sesame Honey Mustard Dip, and Chili Citrus Twists. All for a great deal of $39.99, this is a gift dad will be sure to appreciate.
9. Cook a Meal He'll Never Forget
Cooking dad a meal is a thoughtful way to fill both dad's heart and stomach this Father's Day. Whether making him a great breakfast in bed or taking him out to his favorite restaurant at night, make this Father's Day a delicious one! Along with the scrumptious meal and gift, spending time with your dad alone will give him a Father's Day that he will surely appreciate.
And keep in mind, to further reduce the tax on your wallet, you can always split the gift with your mom or siblings!
*Prices above do not include tax