The color red symbolizes confidence, courage, and vitality. White is the color of innocence and purity. Blue represents youth, truth, and peace. These colors hold so much meaning for the citizens of America, and that is why they can be seen everywhere on the Fourth of July. On this day to honor America and its independence, the stars and stripes fly high and wide. Clothing, sunglasses, food, and decorations all sport red, white, and blue. So why not add these colors to your flowers during this week as well?
This July 4th, make a statement with festive 4th of July flowers. You are going to need red, white, and blue flowers, so what are your choices? Look no further for your guide to arranging Independence Day flowers!
Red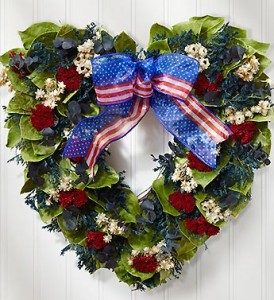 For the red flowers, the obvious choice is roses. The deep crimson color radiates. Other naturally occurring red flowers are hypericums, alstroemeria and carnations.
White
A whole plethora of white flowers exist in nature. The most easily accessible white flowers to use for your bouquet would be carnations. However, you can also use daisies, montecasino, white roses, baby's breath, calla lilies, white hydrangeas, white lilies, and white tulips. Keep in mind, most varieties of flowers come in white.
Blue
Blue is perhaps the most difficult color to find in flowers. You can always dye white carnations or other white flowers blue, but it is better to find naturally occurring pigment for the prettiest bouquet. Forget-me-not flowers are a good choice, as well as orchids, geraniums, hydrangea, and delphinium. Also, you can use deep purple flowers as a good substitute for blue if you are having difficulty finding blue flowers. Purple lilacs, statice, and orchids are a great choice.
Arranging July 4th Flowers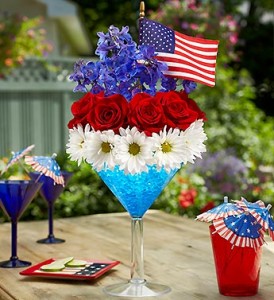 Arranging the flowers is the next step. If blue flowers are sparse for you, put all of the flowers in a blue vase to bring out that color in the arrangement. You can also pick a dominant color like white, and add in rose accents and long stalk delphiniums like in the 1-800-FLOWERS.COM "Tie a Yellow Ribbon" arrangement shown above left. Be creative with your arrangements as well- use them as centerpieces or place settings. Wreaths are also a great floral decoration for any occasion. Be sure to not miss out on all of the beautiful 4th of July wreaths at 1-800-FLOWERS.COM.
If you don't have a green thumb but wish you could have spirited July 4th flowers, never fear! 1-800-FLOWERS.COM is here to help! We have an entire Independence Day collection, with everything from simple bouquets to truly original red, white, and blue cupcakes, centerpieces, flower dogs, and even floral martinis! Explore them all here! And have a great, red, white and blooming 4th of July!