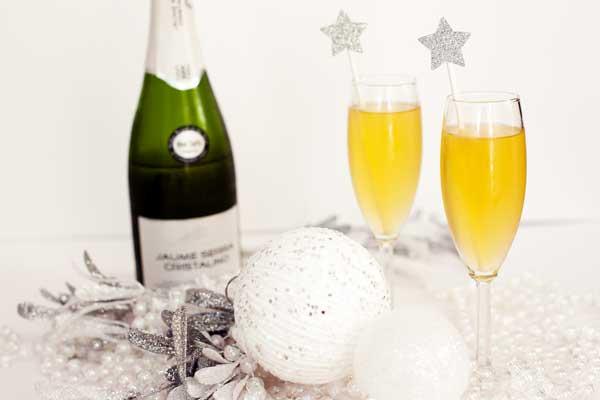 Bottoms up! It's time to raise a toast to another exciting year past … and the promise of new opportunities in the year ahead. So gather your old acquaintances that shall never be forgot (plus some new friends you've made along the way) and start off 2014 on the right foot with one of these fun New Year's party ideas.
Champagne Party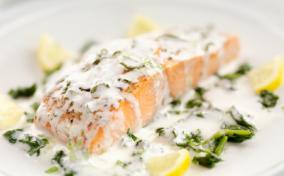 Popping the cork at the stroke of midnight isn't the only way to celebrate with champagne on New Year's Eve. Go all out with your bubbly and use it to brew up some lavish entrées and desserts too. For your main course, drizzle some champagne over fish or seafood. This Champagne Tarragon Mignonette for Oysters recipe or this Champagne Sauce for Salmon recipe from Celebrations.com is a simply divine way to get the night started.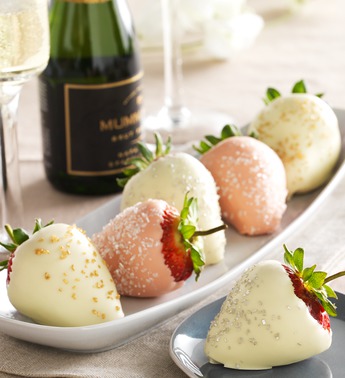 Then, wrap up dinner with something sweet and sparkling. Add some New Year's fizz to your everyday cake mix by following the baking directions on the box, but replace the water in the recipe with your favorite bubbly. Once the cake is iced, top it off with the elegant and sinfully delicious Fannie May Champagne Celebration Strawberries, which are hand-dipped in champagne-infused white chocolate and sprinkled with shimmering gold, platinum and clear sugar.
And of course, what better way to wash everything down than sipping on a tall glass of the bubbly stuff? In the spirit of change, stir things up and serve two or three unusual champagne concoctions. Celebrations.com has an endless selection of exquisite champagne cocktail recipes to choose from, so make your top picks and get to poppin'!
Wine Tasting Party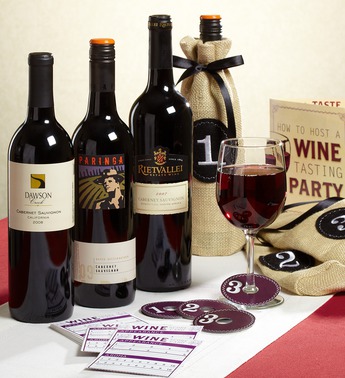 If champagne isn't really your thing, take a cup of kindness yet and pay tribute to the good old days with some aged wine instead. Let the revelry begin with the Wine Tasting Party Kit, which comes complete with three different bottles of Cabernet Sauvignon, three burlap wine bags, wine glass labels, wine rating cards and a wine tasting guide book. All you have to do is set up a table, cover up the bottles with the mystery bags and start pouring! Your guests will have tons of sophisticated fun taste-testing each wine and reminiscing about their favorite memories of 2012.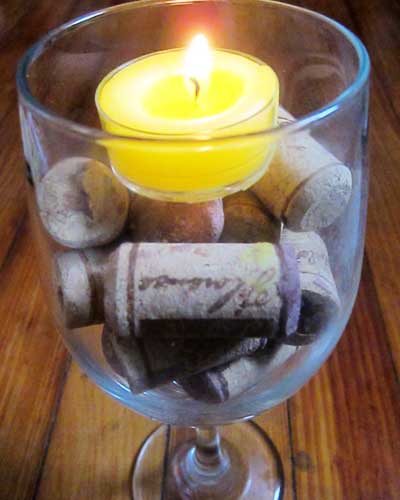 But without a great pairing, wine is nothing but a bunch of squeezed grapes. So allow your guests to enjoy the full spectrum of your vino's flavors by setting up a cheese and chocolate station. Just remember that wine pairing is an art, so breaking out any kind of cheese or chocolate from your cupboard simply won't do. Not sure what kind of appetizers to serve? Head over to Celebrations.com to brush up some wine and cheese party tips and suggestions for pairing wine with chocolate, and you'll become a connoisseur in no time!
Complete the wine party theme by decorating your house like a vineyard. It's a unique alternative to the usual Mardi Gras beads and streamers. But no need to worry; turning your digs into a mini Sonoma doesn't have to cost a fortune. Make your own beautiful DIY wine tasting décor and wine cork centerpiece on a budget by following the easy tutorials on Celebrations.com. You can't put a stopper on this New Year's wine celebration!
Glitter Party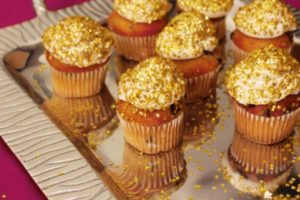 Have a bright and shiny outlook on the future? Bring some bling to your New Year's fiesta with lots and lots of glitter. Use it to glitz up everything from decorations to desserts. You heard right; this year, glitter you can eat is all the rage. Just follow the tutorial on Celebrations.com and dust consumable glitter onto cupcakes, pretzels, brownies and more to turn your dessert table into a scintillating display of New Year's treats.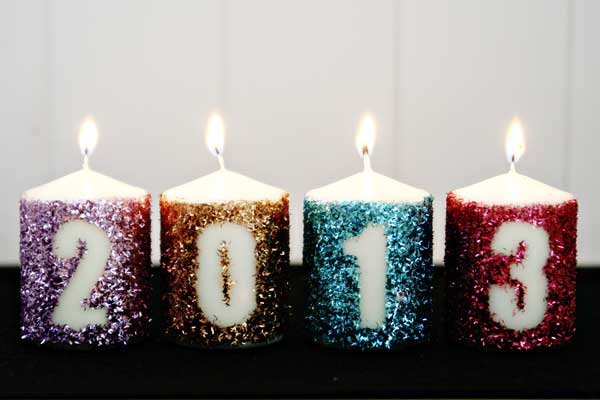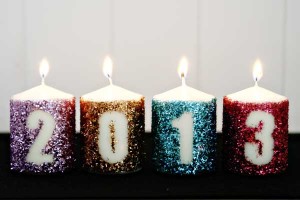 But don't let your sparkle craze stop there. Light up every room in your home with these easy-to-make glitter New Year's candles, and don a dazzling DIY glitter party hat as you count down your final moments of 2012. And don't forget your little partygoers! Whip up some homemade rainbow glitter Play-Doh so the kids at your New Year's party can have some flashy fun of their own.
Whichever trendy New Year's party theme you choose, the best way to ring in 2013 is to share it with the ones you love most. So here's to another happy and healthy new year for us all!