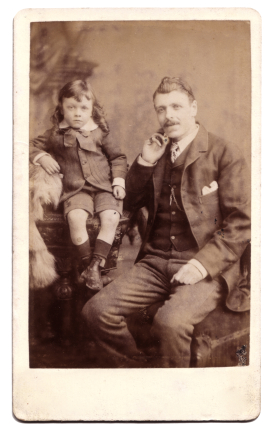 When you were a kid, you knew him as Prince Charming, Mr. Fix-It, and a Superman. Today, you see him as the strong, loving and supportive role model he's always been—and always will be. Who is he? It's Dad, of course! Father's Day 2016 is coming up on Sunday, June 19, and that means it's time to honor and thank the man who has been there for you from the start. And though there's no doubt every dad deserves his own holiday, have you ever wondered about the history of Father's Day? Read on to find out how the third Sunday in June became Pop's most special day of the year!
The First Father's Day
After the first Mother's Day proved to be a success in the U.S., it was only natural for a day to be set aside to celebrate Dad too. And so, Father's Day was created as a matching holiday for Mother's Day.
It was all started on June 19, 1910, by Sonara Smart Dodd in Spokane, Washington, where the first Father's Day celebration took place in the local YMCA. After hearing a sermon about the newly founded Mother's Day, Dodd was so moved that she wanted to create a similar holiday to honor fathers—especially since her own dad was a Civil War veteran and a single parent of six kids. She had originally suggested that Father's Day be celebrated on June 5, her dad's birthday, but the date was eventually pushed to the third Sunday of June.
At first, Father's Day wasn't as popular as its founder had hoped it would be. Because she was studying at the Art Institute of Chicago in the 1920s, Dodd couldn't promote the holiday as much as she wanted, and so Father's Day began to fade. But once Dodd returned to Spokane in the 1930's and started spreading the word to large companies and retailers once again, the holiday was reborn. It finally caught on after years of effort, despite some initial pushback from the public, which initially saw Father's Day as nothing but a copycat holiday.
After many failed attempts made by various presidents and politicians to convince Congress that Father's Day should be nationally recognized, in 1957 Maine Senator Margaret Chase Smith accused Congress of ignoring fathers while celebrating mothers for 40 years. Then, President Lyndon B. Johnson finally designated the third Sunday in June as Father's Day in 1966, and President Richard Nixon signed it off as a permanent holiday in 1972.
Father's Day Around the World
In different countries, Father's Day falls on different days. Check out our other blog post to see a complete list of countries and the day they each celebrate Father's Day!