As part of our "Now Blooming" collection, we're excited to announce that this month's limited edition flower is the Monsella tulip! For years, tulips have reigned as the most popular spring bulb, thanks to their beautiful petals and striking colors. So if you want to add some cheer to your house, look no further than the most sought after of all tulips – the Monsella tulip. This early blooming spring flower is unlike any other, because its beautiful, cardinal yellow petals are interrupted by bright red stripes. We doubt you need any more reason to love these beautiful flowers, but if you do, here are a few little known facts about Monsella tulips and tulips in general.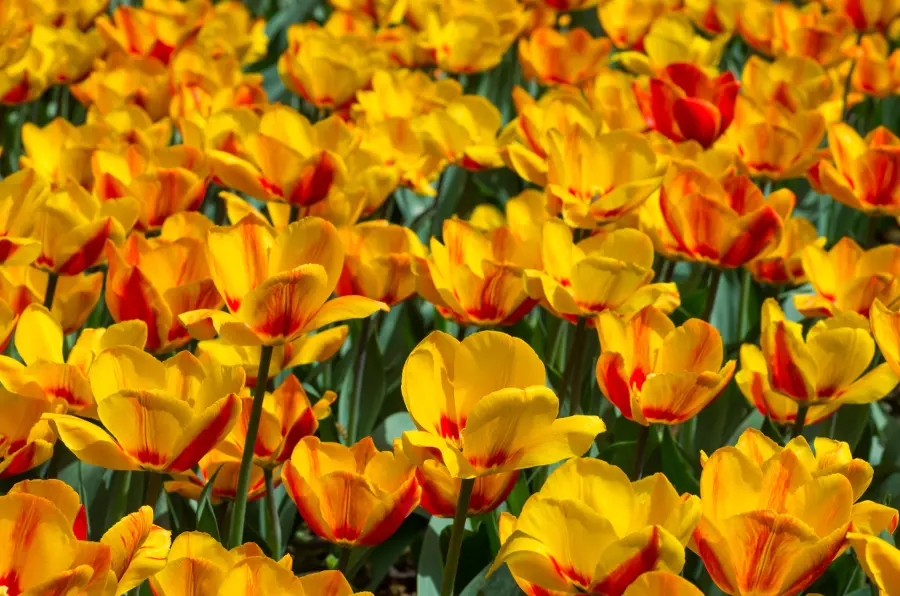 Fun Facts About Tulips
The Tulip's Name is Based in Latin
The flower got its name from the latin word for turban, which is "tulipa." It was thought that the curves and flow of the flower closely resembled the popular headdress.
There are Over 150 Species of Tulips
Monsella tulips are just one of 150 different types of tulips. And from there, there are over 3,000 different varieties! That means that if you planted a different variety of tulip everyday, it would take you just over 8 years to plant every one.
Tulips are Part of the Lily Family
Although most people assume tulips are their own individual family, they're actually a genus of the liliaceae family. That means, they're in the same family as onions, garlic, and asparagus.
Tulips are Highly Symbolic
In general, tulips symbolize the beginning of spring, rebirth, and growth. Tulips also come in nearly every color imaginable (except blue surprisingly) and each one has its own unique meaning. Because Monsella tulips are multicolored, they hold multiple meanings.
Red: True love/ Romance/ Lust
Yellow: Friendship/ Happiness
Multicolored: It's said that tie-dyed tulips represent a bit of each color they feature.
Monsella tulips are one of few multicolored tulips, with their bright yellow petals also featuring vertical red-orange stripes. It's for this reason that they are a popular flower among people who are both romantically involved and friends. It can also represent a friendship that over time blossomed into a romantic relationship.
Monsella Tulips are Wonderfully Fragrant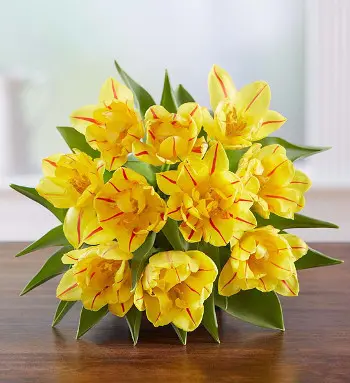 Tulips are known for their pleasant smell, but Monsella tulips are especially sweet smelling. Just a few flowers have the power to make your entire entryway smell fragrant and inviting.
Talk About Expensive Taste
Tulips were at one time the most expensive flower in history. In the 1600's a beautiful bouquet of tulips was worth around the same price as a lower-middle class home. So it comes as no surprise that they cost around 10-times what a working class man made in a year. Thankfully, while tulips have remained just as beautiful throughout the years, their price has dropped significantly!
Monsella Tulips are a Real Deal
Monsella Tulips are also known as a "Double Early" tulip. Your average tulip has six petals on a single flower bud, but a Double tulip has – you guessed it – twice the amount!
Caring for Monsella Tulips
Because they grow up to a foot tall, Double tulips are able to withstand even the toughest April showers.
Monsella tulips thrive on sunlight, so they should be left in direct sunlight for at least six hours a day.
For the best results, plant your tulips in rich, well-drained soil. Well-drained soil will allow water to easily seep throughout the soil and hit every bulb.
If you are new to gardening or raising flowers, these are the perfect flower to try your hand (or green thumb) at. These tulips grow well in urban and country gardens, and mix beautifully with other flowering bulbs.