The series "Living with Nature's Best" explores the many benefits of flowers, plants, and gardening. This planting guide explores the best flowers and fruit to grow per region.
Spring is the season of renewal and celebration. The world is once again fragrant and green and full of beautiful flowers. Even the occasional rain shower is welcomed because it helps the plants and flowers flourish.
From gardeners to lovers of plants and flowers, nurturing your garden adds beauty, is uplifting, and even provides fresh flowers and food for your enjoyment. This guide provides the bests plants for your growing region.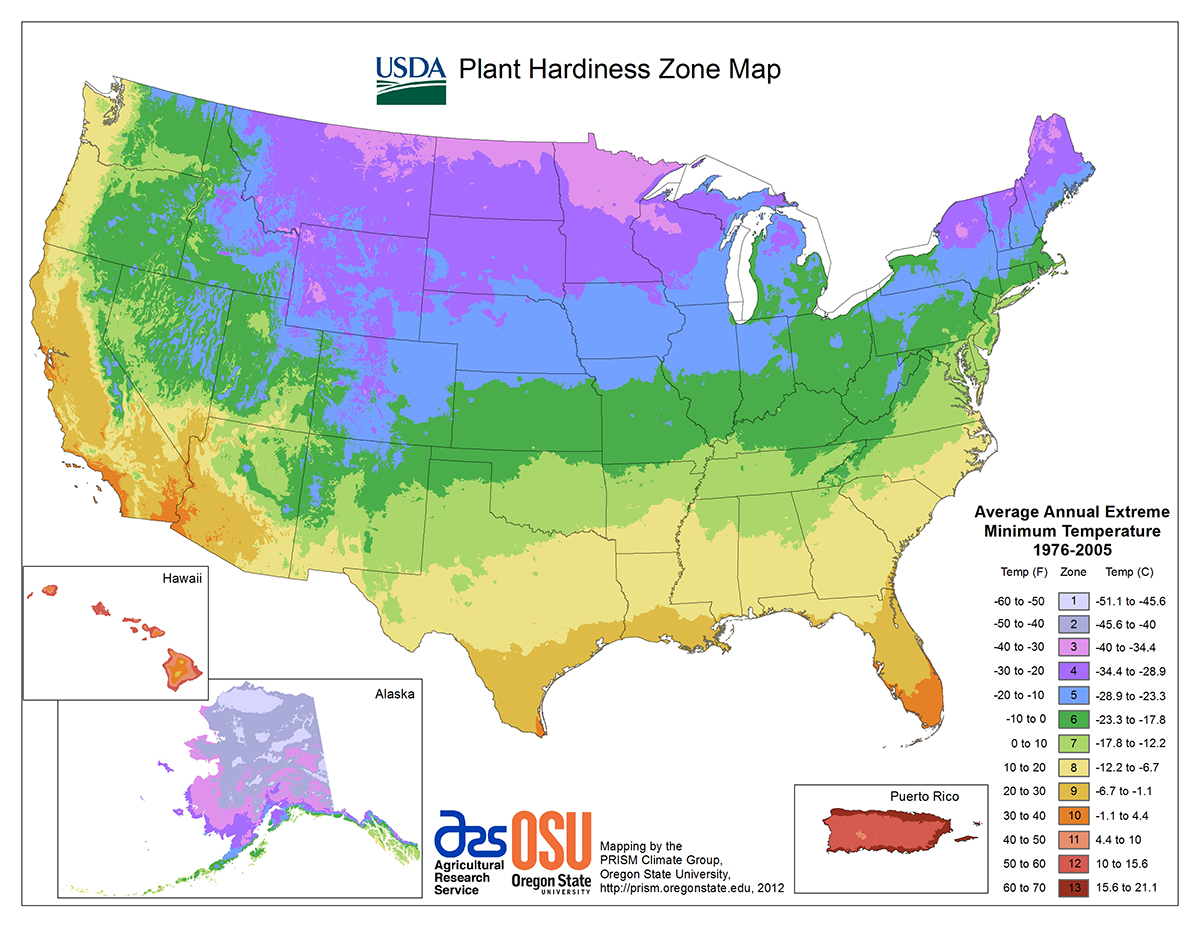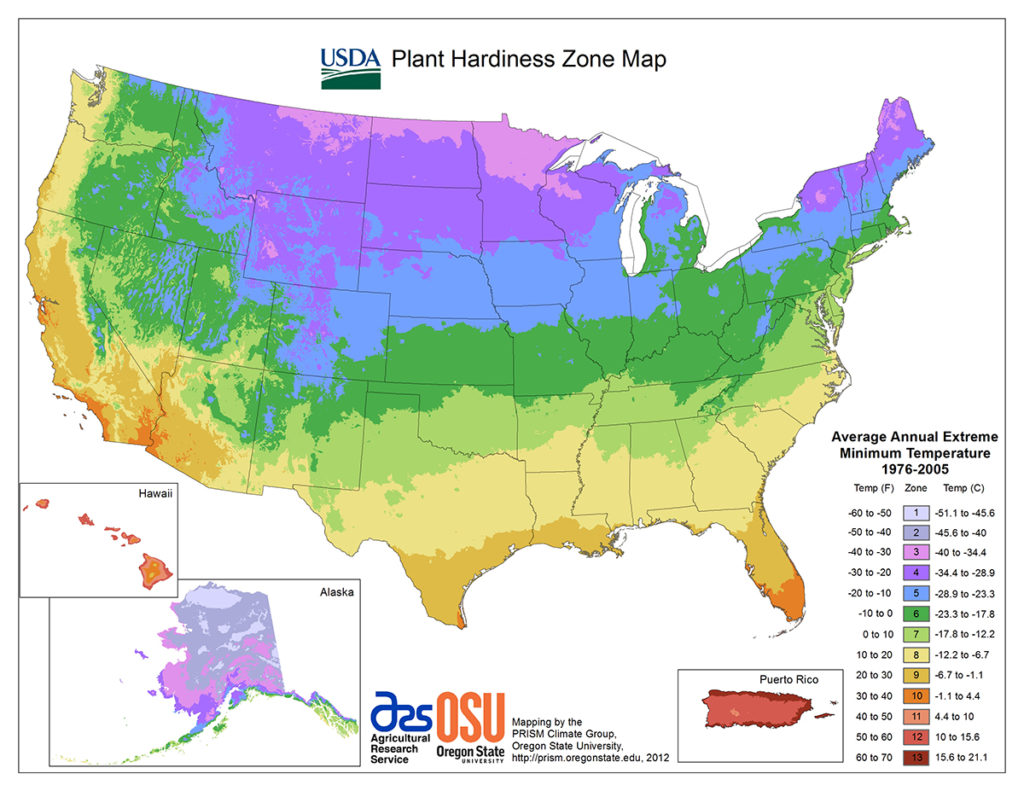 Get in the zone
First, take the time to "get to know your zone" when planting outside, says Renato Cruz Sogueco, instructor at Floriology, a subsidiary of 1-800-Flowers.com that offers courses focusing on the latest floral design trends. If you don't know your zone, simply ask at your local garden center or input your zip code on the USDA Plant Hardiness Zone website. You can also refer to the above map. Knowing your zone is the key to success as you can select plants that will thrive in your garden and are right for your location.
Zone information will also help you calculate your growing season. It also identifies your first and last hard freeze dates. The period in between the freeze dates is your season. For example, In Philadelphia garden zone 5B shows it is safe to plant between April 15 and Oct. 15.
Location, location, location
Most plants fail not from lack of care but from being placed in the wrong location in your yard. Plants designed for other growing zones should also not be purchased. If the information is not listed a good general rule of thumb is that most flowers and fruit plants require at least six hours of sunshine and good drainage.
Regardless of where you live it is always important when selecting plants to read plant tags and descriptions.
Drainage is important as very few plants like having their roots sitting in water. If you are planting in the ground, an easy test is to dig a hole and fill it with water. If it drains easily it's ready to plant into the ground. If it does not, you can either choose a different location or amend your soil with heavy bark or gravel.
For containers, you can drill extra drainage holes with a power drill or add a layer of small gravel to the bottom of your pot. Smaller planted pots can be moved indoors to decorate your home when in bloom.
Planting seeds and plants
You can start seeds and small plants indoors as soon as late winter or prepare your garden plot for your growing season. Make sure to select seeds that are meant for your growing zone.
Also when purchasing new plants, choose smaller-sized plants. You will save time and energy not having to dig larger holes. And, with proper care, your plants will quickly grow and blossom.
Regional Planting Guide
Want to know what spring flowers and fruit plants to choose based on where you live? Here is a region-by-region listing of some of the more popular spring plants and fruit trees for you to consider. Gardening tips have also been listed that work well for all regions as many of the same flowers and fruit trees do well across the country.
Northeast
Flowers
When it comes to gorgeous spring blooms, the Northeast has some real showstoppers. Peonies, hellebores, cyclamen, and primroses can all be planted this time of year. Peonies are Ghitelman's favorite spring flowers. "They come in many varieties and colors and the scent of these beauties is simply mesmerizing," she says. Peonies are easily made into beautiful bouquets because not only are the ruffled blooms gorgeous, the greenery is also attractive.
Flowering shrubs are a favorite of Kathy Jenz, the editor of the Washington Gardener Magazine for the Mid-Atlantic region and co-author of The Urban Garden. These plants have a spring flush, which is when there is a sudden growth of flowers in the garden, giving it beauty and structure. They also re-bloom throughout the season.
Azaleas, spirea, and hydrangeas are steady bloomers and come in dwarf varieties that are perfect for containers and small space gardens.
Daisies are a popular choice for northeast gardens because they are easy to grow, bright and cheerful, and work well as borders or to fill in a garden space. They bring life to your yard, attract wildlife and pollinators, and they can be brought indoors for short periods if planted in small pots.
The best flowers to plant: Peonies, dahlias, sunflowers, zinnias, bachelor buttons, roses, lavender, azaleas, hydrangeas, spirea, pansies, hellebores, primroses
Fruit
Flowering fruit trees such as plum and cherry are an easy and beautiful addition to your yard. Just make sure the trees you choose are right for your zone. The tree blossoms are a sure sign of spring and warmer days. Fresh fruit is also a healthy way to enjoy and share your garden with others.
Strawberry plants also are easily grown in the ground or containers. They love to spread and can cover a garden space in a season or two. Read your plant tags and make sure to choose "everbearing" varieties so you will have berries well into summer.
The best fruit to plant: rhubarb, strawberries, blueberries, cherries, raspberries, apples, plum, pear
Southeast
Flowers
In the southeast, spring is associated with the scent of its most popular and fragrant flowers. Think hyacinth bulbs, gardenias, climbing jasmine vines, and magnolia trees and you will instantly picture Southern gardens.
Old-fashioned flowers such as delphiniums, hollyhocks, snapdragons, and foxgloves, may not have the same aromatic allure, but their interesting shapes and beautiful colors make them popular choices to plant in the southeast.
The best flowers: Flowering bulbs, gardenias, magnolia, azaleas, bachelor buttons, poppies, lupine, cosmos, camellias, delphinium, hollyhock, snapdragon, foxgloves, begonia
Fruit
In the Southeast, citrus trees are a good addition to your yard or patio. Look for varieties such as kumquats, key limes, pink lemons, and seedless limes that command higher prices and less availability in your local supermarket. Many of these fruit-bearing trees also come in dwarf varieties, making them ideal container plants and perfect for gift giving. Fruit shrubs such as blueberries and kiwi fruits can also be planted in the spring.
Midwest
Flowers
In the Midwest, you can scatter wildflower seeds and start your sunflowers as early as spring. Growing plants and flowers from seed have been done for generations. A fun idea and a great way to build community are to host a "seed swap" where everyone brings extra seeds they have at home and exchange them with each other. This is also a good way of learning more about local plants and an activity that could be done in any region.
Succession planting is a popular method of planting every two to three weeks to start a new crop of flowers for an ever-blooming garden, which is advocated by the Minnesota Landscape Arboretum, which is part of the College of Food, Agricultural and Natural Resource Sciences at the University of Minnesota. Bachelor buttons, cosmos, marigolds, sunflowers, and zinnias are all easy flowers to start from seed.
The best flowers: sunflowers, wildflowers, zinnias, roses, poppies, snapdragons, bachelor buttons, cosmos, bee balm, lavender, marigolds, rosemary, calendula
Fruit
Edible spring plants such as strawberries, blueberries, and fresh herbs are popular choices in a Midwestern garden. For fresh fruit, apple, peach, or pears grow well.
The best fruit: apples, pears, peaches, nectarine, plum, strawberries, blueberries
Northwest
Flowers
The Pacific Northwest is a versatile region with a growing season from April to November. "We are lucky in the northwest as we can grow just about anything here," says John Barker, a member of The Hardy Plant Society of Oregon.
Many gardeners in the Northwest favor perennial plants and flowers for their ease of care, many varieties such as daisies come back year after year and can fill a space quickly. They also attract birds, bees, and butterflies to your garden. Planting for pollinators is a hot trend right now and you will find many of the flowers selected in the Northwest are done so for this very reason.
The best flowers: Dahlias, bachelor buttons, borage, flowering bulbs, poppies, carnations, pansies, primroses, roses, hellebores, cyclamen, lilac, azalea, rhododendron
Fruit
In the Northwest, everyone has their favorite berry, and spring is the time to plant them. Make sure to read the plant labels as some varieties can quickly spread out and cover a space.
People often plant blackberries and raspberries along their borders or to cover a fence. Fruit trees are also a nice addition to your yard. If you have limited space, look for trees that have been grafted with a few different varieties. This is a new trend where you can grow two different types of fruit on the same tree!
If you are planning an urban garden you may want to look for fruit plants that do well in small spaces or containers.
The best fruit: strawberries, blueberries, blackberries, raspberries, apples, pears
Southwest
Flowers
In the Southwest, many gardeners have to start planting their fruit and flowers early in the spring, due to the hot summer temperatures. These temperatures can be well over 100 degrees in the summer months making it difficult for new plants to survive. Planting in the spring gives the plants time to get established and develop strong root systems.
Planting bright flowers such as angelonia, cosmos, and zinnias are recommended by Noelle Johnson, who is known as "The Arizona Plant Lady" and a landscape consultant in Phoenix, Arizona. All of the flowers thrive in full sun and hot temperatures. They will also attract pollinators to your yard which are fun to watch.
"The key to growing flowers in the southwest is to start your seeds early," says Callie Works-Leary, the founder of the Dallas Garden School. She loves planting marigolds, cape daisies, sunflowers, and gomphrena in her Texas garden.
The best flowers: angelonia, cosmos, zinnias, gomphrena, sunflowers, daisies, marigolds, lavender, salvia, sweet peas, roses, rosemary
Fruit
The desert Southwest region is a bit of a challenge when it comes to growing fruit trees. This is because of the high temperatures and desert-type climate for most of the region. Many fruit trees need a period of cold that they get in other regions. Oftentimes these trees need at least 400 days of chilling temperatures, so be sure to read plant tags and select ones that do not require a long period of cold. Many citruses, avocado, and stone fruits successfully grow in this region. The key is to get new plants in the springtime so that they can get established before the hot summer growing season.
The best fruit: citrus, avocado, apricot, peach, nectarine