Tulip Facts
Nothing says "spring" better than an arrangement of bright, colorful tulips! The tulip is the third most popular flower, after roses and chrysanthemums.
Tulip Origins
Tulips originally were a wild flowers growing in Asia, and were first cultivated by the Turks as early as 1000 A.D.
These flowers were introduced in Western Europe and the Netherlands in the 17th century. They soon gained trading popularity, especially in Holland. The interest in them was huge and tulip bulbs were sold for unbelievably high prices. Fortunes were made (and lost) by trading tulip bulbs as a commodity, much like gold.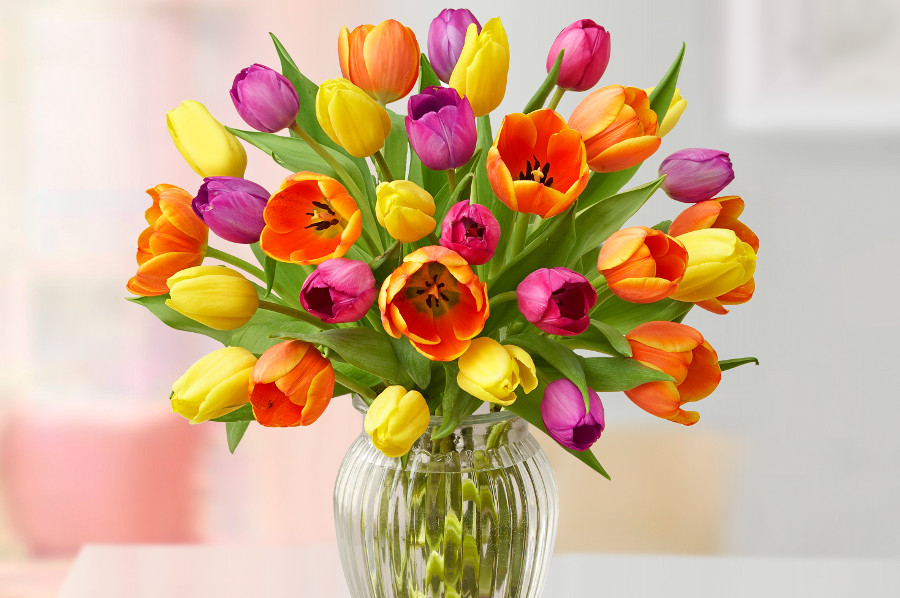 How to Arrange & Care For Tulips
Tulips are sturdy flowers that can last up to 10 days if you know how to care for them correctly. Being one of the few flowers that continues to grow and mature after being cut, tulips can grow as much as a half-inch a day, and are often best bought in bud form for ultimate longevity.
Trim your tulips. When arranging, start by removing the lower foliage that may sit in the water. Removing these leaves will discourage bacteria grown which, in turn, may make the flowers wilt sooner. Then, cut off at least a half inch from the bottom of the stem.
Choose a suitable container: Choose a tall container if you want your tulips to stay straight and long.  Choose a shorter and wider container if you want to give your tulips more room to move gracefully. Fill the vase a third of the way with water, and add some floral preservative (a.k.a. flower food). If floral food is not available, a half capful of bleach may help prevent bacterial growth. Don't keep tulips and daffodils in the same vase because the sap from daffodils tend to clog the stems of other flowers which deteriorates vase life.
Soak up the sun. Tulips are phototropic, bending toward the light, so rotate container daily to help keep the stems upright. Re-cutting tulips every two days may help them last longer.  Keep the vase away from the sun or other heat sources.
Snip selectively. If you cut tulips from a plant or a garden, cut them in bud form, but leave the foliage on the plant until it gets to be yellow and dry. The drying of foliage is what nourishes the bulb for the following year.