Parties are usually held for milestone anniversaries: first, tenth, fifteenth, twenty-fifth, fiftieth and seventy-fifth (congrats!).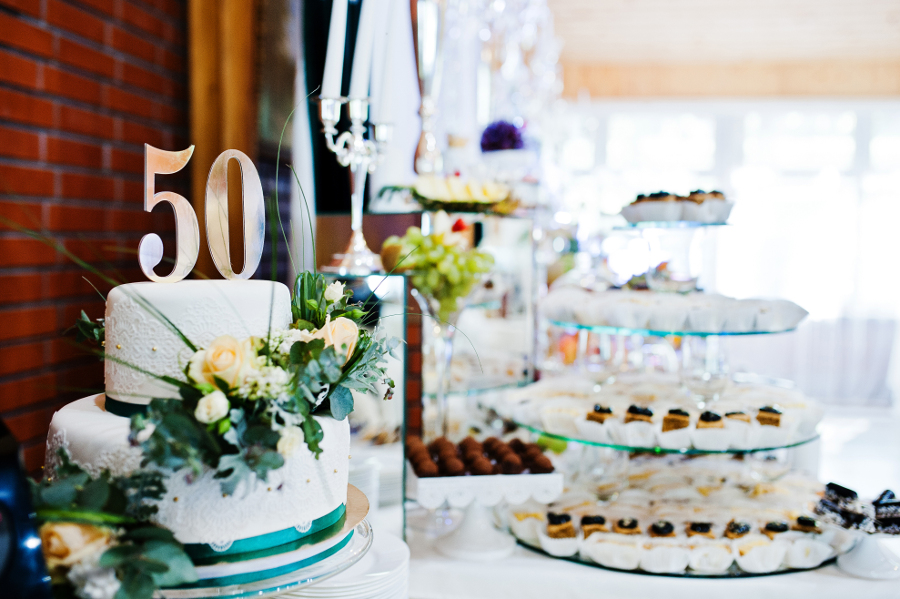 The couple's children and their families often host anniversary celebrations; however, it is perfectly fine for close friends to host and arrange the shindig; and many couples host their own parties (you certainly get exactly what you want that way!)
If a space is rented for the party, consider contracting with the hotel, restaurant, club or other rooms 6 months to one year before (this depends on local demand for this type of space).
Send party invitations out three to six weeks in advance (even more if many guests will be coming in from out of state).
A cocktail party, buffet, dinner dance or most any other kind of party is appropriate, but some elements should be considered.
Décor
This can be as beautiful and simple as vases of flowers or bunches of balloons or as extravagant as life-sized posters of the couple plastered all about the room. Decorations often reflect the traditional colors of the anniversary: silver and white for the twenty-fifth and gold for the fiftieth.
Music
To the taste of the celebrants and their guests: a DJ, a grandson overseeing the CD player, a jazz quartet or a single piano player.
Guest book
A guest register allows guests to make warm comments and makes a nice keepsake for the couple. On the same table, place a photo of the couple, a scrapbook for browsing or a poster board with photos on a tripod stand.
If the anniversary party is hosted by the couple's children or close family members, they are obligated to pay for everyone present.
Toasts always add to the festivity of the occasion. The host should be prepared to toast the couple and should invite others to do so as well.