Written by our Founder and CEO, our Celebrations Pulse Sunday Letters aim to engage with our community. From sharing stories to welcoming your ideas, we want to help you to express, connect, and celebrate the important people in your life.
Monday marks the 31st anniversary of the Americans with Disabilities Act, which President George H.W. Bush signed into law on July 26, 1990. This week, we would like to share with you some of the challenges still faced by Americans with disabilities, but also highlight the progress made thanks to the individuals who are advocating for the rights and opportunities of those who are differently abled.   
The ADA is a civil rights law that prohibits discrimination against people with disabilities in all areas of public life, including education, transportation, and employment, among other areas. The law aims to afford people with disabilities the same rights and opportunities as the rest of society, whether it's finding a job or enjoying an evening at a restaurant or theater.  
Disability touches all of us.  The Centers for Disease Control reports that about a quarter of the U.S. population, or roughly 61 million people, have at least one disability. While progress has been made toward creating a more inclusive environment, unemployment and joblessness continue to be ongoing challenges. Today, people with disabilities are still three times less likely to be employed than those without a disability.  
The pandemic has only heightened challenges for people with differing abilities to find a job. At the height of lockdowns, the unemployment rate was 18.9% for Americans with disabilities compared with 14.3% for the rest of the population. As we near the end of the pandemic, the general population has recovered from unemployment at rates much higher than their counterparts with disabilities.   
A personal connection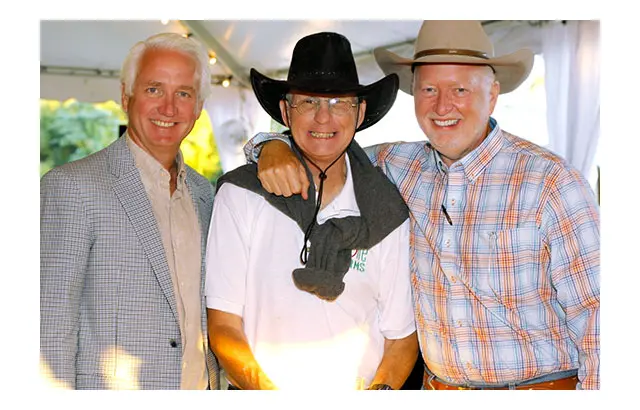 Jim remembers the importance of his parents' response to their brother's disability, especially at a time when there was very little public support for children and adults like Kevin.  
While their parents were not affluent, they pulled together what resources they had to rent small spaces to welcome other families that also had children with developmental disabilities. The families could engage in social activities and recreation in a judgment-free zone. To this day, Chris and Jim recall how relaxed and happy the other families were at those events.  
Our family also supported the Special Olympics, from the time it began back in 1968. Chris' daughter, Devon, now works at Special Olympics International.  
Our commitment to Smile Farms 
The employment gap among Americans with disabilities and our belief in the value of work, inspired us to create Smile Farms, a non-profit organization that provides developmentally disabled adults with meaningful work opportunities at farms, urban gardens, greenhouses and farm stands where they can grow and sell flowers, plants and produce in their local communities. 
We believe that there is dignity in work. Not only do we learn new skills in our job, but we also earn an income, learn responsibility, and build meaningful relationships with others.  
We've employed hundreds of people across ten campuses. Smile Farms plans to open six new campuses in the next three years and employ 25-35% more people. This summer, Smile Farms employees have been busy growing a variety of peppers and will soon launch a new line of hot sauce made with the peppers from their farms.  
Special friends who championed the mission 
We can't write about Smile Farms without also highlighting the incredible contributions and advocacy of our friends John Kemp and Walter Stockton.
John co-founded the American Association of People with Disabilities, which furthers the implementation of the Americans with Disabilities Act. John is a terrific human being. As a person who uses four prostheses himself, he is a tireless advocate for improving the lives of others with disabilities.  
John also leads The Viscardi Center, a non-profit organization dedicated to educating, employing, and empowering children and adults with disabilities. Jim and the rest of the McCann family worked with John and his wonderful team to open a Smile Farms campus at the Viscardi Center. Notably, in 2006, John received the Henry B. Betts Award, which honors an individual whose work and scope of influence have significantly improved the quality of life for people with disabilities.  
Jim first met Walter over 30 years ago and our brother Kevin has been living in one of his group homes Independent Group Home Living (IGHL) on New York's Long Island, for 28 years now.   

A few years ago, Walter brought to our attention the troubling statistic that the unemployment rate for people with disabilities is nearly 80%.  
Walter was an early supporter of the Smile Farms initiative, providing continuous inspiration and guidance. Alongside Walter and his team, we created the first Smile Farms campus in Moriches, New York. We are so grateful for all that he does for people with disabilities.  
As we celebrate the anniversary of the ADA, we invite you to practice compassion and reflect on how you can support someone with different abilities. Let's remember that we all deserve the opportunity to seek fulfillment and happiness. We are so proud of all the people, who continue to advocate for people with disabilities.  
All the best, 
Chris and Jim McCann