Using icons from the decade in which the guest of honor was born, makes decorating fun and easy. Whether it's the 50's, 80's, or 90's, each decade has its own unique style and vibe. You can also mix it up and highlight the best of each decade throughout the life of the birthday celebrant. Here are some general ideas and guidelines to help get you started.
Make themed invitations and ask people to come in costume.
Pay attention to detail. Your food, decorations, and music should relate to the decade.
Not all of your guests will have necessarily been around during the decade you choose, so designate someone who will be able to demonstrate the dance moves of that decade.
Have a trivia contest.
The Internet makes this type of party planning so easy. All of your research is just a click away. Search the most popular fads from each decade and decide how you can incorporate them into your party. For example, for an 80's themed party an oversized Rubik's cube makes a great container for a centerpiece. For this one, I started with a square glass vase filled with floral foam. I downloaded an image of a Rubik's cube, sized it accordingly, printed out four sheets for each cube, covered them with clear contact paper (to make them water proof), and glued them to the square vase.
Working with the bright primary colors of the Rubik's cube, I chose gerberas, delphinium, button poms, roses, and soliadgo to create the fun floral arrangement. The tablecloth is a solid royal blue with crisscrossed ribbons of green, red, blue, yellow and white to further play up the geometric look. The overall look is festive, fun, and totally 80's!!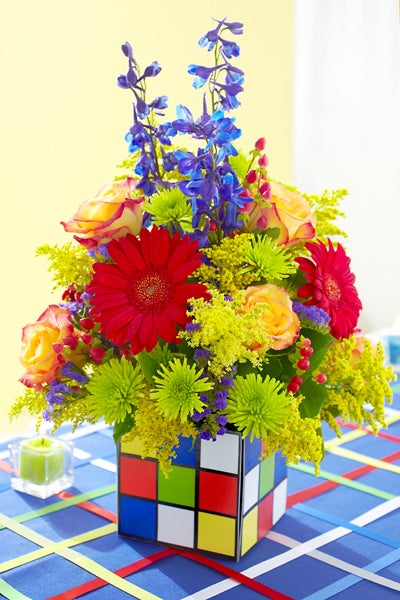 Up Next: The 60's – Peace, Love, & Daisies!