Flowers for Summer Entertaining
Are you planning a summer celebration or simple get together? Whether it's a backyard barbecue, picnic in the park, or pool party, flowers can make it an event to remember. Here are some examples of my favorite summer styles and themes from French Country to Coastal Living and Poolside Cabana with a little American Farmer's Market and Tropical Paradise thrown in for good measure!
Add a Touch of French Country Décor to your Table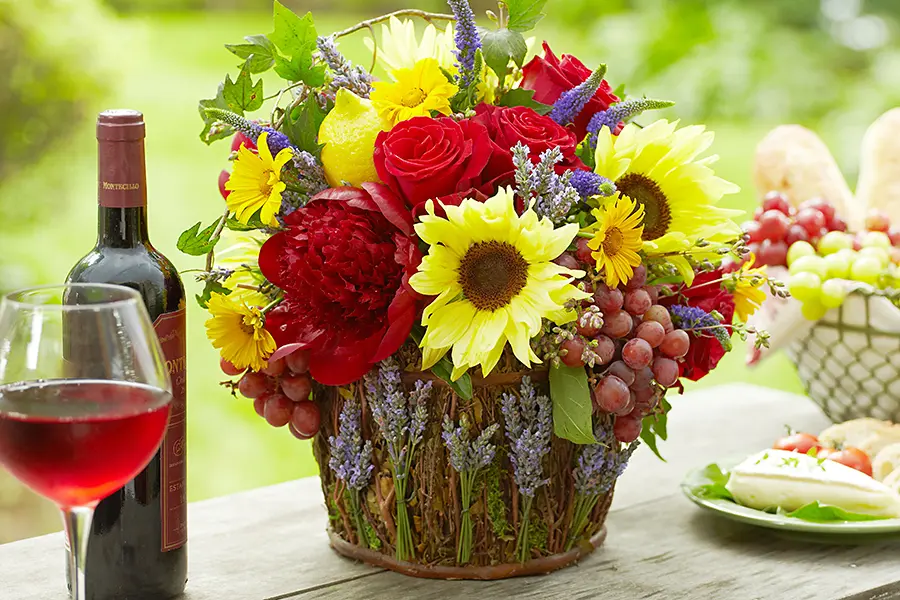 The French Country style of decorating, with its warm and casual feel, will easily fool your guests into thinking that they're dining al fresco in the fields of Provence. The easiest way to create this look is to use rustic, Old World style containers brimming with fresh cut flowers. The most iconic French flowers that I would recommend using are sunflowers and, if available, fresh lavender. French Country style incorporates the full spectrum of the color wheel: sunny yellow and soft gold, fiery red and burnt rust, bright grass green and dark hunter green, cobalt blue soft ocean tones—all of these shades are found in this wonderful decorating style.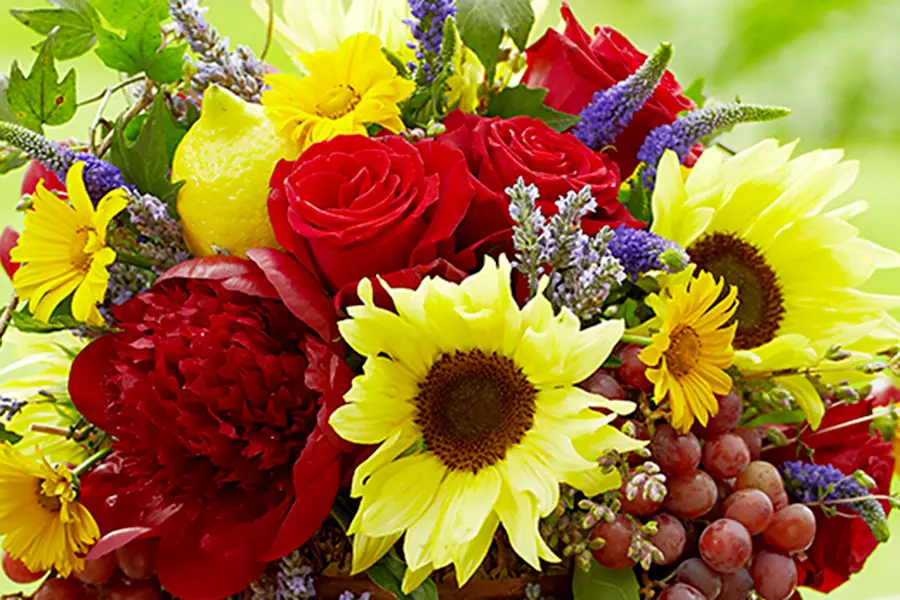 Flowers featured in this arrangement: sunflowers, peonies, roses, lavender, veronica, coreopsis, ivy.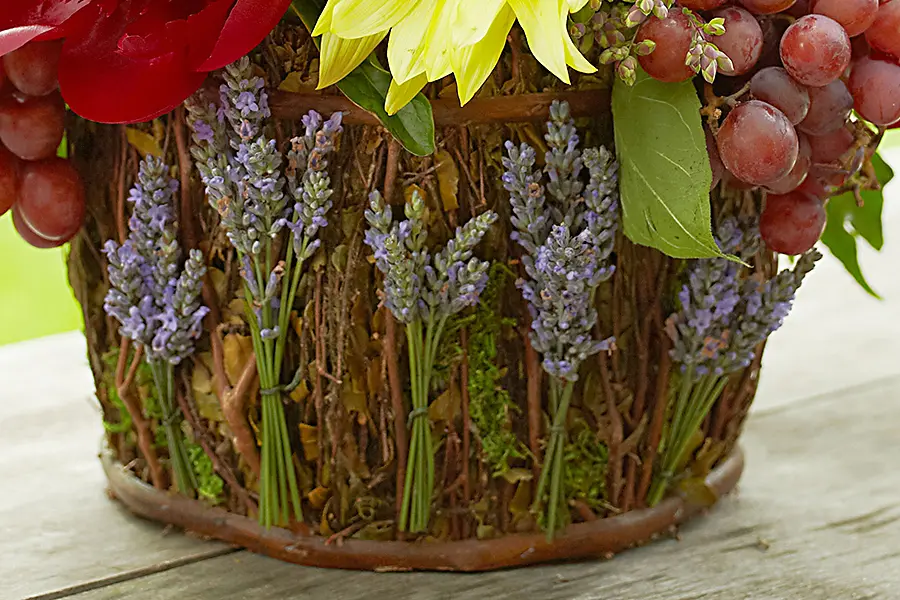 For a unique container that is not only beautiful but deliciously fragrant as well, make small clusters of fresh lavender tied with a small wire and attach them to the outside of a rustic basket.
Say "Bon Appetit" with a Rustic Picnic Setup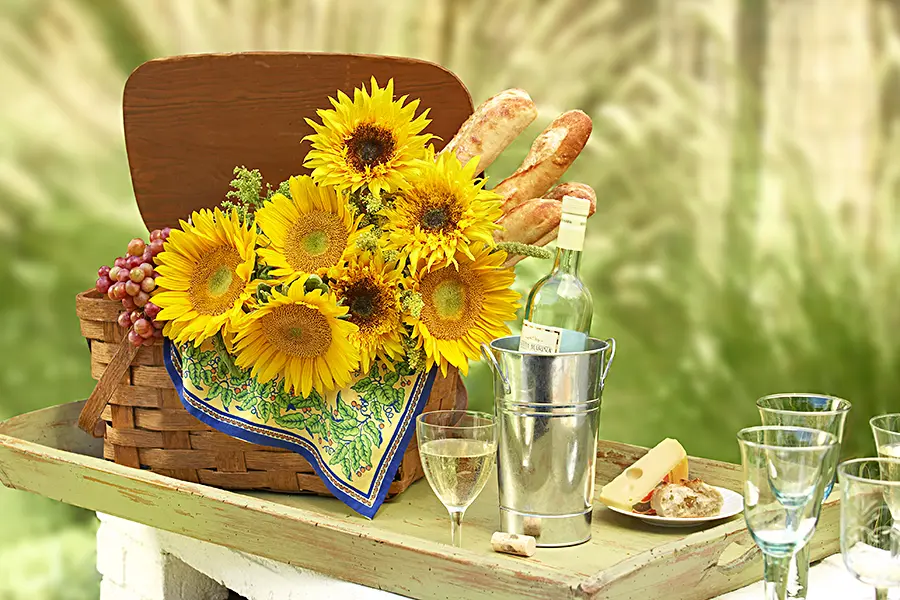 Turn an evening of live music in your local park into a special event by packing a picnic basket with wine, French cheese, a loaf or two of crusty bread and sunflowers!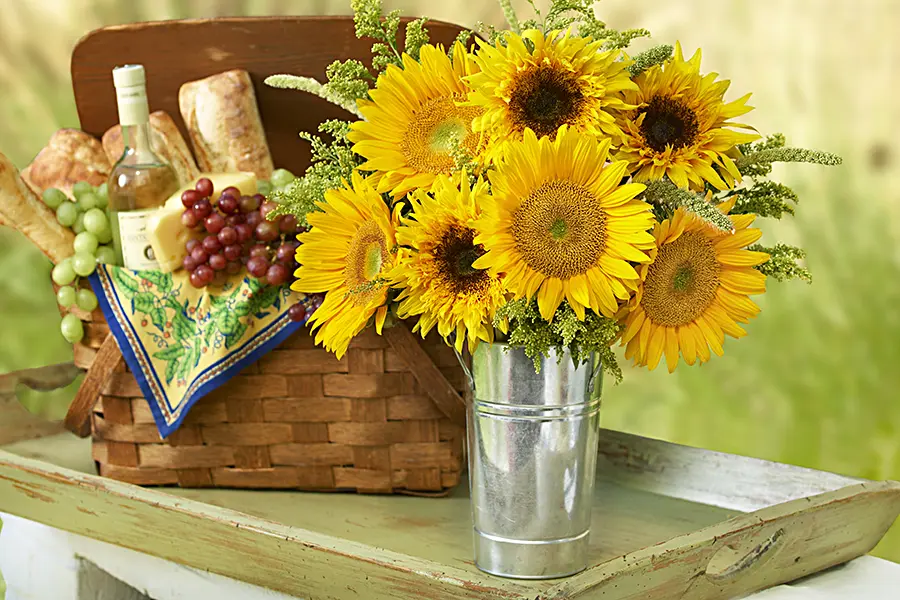 Include a galvanized French Flower Pail and an extra bottle of water to display the sunflowers once you've picked your spot and laid out your blanket. Tip: give your sunflowers a fresh cut to the right length for the container just before leaving home and you'll just need to drop them into the vase when the time comes.
Get French Floral Inspiration from Claude Monet
If you need more inspiration for French Country style floral designs, turn to the work of French artist Claude Monet.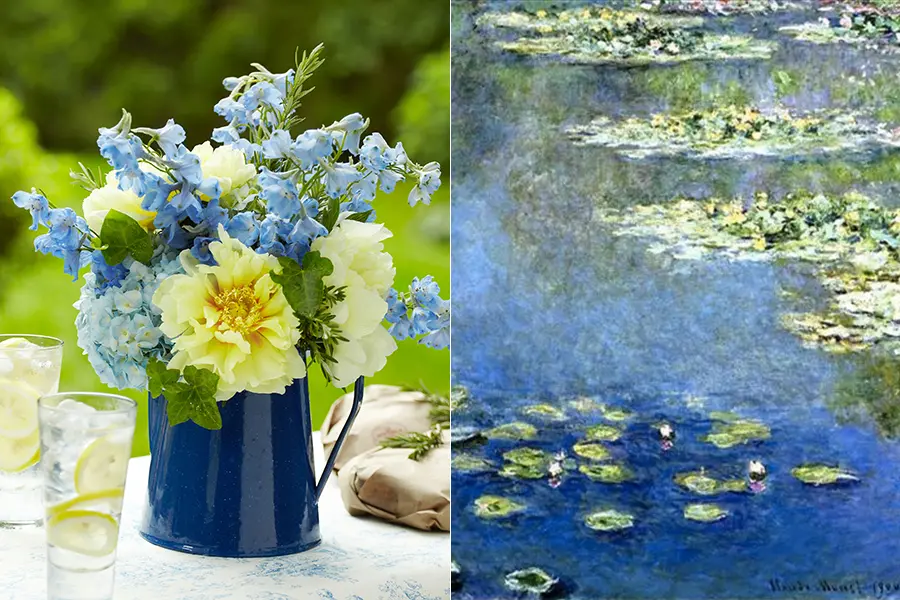 The inspiration for the above arrangement of peonies, hydrangea and delphinium in a vintage cobalt blue pitcher came from the painting on the right by Monet called Water Lilies. Water Lilies is a radiant example of French Impressionism and the glory found in nature. Actually, the title Water Lilies refers to a series by the father of French Impressionism. Monet painted countless individual water lilies in around 250 oil paintings!
I perhaps owe having become a painter to flowers.
– Claude Monet
Up Next – Coastal Living