Watching the Emmy's can be fun but watching it with your friends is even better. Not only do you get to dish immediately but you can feel so much more a part of all the excitement. Decide how much planning and preparing you feel like doing and take it from there. You can go all out or keep it simple, hire professionals to do it all, or assign tasks to your friends and share the fun! Here are a few ideas to get you inspired. Do them all, pick a few or come up with your own ideas – just remember to have fun with it. I'd love to hear your ideas too so if you get a chance send them to me and I will share with everybody!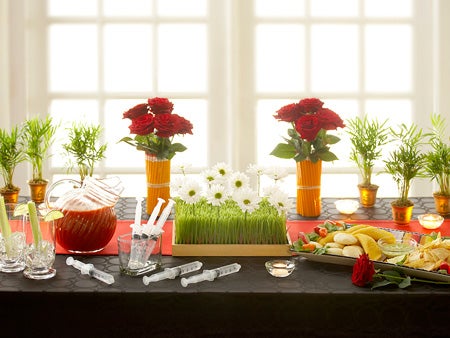 INVITATIONS
Set the tone right from the beginning with the invitations. You can design them yourself, send an e-vite, e-mail, text, or just call everyone. Besides letting your guests know the time and date an invitation is a good way to get the party started. Why not suggest that your guests come dressed to honor one of the nominated shows, for example:
THEMES
Grey's Anatomy – Scrubs
The Office – A Dunder Miflin t-shirt
Ugly Betty – Lots of colors and patterns
Lost – Tattered clothes
Two & a Half Men – a Nate Nast style shirt (the kind Charlie Sheen wears)
Friday Nights Lights – A football or cheerleader uniform
Mad Men – a vintage style dress or pencil skirt, pearls, an up-do, or suit with thin tie and slicked down hair
Or make it a glam nights and tell your guests to be "red-carpet" ready. Put down a red carpet leading to your front door and have a "camera-man" and microphone ready (either a fake one or real one using a karaoke machine – I can't imagine a home without one!) and interview your guests as they arrive. If you are recording this you can either play back later in the night or you already have an excuse for your next party – the "after show" or recap. You should film throughout the night – asking for predictions, critiquing the stars outfits as well as the ensembles worn by your friends at your Emmy Party, etc.
DECORATIONS
This is an area where you can really be creative and have some fun. I suggest having a buffet table set up so that guests can help themselves. You can have everything set up in advance and this way you can be a part of the party and watch the Emmy's on TV too. Here are some ideas (along with how to's) that are inspired by some of this year's nominated shows:
PUSHING DAISIES
A gerbera daisies and wheat grass centerpiece
THE OFFICE
Pencil and rubber band vases
LOST
Mini palm trees each with one of the numbers on the container
GREY'S ANATOMY
Glasses, a pitcher of Bloody Mary mix, and syringes filled with vodka for a "make your own" drink station
UGLY BETTY
A bright tray of Columbian foods in a splashes of various colors:
Arepas
Electric Chimichurri Sauce
Empanadas Paisas
Obviously if you are hosting an Emmy viewing party then a TV is a must. Make sure that you have lots of seating available where the TV is and I suggest setting up the buffet table in a separate area. Some other ideas are to put together a play list of TV themes songs on your i-pod and have some TV trivia games planned.
Take a look at the tips I shared with Better TV viewers on how to create the perfect Emmy Party.