Packing up a picnic basket for a leisurely lunch in a local park, or putting together a delicious mix of cheeses and some crusty bread with your favorite wine to enjoy at an outdoor concert are some of the true joys of summer. Here are a few tips that will guarantee that your picnic is as pretty and enjoyable as it can be!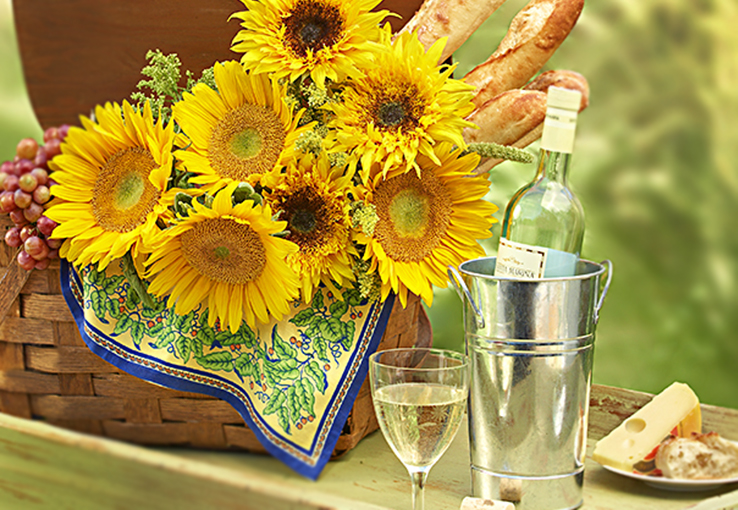 Start by choosing your picnic basket or whatever container you will use to pack everything in. I have a collection of both old and new baskets that I have picked up through the years. Using a real basket sets the mood right from the start.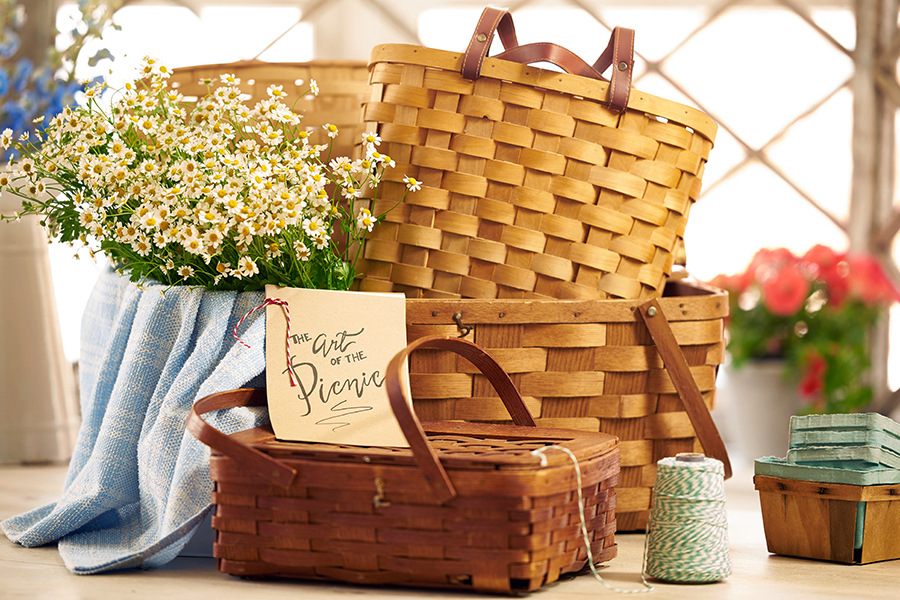 Tip: Line the bottom of the basket with a plastic garbage bag before packing. It provides an extra layer of protection should anything leak, and then you can use it when it's time to clean up.
Next you'll need some type of cloth to lay on the ground. You can use an old blanket or sheet, or any piece of fabric that is large enough to at least place your food and beverages on. I was so excited when I found the this 48" square of blue and white fabric at the Salvation Army for only $2. I love the colors and summery vintage feel of it, and at $2 I don't have to worry if it gets a little dirty!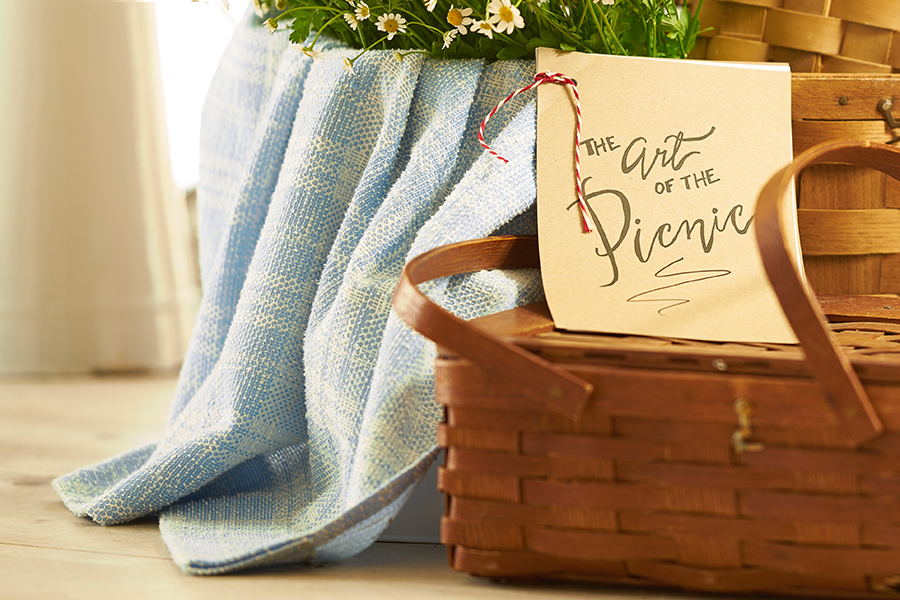 The sweet little booklet in the image is from one of the workshops I participated in during my recent trip to Philadelphia for my second Sweet Paul's Makerie event. This retreat brings Sweet Paul's amazing, inspirational magazine to life for two days filled with modern crafting workshops, world renowned teachers, fabulous meals, inspiring speakers and an awesome creative community.
"The Art of the Picnic" was presented by Sarah Kudlack from Heart and Dash, a wonderful Philly-based event company. I felt right at home surrounded by the vintage finds and inexpensive items that Sarah used in creative ways to make a picnic chic and personal.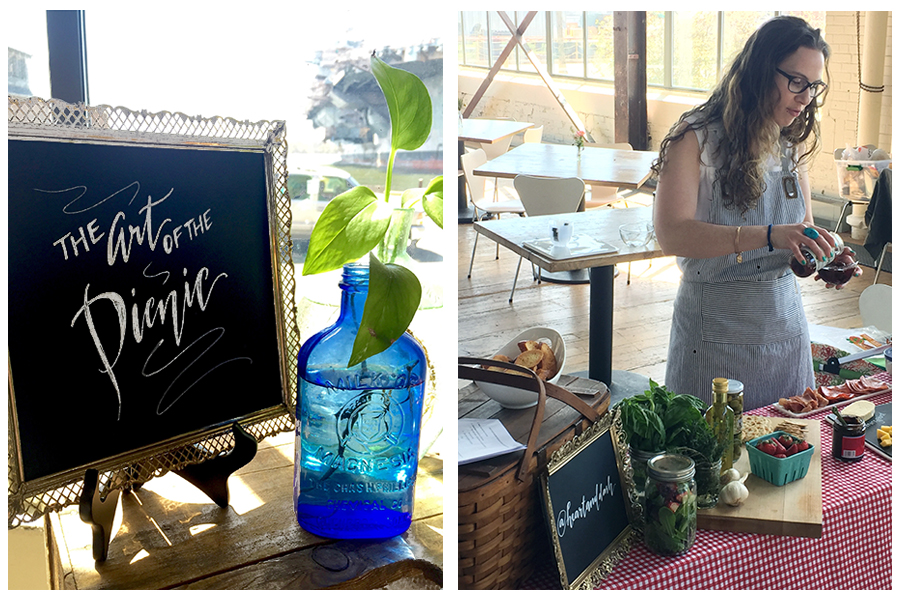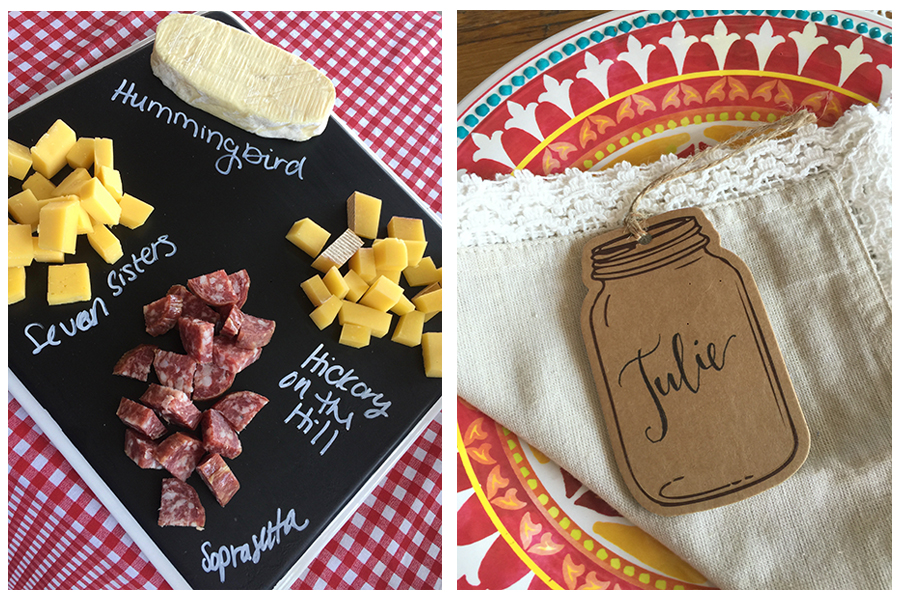 Keep it lightweight! Remember that you are most likely going to have to carry your picnic basket to your intended spot, so use lightweight and unbreakable materials such as plastic and metal whenever possible. There are so many choices available today that are so "not your mother's plastic glasses" at very reasonable prices. These "cut crystal" wine goblets are only $3.99 each from Home Goods.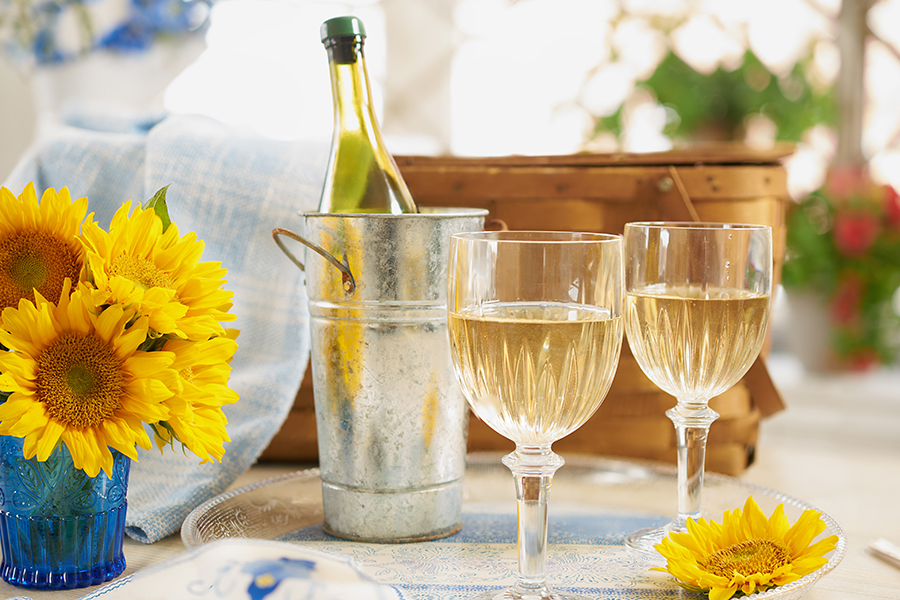 While at Home Goods I also picked up a few pretty cobalt blue glasses ($2.99 each) for the Bay Breezes that I put in a coordinating plastic bottle ($4.99). I also included a few stems of summer sunflowers in my basket to display in one of the glasses–because I must have flowers, always!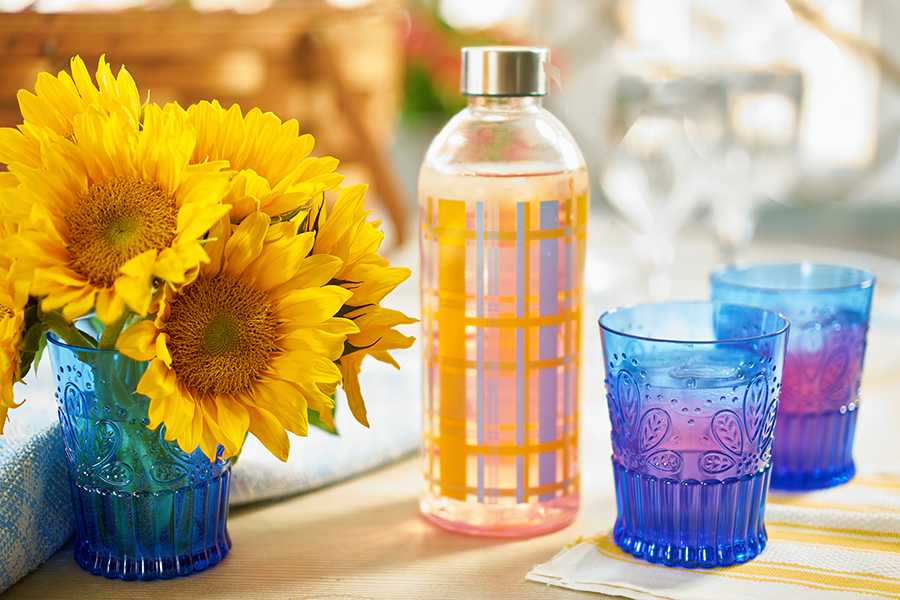 Keep the food light, too! Pack food that can go a few hours without refrigeration, and don't go overboard on the amount of food you bring. It's more about the whole experience here as opposed to eating as if it's your last meal!
Caprese sandwiches are great anytime, but particularly in the summer when tomatoes and basil are in season. Start with a large baguette and then cut into smaller pieces and wrap with wax or butcher paper and tie with a string.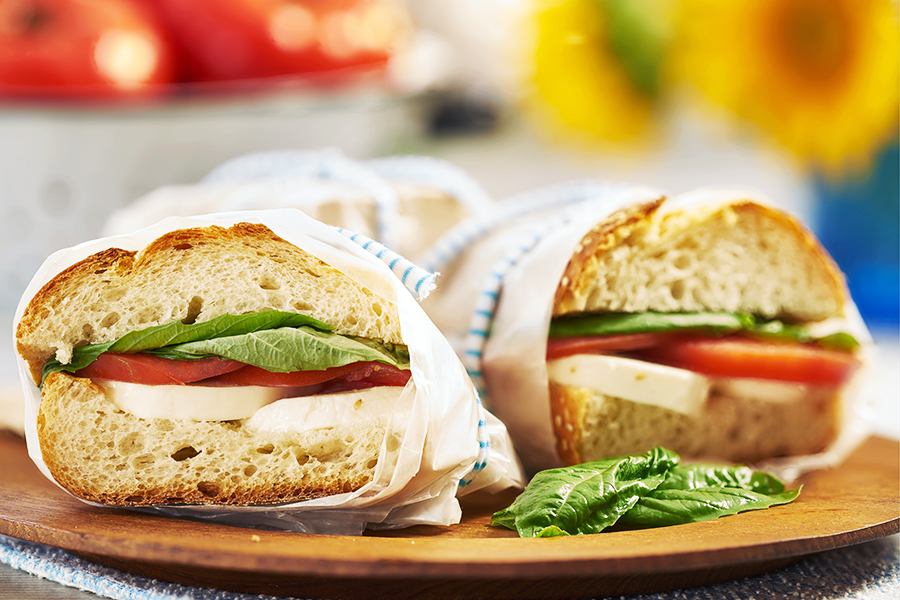 What's better while sipping wine al fresco then a little soft brie on a slice of crusty French bread!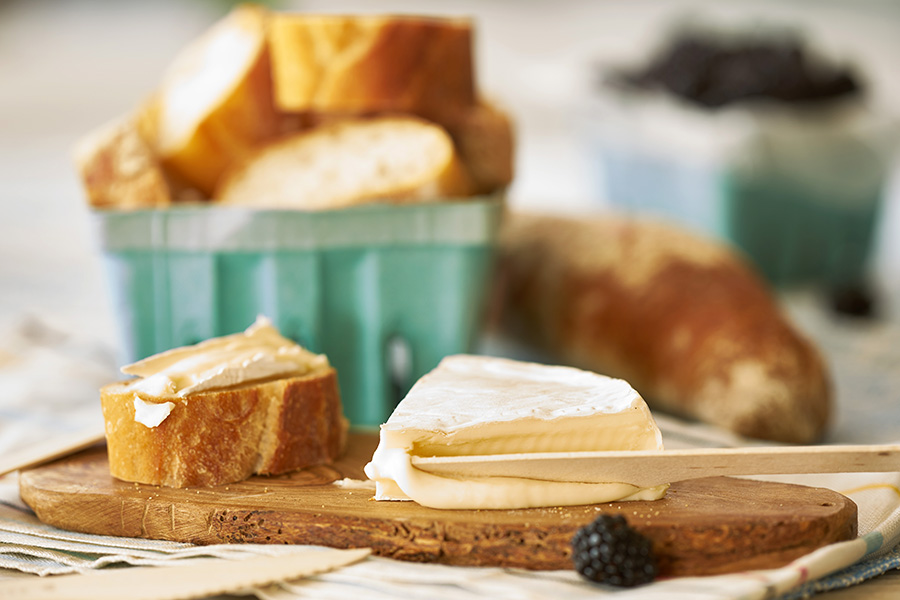 Instead of plastic utensils I like to use disposable wooden versions. They are certainly better for the planet and look way cooler then plastic! I picked up a few packs of the knives in the clearance section of Michael's craft store, so I am all set for summer dining! You can also find some good buys online.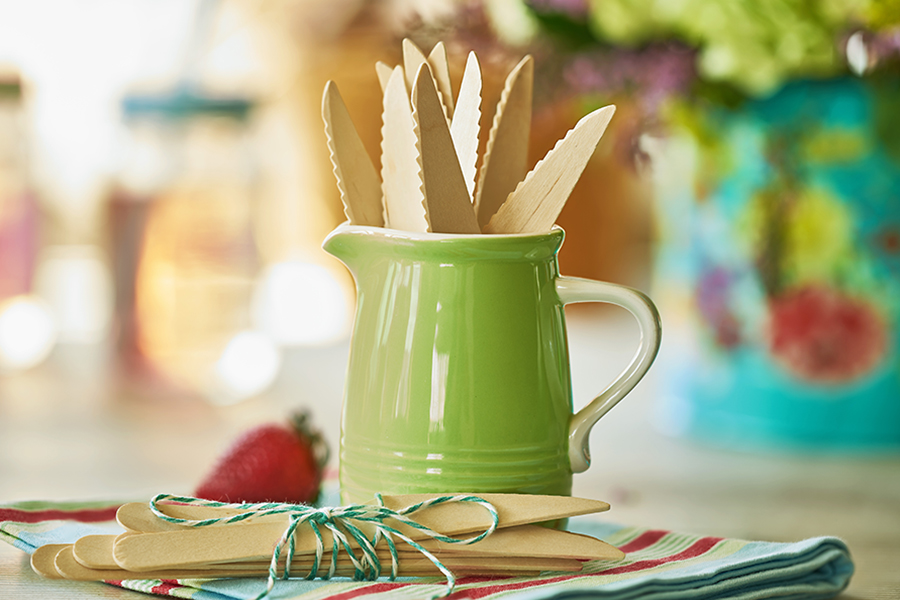 So get out there and enjoy the outdoors with family and friends. With a little thought and pre-planning, you can make the simplest summer outing feel like a special occasion!