I was recently asked to do the flowers for a baby shower that was to be held at The Core Club in midtown Manhattan. The Core Club is a private club with an urban art gallery atmosphere. After taking a look at the space, I came to the conclusion that the traditional baby décor in pink and blue just wouldn't work! I wanted to create décor that was artsy, fun and would speak to the occasion, as well as, work in the space. Also, at this point the sex of the baby was unknown, so I had to keep the décor as generic as possible.
At the beginning of the event, the guests mingled on the outside terrace. I chose to use stems of orchids in large glass cylinders for the bar and a mix of greens and Burgundies in glass cubes for the tables.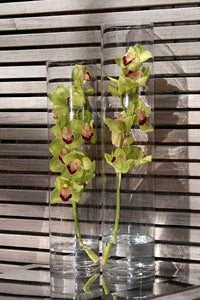 For the lunch, served in the main dining room, I created "peas in a pod" arrangements! I made the pod out of papier-mâché and the peas were spheres of prado carnations. Accent lighting was provided by glass votives surrounded by fresh snow peas.
Dessert and the opening of gifts took place in the library. The art displayed on the walls of the library were in neutral tones and had a graphic feel. For the flowers in the library, I used red roses and white orchids in glass cylinders decorated with images from a parent's guidebook that I had found online. The advice was quite funny and everyone really got a kick out of reading all of the "vases".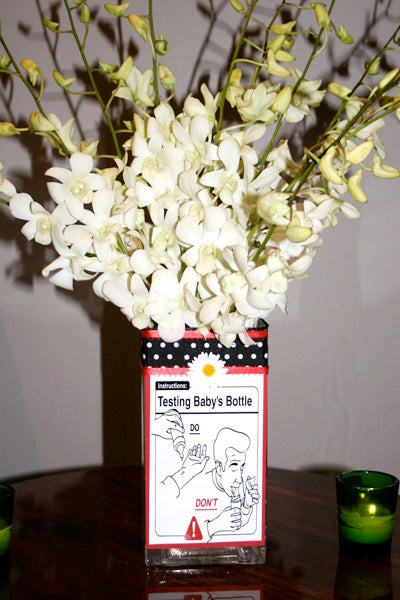 I am pleased to say that the floral décor was a huge hit and that little sweet pea, Abigail Moore Lenehan, was born a few weeks later and is healthy, happy, and beautiful (and my first great niece!). Her Mom and Dad are following all of the do's and don'ts from their new guidebook and are doing a wonderful job!!