The personal and the décor flowers should complement each other. I suggest having 3 different centerpieces in varying heights instead of having the same centerpiece on every table. It creates a much better rhythm and flow in the room. Various size tables are also nice if your venue can accommodate it. Here are three fall reception décor ideas that work with the look and feel of the bouquets I have featured so far.
Wreath Centerpiece
I love this fresh flower wreath. Incorporating lots of texture with the pods, berries and kale, make it a feast for the eyes. I particularly like the use of the cut succulent, which is currently one of my current favorite "flowers" to work with this year. An amber glass cylinder and pillar candle in the center of the wreath adds a warm glow to match the warm glow in your hearts on this special day.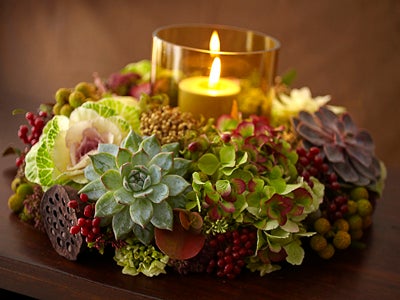 Iron Pedestal
This pedestal is adorned with chandelier crystals, candles and has a very romantic feel to it. The green hanging amaranthus is a nice dramatic touch.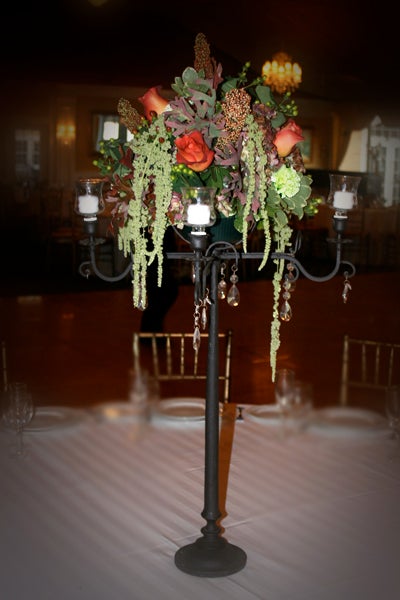 Metal Twig Tree
Branches are extremely popular for weddings and special events right now. In this case, I started with a metal twig tree originally designed to display ornaments. I added a few stem of fresh birch branches to give it some visual movement and a more natural fuller shape. The metal branches provide an excellent base for hanging votive candles on and the cymbidium orchids can be strung on the more delicate birch branches. When the lights are turned down and the candles are lit these trees add a magical touch to the room!