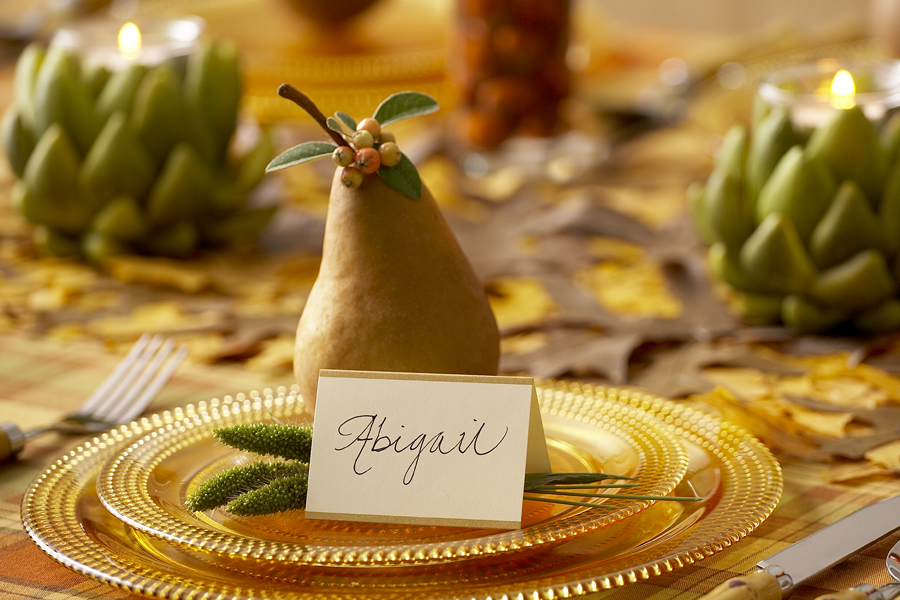 Think of your tabletop as a blank canvas on which you will create your "tablescape" art. You choose your mediums as any artist would—your surface, linens, flowers and candles. The layering of colors and textures, adding personal touches, all play a part in the delight and ambiance that a beautifully designed table brings to a special occasion. Go as big or as simple as you want! This is your masterpiece, and should represent you and tell the story that you want told.
Let's start with simple! Here are a few easy, creative and inexpensive ideas that I hope will provide some inspiration to get you started on your tablescape art.
Fresh Flower Wreath Centerpiece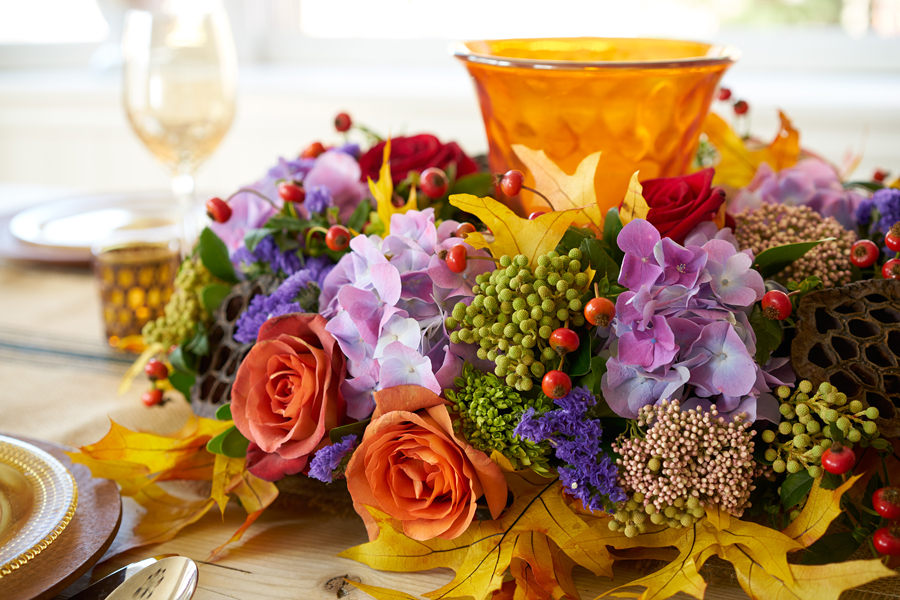 Wreaths are one of my favorite design styles for a more traditional centerpiece. Having the center of the wreath open provides endless opportunities for additional personalization. Here I used a beautiful amber Fenton glass vase as a candleholder. I think the amber glow is the perfect complement to the rich hues of the seasonal flowers in the wreath.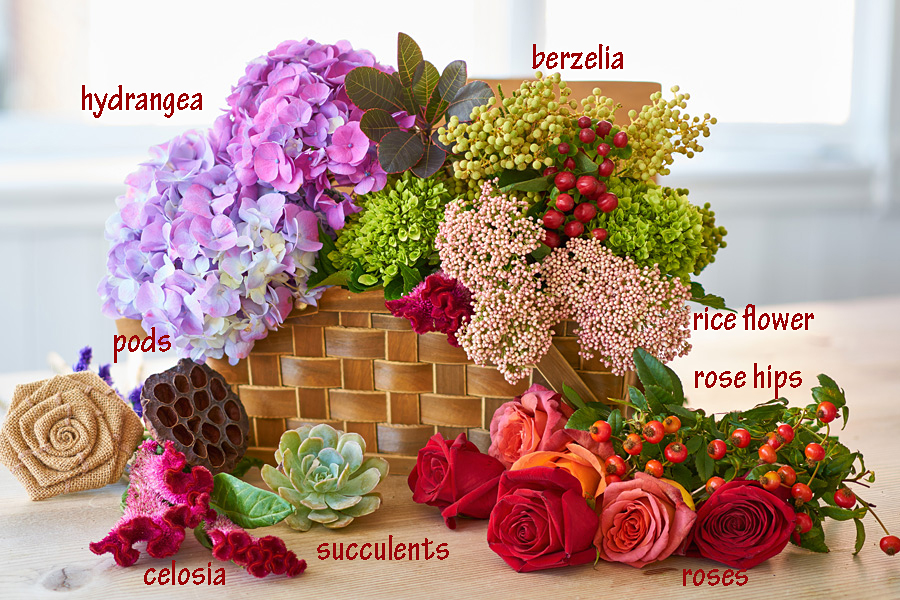 When creating a fresh floral wreath I like to use flowers that air-dry nicely. Using flowers such as the varieties featured in this photo can extend the "life" of your centerpiece by weeks.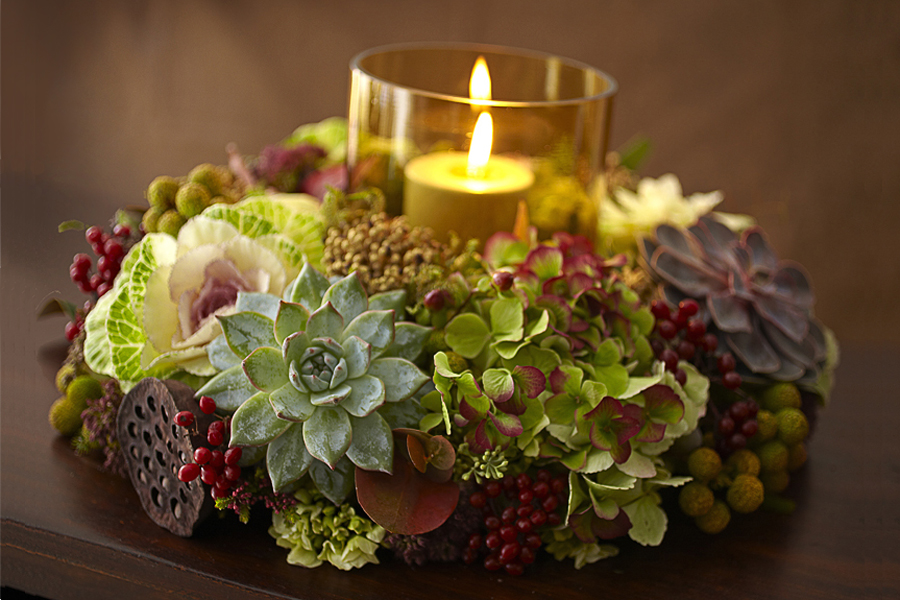 Some varieties of hydrangeas dry better than others. The variety that dries the best and is featured in the wreath pictured above is known as an "antique hydrangea". It is typically soft moss green with burgundy edging and works beautifully with all of the rich colors of autumn.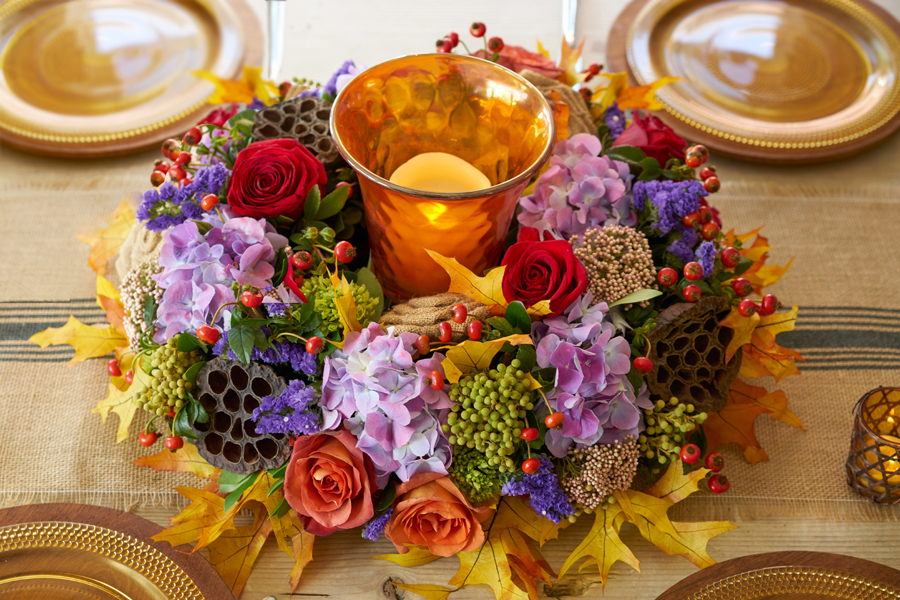 This wreath is all about the vibrant and saturated colors of the season. In order to create the perfect backdrop for this intensity I chose to keep everything else very neutral. A burlap table runner on a natural wood farm table and wooden chargers holding amber depression glass plates let this centerpiece take center stage!
How to Make your Flower Wreath Centerpiece:
Regardless of your choice of floral varieties and color combinations, the step-by-step process of constructing the wreath is consistent. There are various types and sizes of wreath forms available. The one I used here has a papier-mâché backing, so I placed it on a charger plate after soaking to protect my surface.
Step 1: Prepare Floral Foam
Thoroughly soak the floral foam wreath base.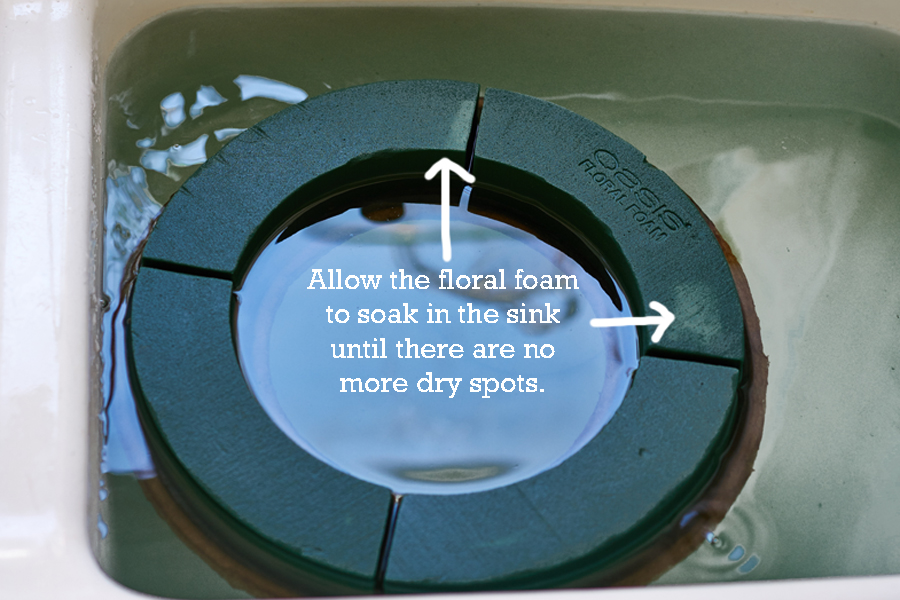 Step 2: Add Your Greens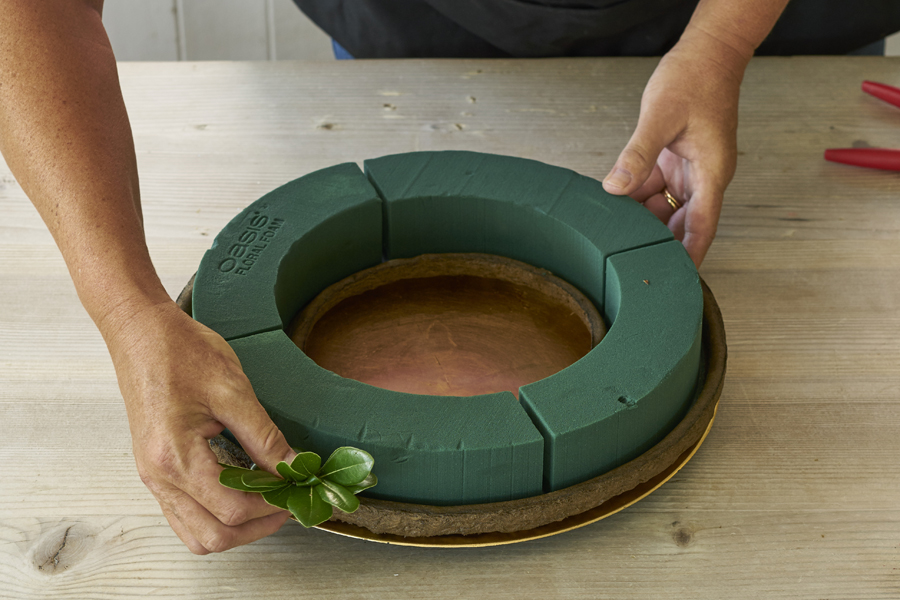 Start with a base of foliage, inserting short pieces around the outside of the form, adding additional sprigs on the inside rim as well as the top. Your foam does not have to be completely covered at this point. You can always go back and fill in any empty spaces after you have added the flowers and dried accents.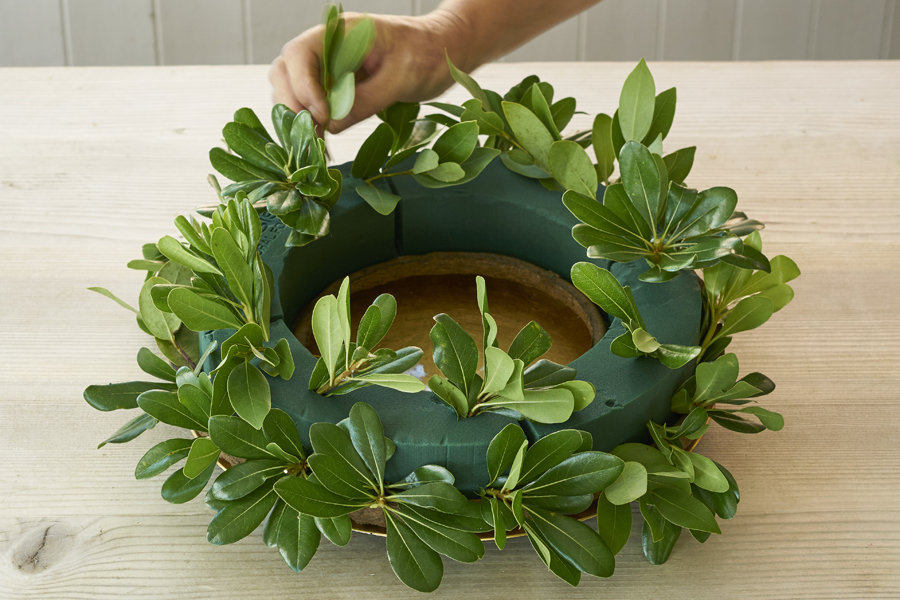 Step 3: Add Your Flowers
Start with your largest flower first. There are multiple stems of flower clusters on each hydrangea bloom. Because you are cutting the stems so short and inserting them directly into wet floral foam, you can cut these laterals from the main stem and use them as separate insertions. This allows you to bring the color and the texture of the hydrangea all the way around the wreath without overpowering all of the other flowers.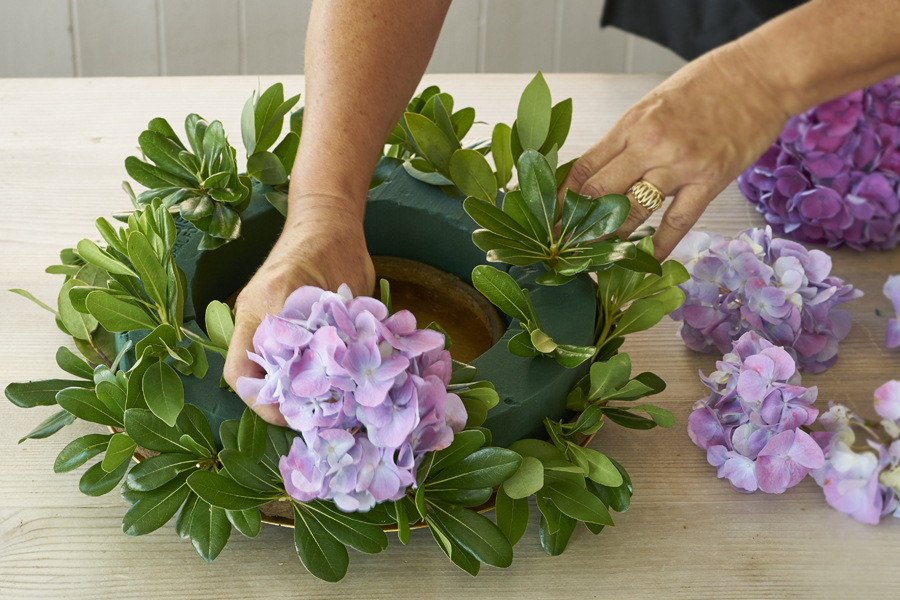 Here I only used two hydrangeas, but I have 6 separate insertions that already make my wreath nice and full.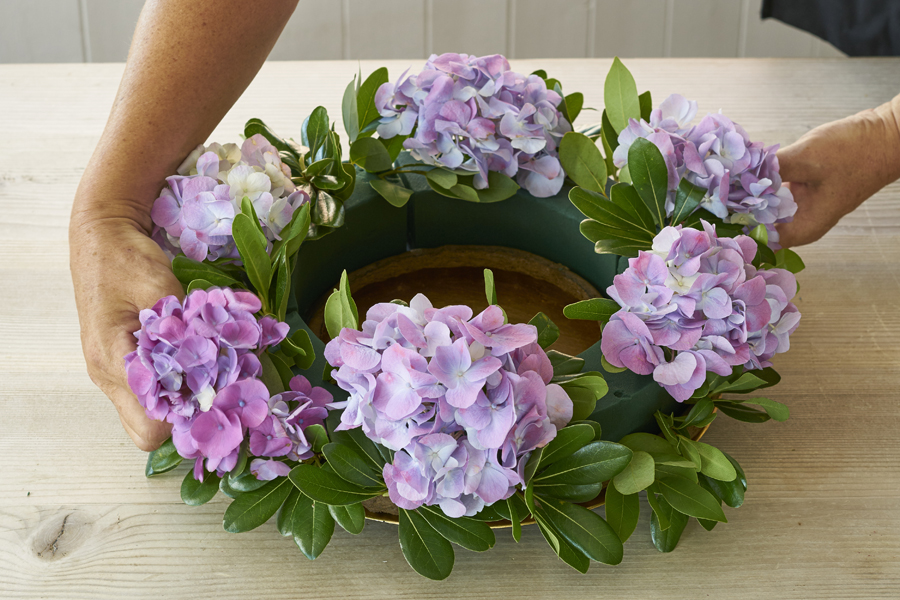 Step 4 : Add your Décor
Next I added the dried pods and the burlap roses. These are both substantial and will add fullness, especially as the fresh flowers begin to dry. Flowers will lose their vibrant color and shrink in size during the drying process.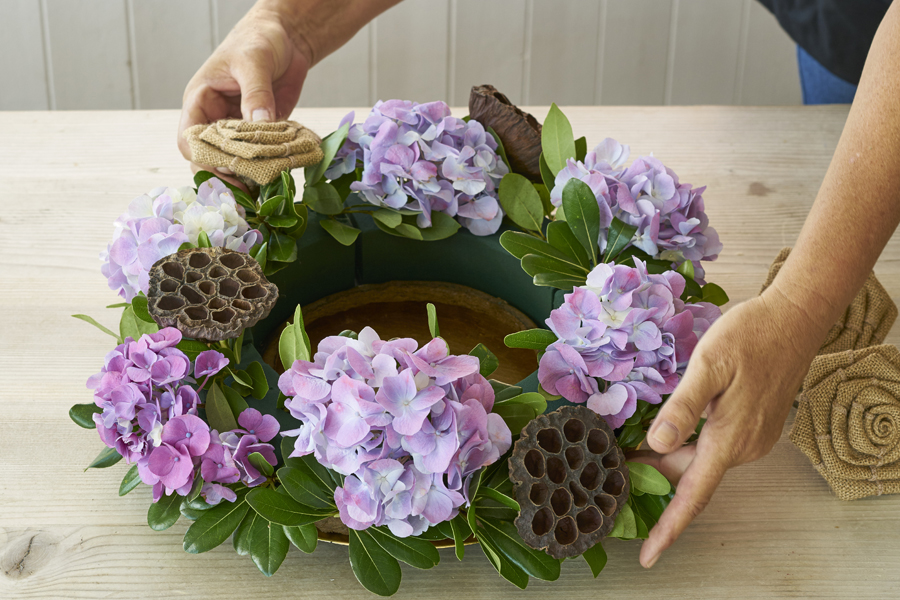 Step 5: Fill In Any Empty Spaces
Fill in the spaces with the rest of the floral that you have chosen, cutting as many short stem laterals as possible from variety.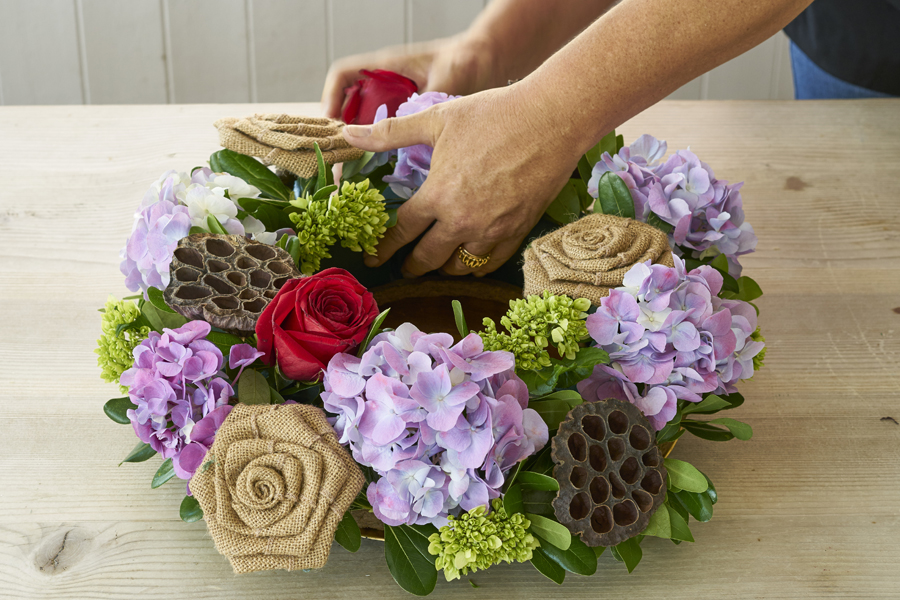 Step 6: Finishing Touches
I used rose hips to add dimension to the wreath. Cut the woody stem of the rose hips a little bit longer then you cut the stems of the flowers. Insert the bottom of the stem between the flowers until it is secure in the foam and the berries are positioned just above the flowers.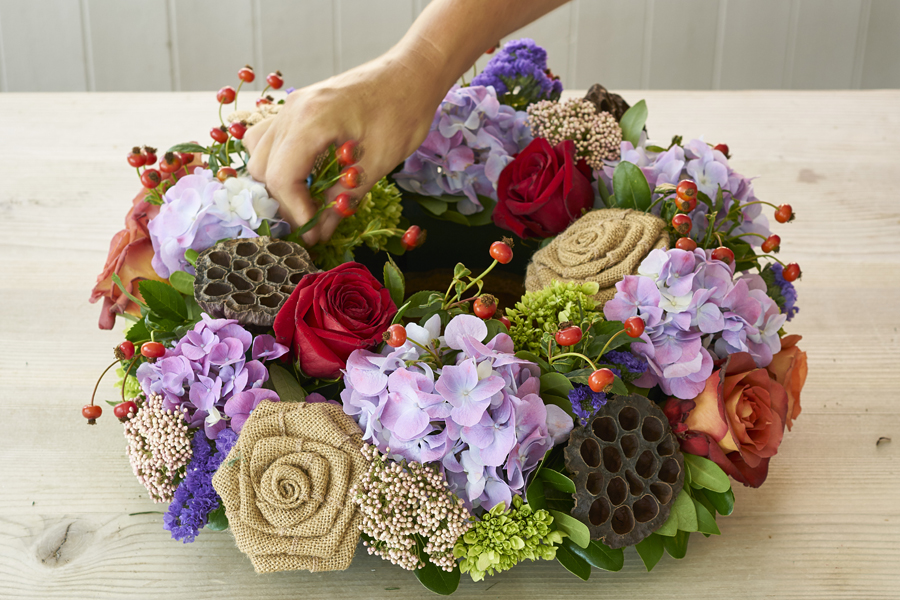 Step 7: Add a Touch of Autumn with Colored Leaves
The final touch is adding the fall leaves. The added touch of the gold and rust leaves is just what this wreath needs to tie it all together as a perfect centerpiece for your Thanksgiving table and all season long!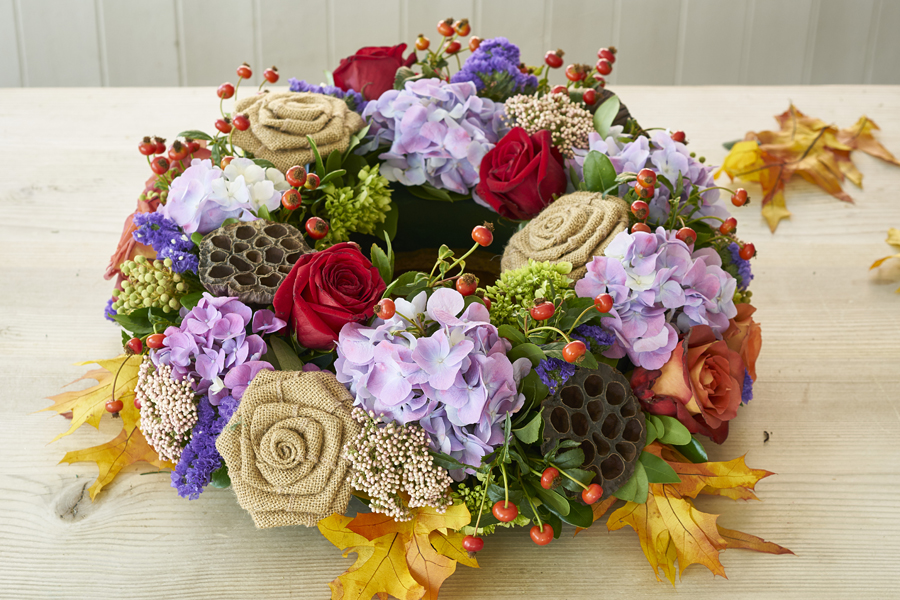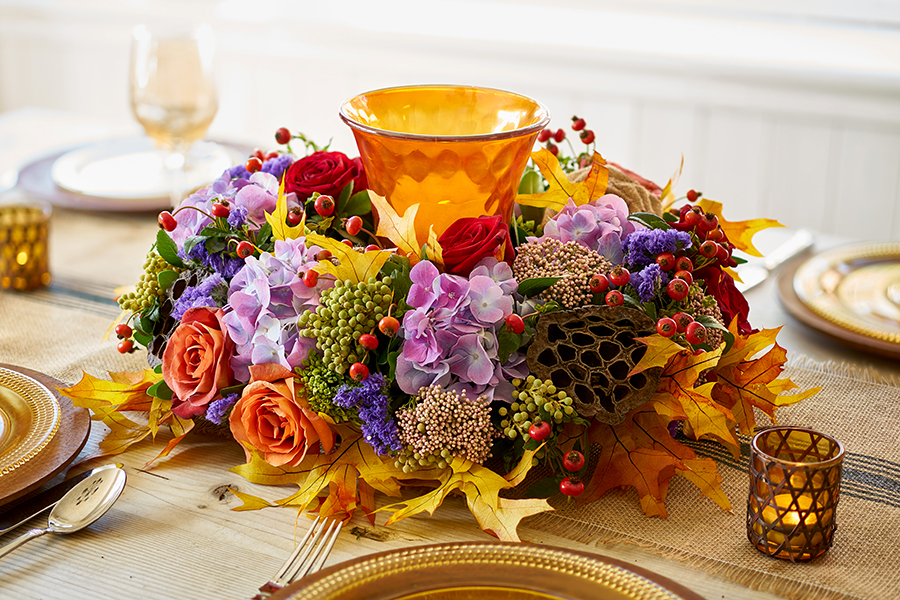 Keeping It Green and Lean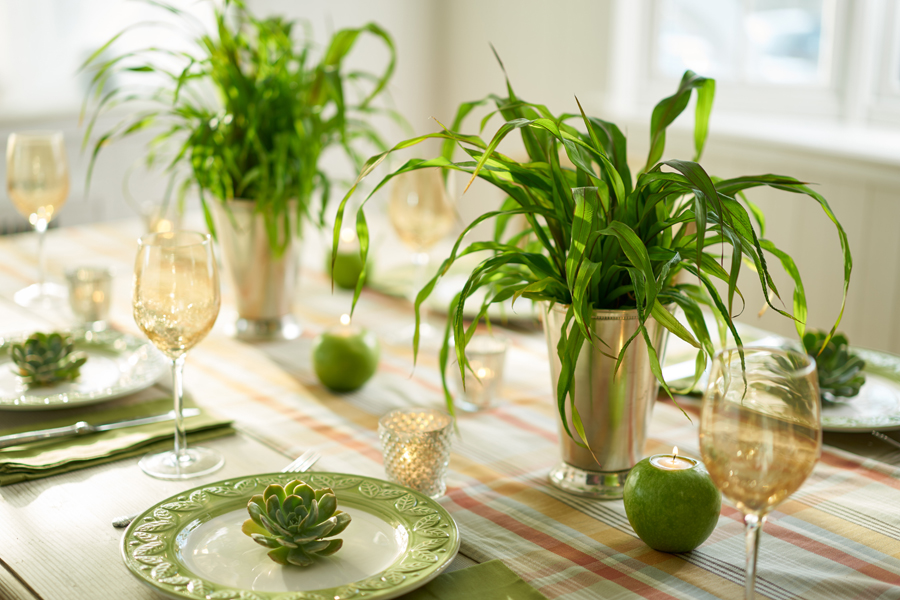 Plants are a great option for tabletop decorating. They can be relatively inexpensive and last for weeks if you are using seasonal varieties. While these millet plants that I picked up at Smile Farms are a bit taller then normal for a centerpiece it still works. I find that everything gets moved around once the food starts getting placed on the table anyway!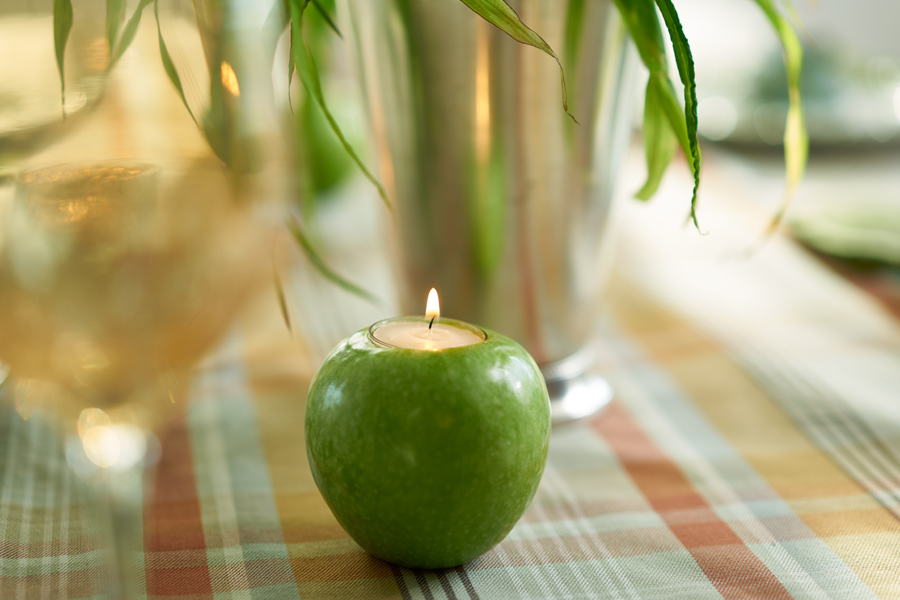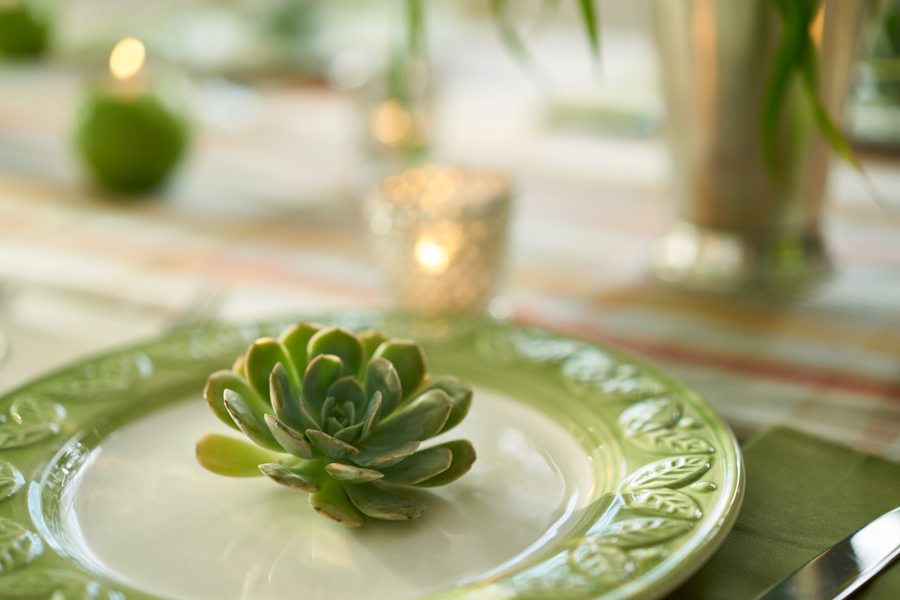 Having small, unexpected accents like the green apple candles and the fresh cut succulents on each plate can complete your look and keep your table decorated and festive even when all of the food has been served!
DIY Garden Trug Centerpiece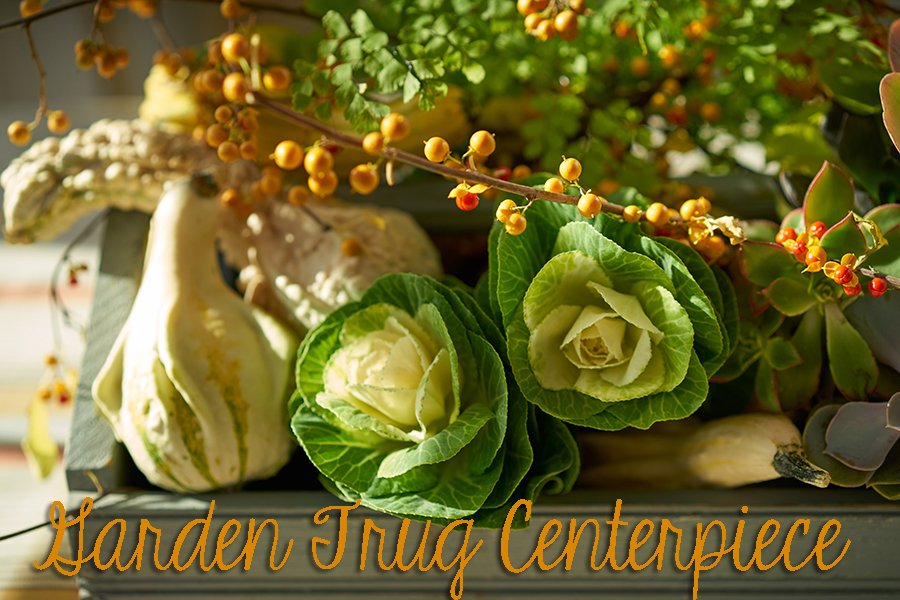 An easy way to create a large statement piece is to start with gathering style container such as this wooden garden trug.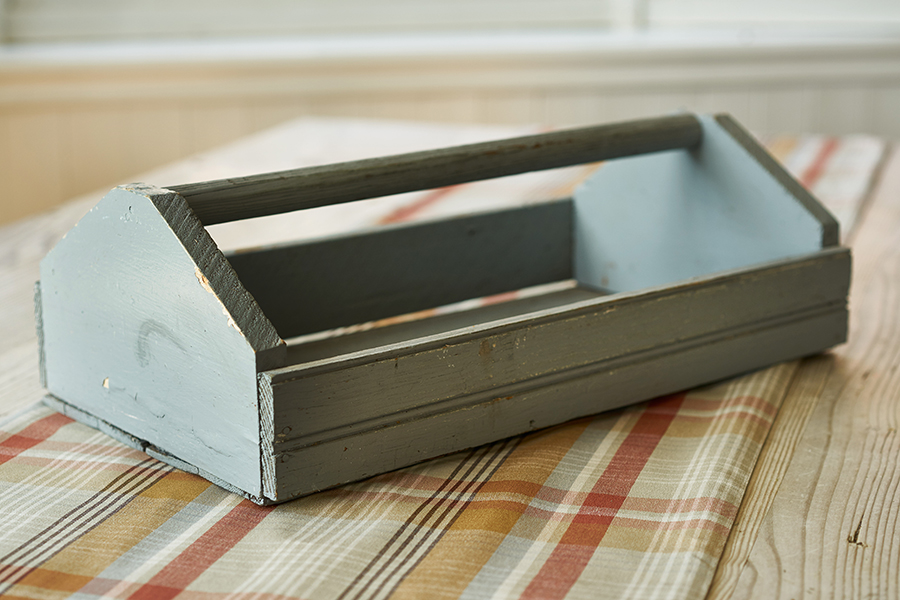 Choose materials to nestle into the container that complement your color scheme and have varying shapes and textures. Including seasonal elements such as gourds and bittersweet branches adds a festive holiday feeling.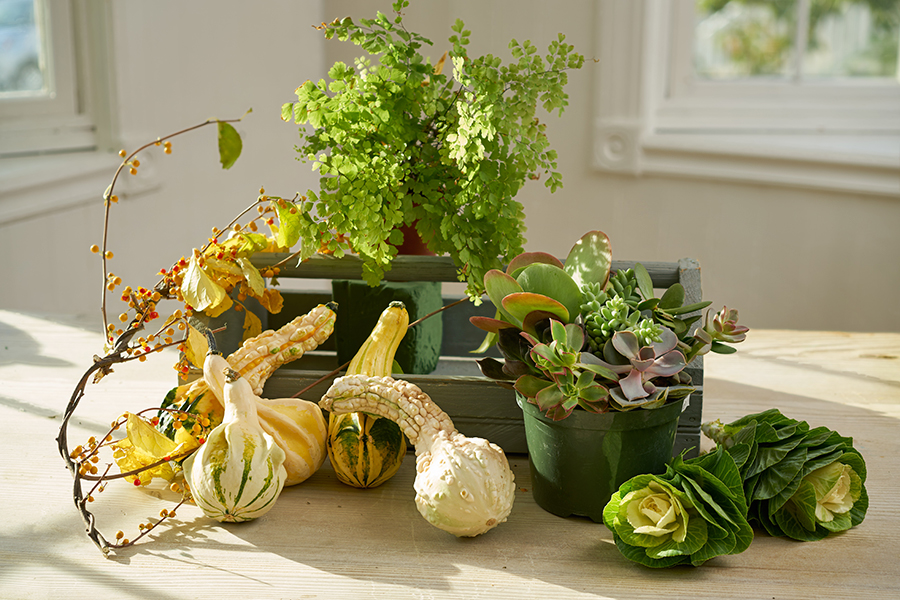 You can use pieces of floral foam as build-ups so that you have varying heights. You can also add a few stems of fresh flowers. To keep fresh flowers fresher longer first put a piece of wet floral foam in a small plastic container or just add water to a small plastic cup and place it in the trug first and then add the flowers.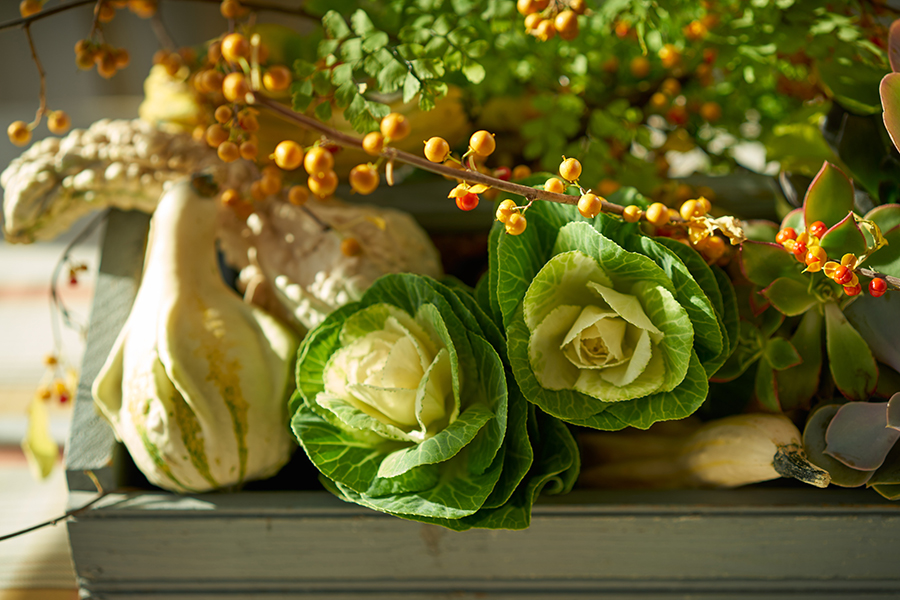 My favorite part of this design is the addition of the bittersweet branches. These seasonal berry branches do not have to be in water. They dry nicely and with minimal handling will hold the berries for weeks!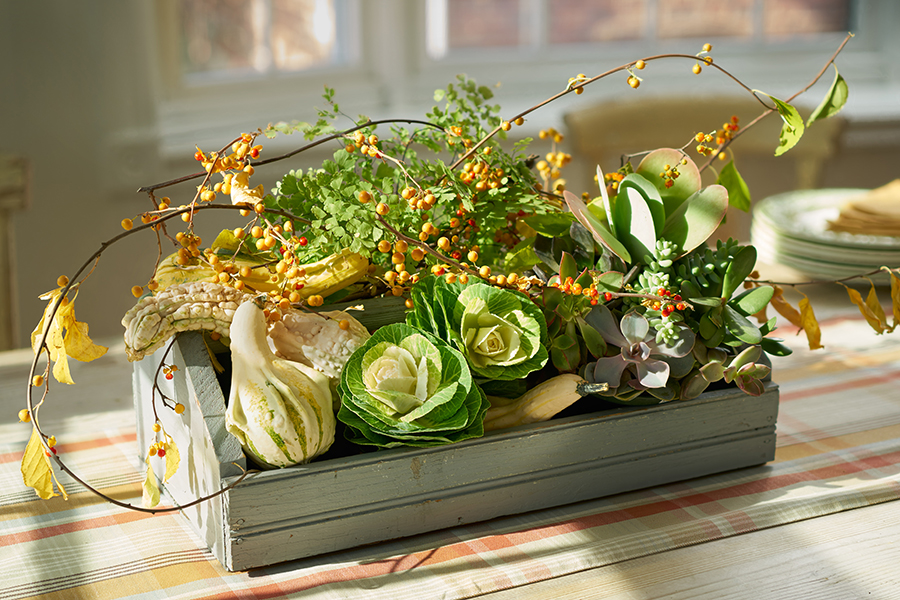 Foraged Bouquet Centerpieces
This final idea couldn't be easier. Just do a little foraging in your garden (or your neighbor's)! I live at the beach so my garden is full of ornamental beach grasses and millet. And turning leaves are everywhere! You know I love flowers, but this time of year offers a plethora of branches, berries and grasses that are beautiful in their own right.
Keep it simple and natural by adding an LED votive candle to the center of a fresh artichoke and place a single stem of millet and sprig fall foliage on each plate.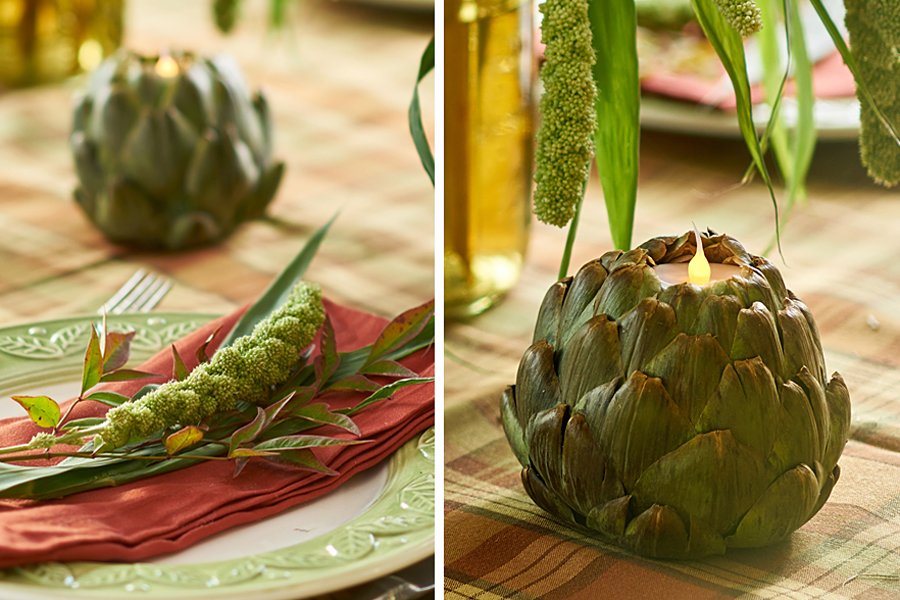 Now it's your turn. Break free from all the rules and get creative. Visit the Thanksgiving Centerpiece Collection at 1-800-Flowers.com for fabulous flowers guaranteed to deliver a smile!