Margaritas and summer just seem to go hand in hand. Some prefer them straight up and others go for the frozen concoction! Well 1-800 FLOWERS.COM has a version that is neither and yet will still be the hit of any summer celebration. They have a super sized version that is perfect as a centerpiece and a smaller size that is great for an individual place setting. The smaller size can even make a fabulous take home party favor. Here are a few images of these terrific floral cocktails from the 1-800 FLOWERS.COM Happy Hour Collection that might also provide some inspiration for you to make your own floral cocktail decorations. Just let your imagination flow – no pun intended!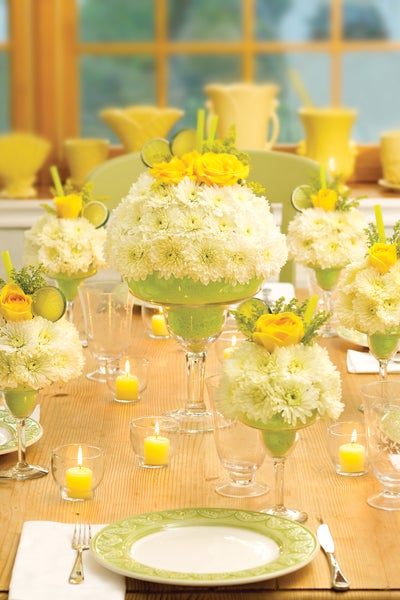 And just in case you need it, here is a recipe for a standard margarita. I like this one with an added shot of Grand Marnier!!
1 ½ oz tequila
½ oz triple sec
1 oz lime juice
Rub the rim of a cocktail glass with lime juice, and dip in salt. Shake all ingredients with ice, strain into the glass, and serve.
Enjoy!