This week I was invited to attend a design council presentation by the BloomNet, division of 1-800 FLOWERS. In their continued pursuit of excellence in the world of floral product development 1-800 FLOWERS reaches out to leaders in all areas of the floral industry and brings them together with other members of the 1-800 FLOWERS team to brainstorm, share, and create. It was a wonderful opportunity to meet some kindred spirits and to see what other designers are up to. While I can't show you any of the designs that were presented at this time as they are in the early stages of the product development cycle I am happy to introduce you to the four talented floral artists who participated in this session. All four brought their experience and skill as well as their passion for floral design to this event. To find out more about each one you can view their full biographies below.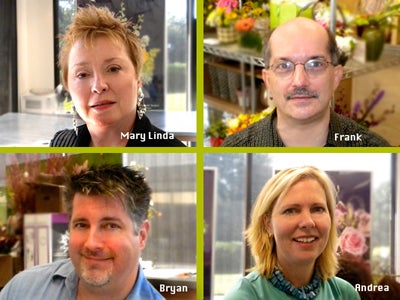 Andrea Nordloh Ancel
Most recently Andrea Ancel was the founder and owner of Wild Poppy Inc., a highly successful event and floral design business regularly recognized by New York, Best of New York and Gotham Magazines. Previously she was manager and head designer for Renny, a nationally known New York event and floral design firm. During her distinguished career Andrea has conceptualized and coordinated special events for major clients such as The New York Times, The New York Public Library, Whitney Museum of American Art, MTV, Memorial Sloan Kettering and Estee Lauder as well as innumerable other organizations and private clients. She has traveled as far as the Mid East for large-scale installations. Andrea is known for her unusual use of color and textures in her floral arrangements, as well as always giving clients far more than they expected. Andrea received her BFA from the Parsons School of Design in New York and served a color/textile design internship in India. She lives in Manhattan with her husband and two children.
Frank Brice, AIFD, PFCI
Frank Brice, President and Owner, Rao's Mattydale Flower Shop, Syracuse, NY, and BloomNet Professional Florist. Frank has worked in and contributed to the Floral Industry across the United States, Europe and Asia for over 40 years. Frank's Educational background includes Associates Degree – Ornamental Floriculture, Alfred State College, Alfred, NY, and Bachelors of Science – Environmental and Consumer Studies, Buffalo, NY. Frank received a scholarship from the renowned Floral Art School, Maastricht, Holland and has attended classes at Sagetsu School, Tokyo, Japan as well as provided advanced commentating for the A.F.S. Education Center. Floral Industry Affiliations include – American Institute of Floral Designers (AIFD), Professional Floral Communicators International, Society of American Florists, Knud Neilsen and Lomey Manufacturing Design Team's, and World Flower Council. Frank has also served as a Contributing Designer to a number of highly respected Publishing Companies and Floral Industry Organizations such as Professional Floral Design Magazine, Michigan State Floral Magazine, Modern Bride Magazine, John Henry Company (Hot Display, Weddings), American Floral Services – Flowers for you Wedding, Selection Guides, and Tributes and was part of the BloomNet Wedding Book Design Team. Frank has also served as a Contributing Writer and Educator for Tradeshow programs both Internationally – Holland, Taiwan, Japan, China, Canada, and within the United States – Oklahoma City, OK, AFS Education Center, CT, NY, MI, W. TX, WI, and S.CA. Leverage his keen eye for function and design, Frank has participated in Product Development Projects for Smither's Oasis, Lomey Manufacturing, Romance Silks, and Creative Distributors where he also served as their Creative Director for over 10 years. Frank is also responsible for award winning tradeshow booths and was the youngest designer for the Tricia Nixon & Edward Cox wedding.
Mary Linda Horn AAF, AIFD, OCF, PFCI
Mary Linda currently works as a freelance designer/consultant and has been in the industry since 1975. She has been a member of the American Institute of Floral Designers (AIFD) since 1989 and a member of Professional Floral Communicators International (PFCI) since 1999. In July 2007 Mary Linda was inducted onto the AIFD National Board as a Director at Large. In 2008 she was elected as a trustee to the AIFD Foundation. She is serving as immediate past Chairperson of the Student Membership Committee for AIFD National and as AIFD industry advisor to the Anderson Chapter of SAIFD at Ohio State University. She has served the North Central chapter of AIFD as board member, president, and Scholarship Committee member and Chair. Mary Linda works on several committees for the Ohio Florists Association, including the Ohio Certified Florist program, and the OFA Professional Floral Design Competition. She also teaches floral design at the Delaware Cultural Arts Center in Delaware, Ohio, and is one of the Leaders/Mentors for the "Designing for Excellence" workshop held on the Texas A & M Univ. campus.
For the last ten years Mary Linda has studied Ikebana and holds the title of Kakyo, Assistant Professor of Ikebana, 3rd Grade with the Ikenobo School of Floral Art in Kyoto, Japan.
Awards would include Designer of the Year with Ohio Florist Assoc., Central Ohio Designer of the Year, Michigan Designer of the Year, the Teleflora Flowers & magazine contest and received the "Chuck Bannow" award in 2008 from MFA. She served on the AFS Education Services Team for five years and was a featured designer in Professional Floral Design (PFD) magazine. Mary Linda participating on the BloomNet Wedding Book Design Team and currently she is working with BloomNet on tradeshow educational projects and is a featured designer in five issues of Flora magazine in 2008. January 2005 found Mary Linda working with SAF (Society of American Florists) on the Presidential Inauguration. In July 2004 she placed second in the Holland Cup Floral Design Competition and presented a main stage program in New York for the National Symposium of AIFD. She has presented programs and workshops across the country for the industry, garden clubs and the public.
Bryan Swann
Bryan Swann has been in the floral industry for 25 years, starting his career in Boston, MA. Here he had the opportunity to work at one of the largest florist in New England and with designers from around the world including France, The Netherlands and Germany. He started with BloomNet Florist, Karin's Florist in Vienna, VA in 2006 and is currently the Sales and Design Manager. He leads a talented team of designers and sales agents. Bryan prides himself on keeping a balance of designs that are fresh, innovative and current with industry standards while maintaining a sense of tradition. He designs weddings and events for large ballrooms or intimate venues. His designs have won the ISES Capital Award 2009 for Team Design for The Elements of Surprise.