Pitcher Perfect!
Now that you've put all of your holiday decorations away doesn't your home look so plain, empty, and boring? Arrange your own bouquet starting with a simple bunch of fresh flowers! Try it – you'll be amazed at the difference they make to your home. Pick up a bunch of flowers while you're out or take a minute and order some online. You deserve it! I'd recommend getting a single variety or a mixed bouquet of loose stems that you can display in one of your own vessels. Make lots of smaller arrangements that you can place all around the house or make just one perfect bouquet that will welcome you home the minute you walk through the door.
One of my favorite vessels to display flowers in is a pitcher. Pitchers are both practical and pleasing to the eye. They are made from many different materials and come in all shapes and sizes. I have lots of different pitchers that I have collected over the years. I'm always pulling one down from the shelf to drop a few stems in and I'm always so pleased with the way they look. Here are a few photos that might inspire you to dust off that old silver pitcher from up in the attic or take the ice tea pitcher from the kitchen cabinet and create your own stylish bouquet!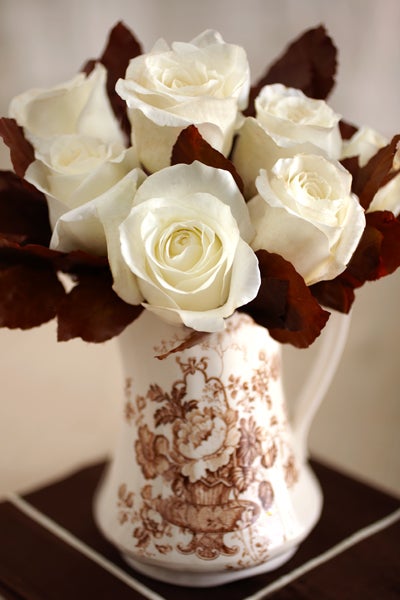 When choosing flowers to place in your pitcher, I would recommend these three blooms in particular for different reasons (besides being a great value):
Tulips, one of my favorite flowers, are the easiest flower to arrange and they come with their own foliage attached to each flower!
Spray roses have multiple blooms on each stem and come in a wide variety of vibrant rich colors.
Alstromeria also have multi blooms per stem and come in a variety of different colors but the shelf life of a cut alstro makes it a real winner. Alstro will last an average of three weeks as fresh cut flowers!