Think Fire and Ice
Why purchase a centerpiece when you can create your own dramatic candle centerpiece? This is a fabulous look for any special occasion during the winter and creating the dramatic effect of fire and ice couldn't be easier.
Here's what you need:
Double sided tape and/or spray adhesive
Glass votive candleholders
Plain clear glass beverage glasses
Container of stardust glitter
For the raised candle centerpiece, first I sprayed the outside of the votive holders with spray adhesive and then dusted them with stardust glitter. After I sprinkled faux snow on the glass top of a pastry stand and placed the candles in a line down the middle of the stand. For a little more sparkle weave a strand of crystals around the candles. The flickering light of the candles reflects in the crystals – the look is stunning. It's so simple, yet so elegant.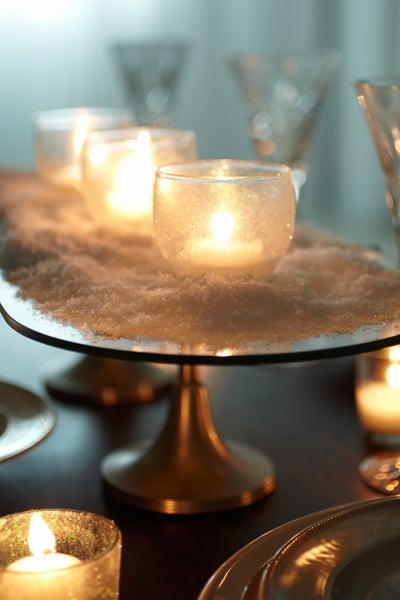 Create coordinating vases by placing a band of double-sided tape around a beverage glass and sprinkle the tape with the glitter. Drop a few stems of white tulips in the glass and you're good to go! Place several of these beautiful vases around the dining or buffet table for maximum impact. When the party is over and you need drinking glasses, simply remove the tape and they're as good as new!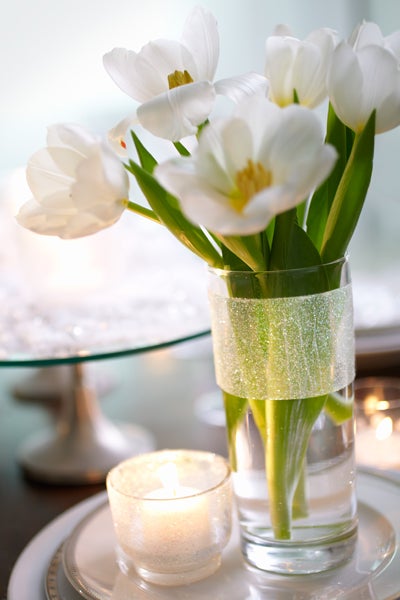 Sophisticated Soiree
For a look that is clean, elegant and sophisticated, use a single variety white flower such as the tulip, a lot of sparkling clear glass vases and candle holders, and add a couple of chandelier crystals. The result is breathtaking. This is a perfect look for celebrating the start of a brand new year with all its limitless possibilities.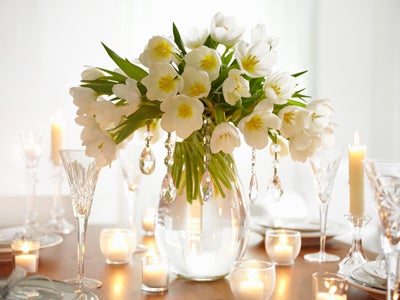 A Meaningful Memento
Since ancient times, evergreens have been a symbol of life, rebirth, and the stamina needed to endure the winter months. Use sprigs of evergreens tied with silver ribbon and a sparkle monogram to create a place card with a message.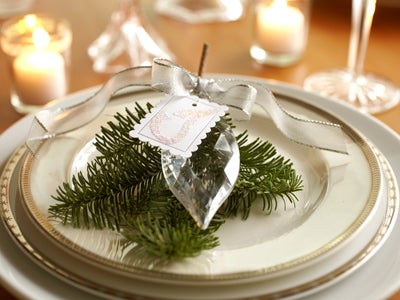 Wishing you good health and peace in the New Year – remember that every day is a gift to be cherished!