There are many styles of floral design. The one that I am naturally drawn to and inspired by the most is the French Country style. I think I enjoy this type of design, because the designs themselves are so artistic and expressive. I think Laura Dowling of Interieurs et Fleurs says it best! "The French approach blends the inherent beauty of flowers, gathered simply from the garden, with the personal vision and passion of the floral artist. It is this rapport between nature and artist that gives the French bouquet such a distinctive personality with a strong emotional impact. This season, be sure to look for inspiration from the garden, local Farmers' Markets, historical styles, and from fashion. All of these locations will help you create your own masterpieces in the French style."
Here are two different approaches to French design that I have created. The first one is more romantic, rustic, and lusty! The use of deep red, blue and gold tones are very French as is the addition of fresh fruit. Incorporating fresh herbs, particularly lavender, not only will add to the visual beauty, but the fragrance is intoxicating. Also, red wine, brie, grapes and crusty fresh bread are natural complements to this design.
The flowers I used to create this bouquet are: peonies, roses, sunflowers, coreopsis, veronica, lavender, and ivy.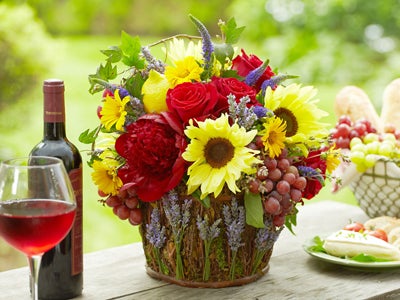 Nothing says French country like blue and yellow. This vignette honors that traditional color combination as well as Toile de Jouy.
The flowers I used to create this bouquet are: delphinium, peonies, ivy, and rosemary.