The Christmas tree market was born in 1851 when Catskill farmer, Mark Carr, hauled two ox sleds of evergreens into New York City and sold them. By 1900, one in five American families had a Christmas tree, and 20 years later, the custom was nearly universal.
No one will have a tree quite likes yours when you create your own version of the Holiday Flower Tree. Here are four great holiday flower tree ideas I created just for you!
Modern Vintage
I found these sweet beaded flowers in an antique shop, and then came across the black & white polka dot vase. I think the finished product has a nice modern vintage feel to it. It also reminds me of Mary Engelbreit! When I was done I thought a bowl of cherries would be a nice prop and I could call this the "Life is just a Chair of Bowlies" tree!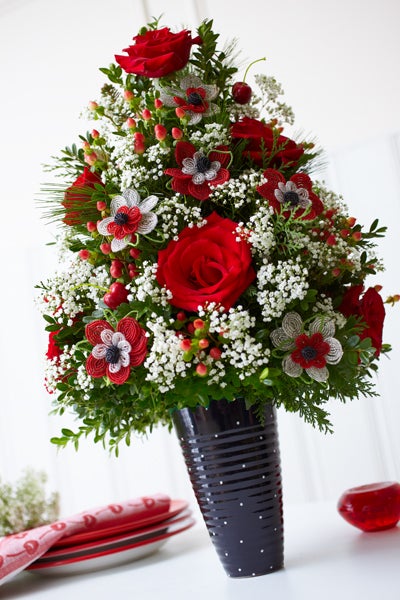 Nantucket Christmas
With the traditional Nantucket basket as the base and natural decorations of pinecones, pods, and seashells this tree symbolizes the amazing natural rustic beauty of New England.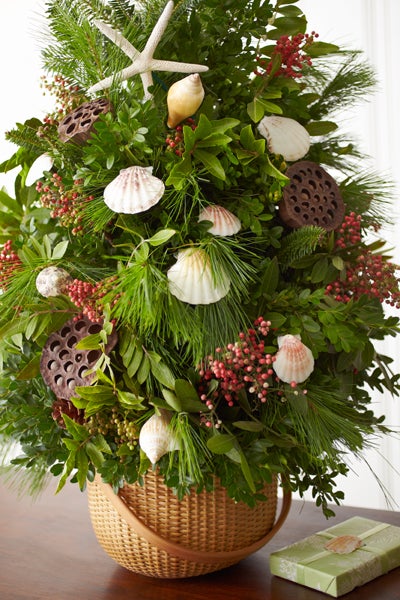 Star Light, Star Bright
Star light, star bright, do you have a Shiny Brite ornament for me tonight? Create a small boxwood tree in a vintage container like the Fenton hobnail milk glass bowl I used here in the picture. This is a perfect way to display your treasured collection of vintage ornaments.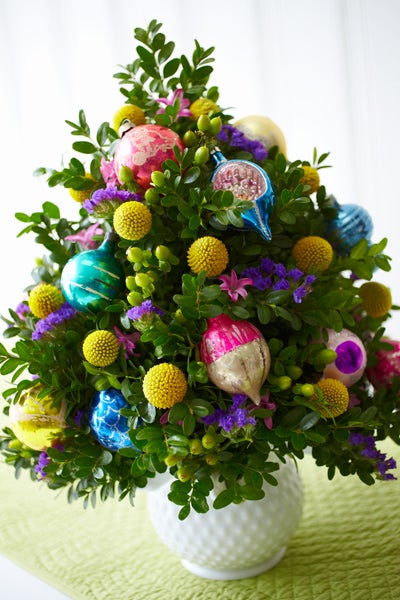 Santa & Me Tree
I'm always coming up with new ways to display all of the Santa & Me photos that I love bringing out every year. Each one holds such wonderful memories. I love this idea of a Santa & Me themed tree. I scanned the images (which I realized was a good thing to do anyway, because now I have them preserved) first and then cropped them to 2" x 3". For the base, I scanned the front of an old Santa & Me photo holder, sized it to the dimensions of the ceramic cube I was using as the base, printed four copies and used glue dots to attach them to the sides of the container.
I was thinking of making one for my daughter's new apartment. I think it's important to have some nostalgic pieces among your holiday decorations!