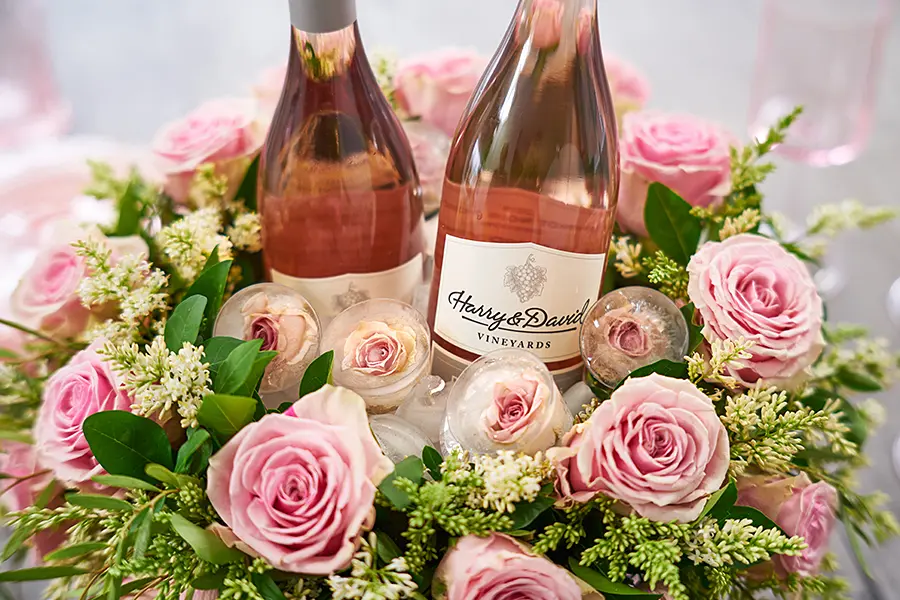 I've shown you how to surround your bottles of rosé (I love the Harry & David rosé shown above!) with a wreath of blooming summer roses. Now I'll show you how to keep the rosé chilled with frozen rose buds.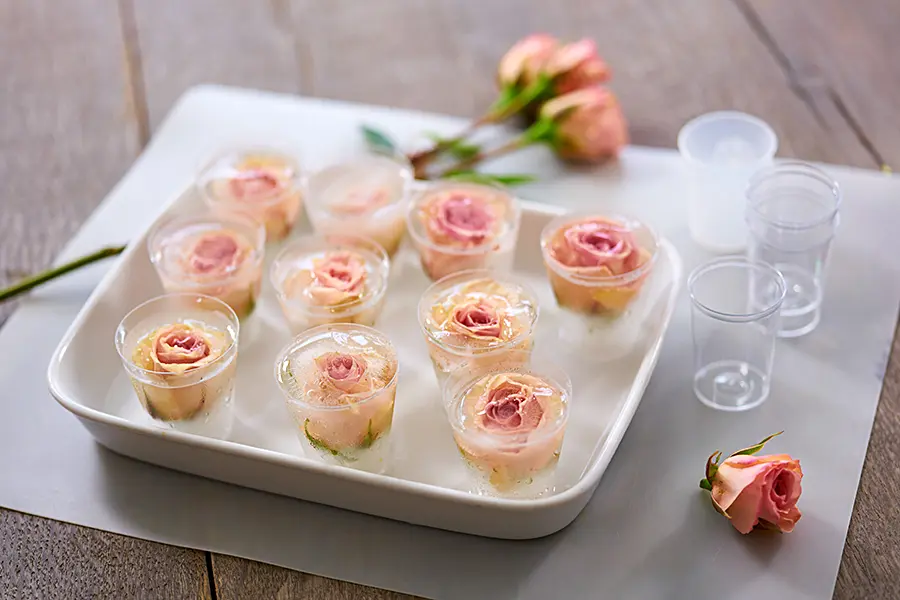 I would have made these in an ice cube tray, but because I have an automatic ice maker at home, I didn't have any trays on hand. I did, however, have plastic shot glasses, so I decided to go with them.
Here are a few tips to make it even easier:
Use small roses, such as a sweetheart or spray rose.
Cut the stem off at the base of the rose.
Stand individual roses in shot glasses (or ice cube tray) and fill 1/3 of the way with water.
Place shot glasses (or ice cube tray) with roses and water on a tray, and place in freezer.
After the water has frozen, take the shot glasses out of the freezer and add water to fill to the top.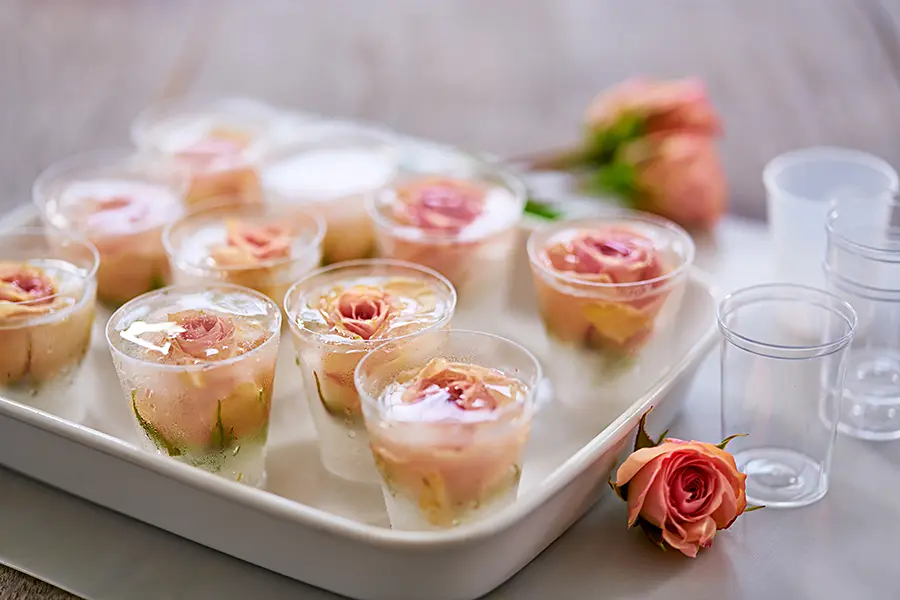 Fill your bowl or ice bucket with plain ice cubes, leaving room at the top to add the fancy frozen roses.
If you made them in an ice cube tray, you would remove each cube from the tray. I liked the way the roses looked in the clear plastic shot glasses, so I left them in and just nestled them in between the regular ice cubes. I thought it added a special touch to something so easy to do!
And while we're talking about a fabulous frozen rose display that's easy to create, here's my vote for the tastiest and easiest summer frozen cocktail: frosé!
How to make strawberry frosé
Fill your blender with frozen strawberries, add your favorite bottle of rosé, and blend away! How much rosé you add will determine how slushy your cocktail will be. It's that easy!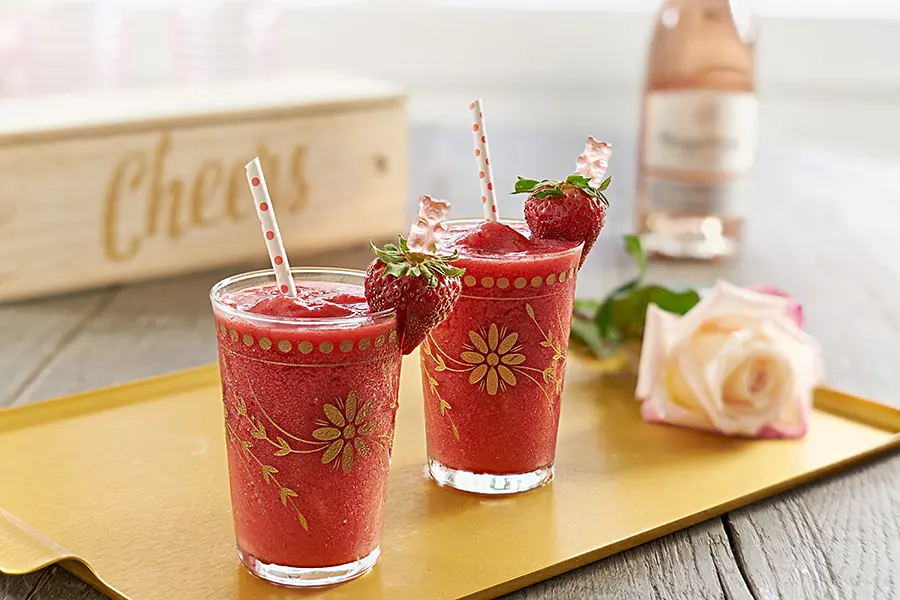 Garnish with a fresh strawberry and rosé gummy bear, and you have an instant party!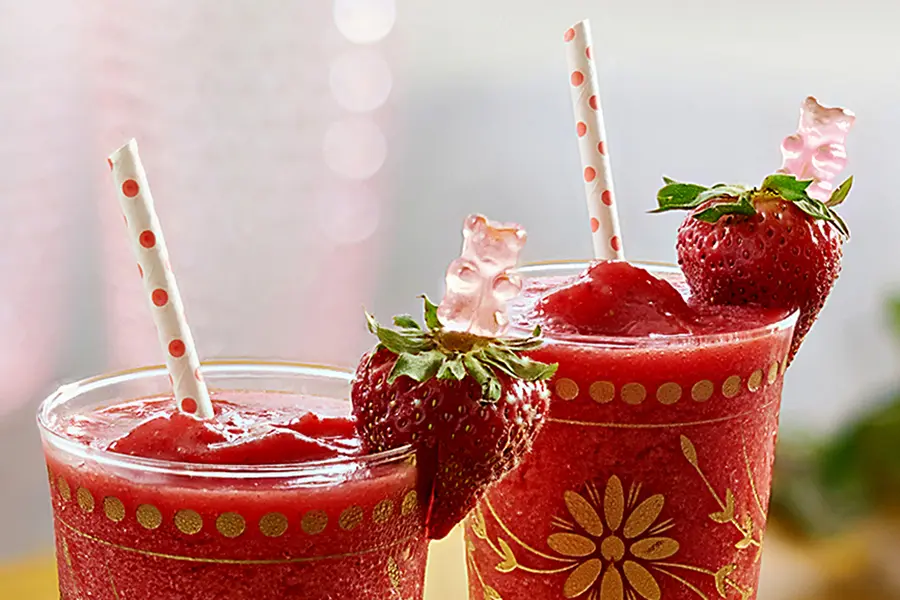 I have a confession to make: There was a Pinterest fail associated with this project. I was going to make my own rosé gummy bears following one of the recipes I found on Pinterest. I ordered the gummy bear trays and gathered all the ingredients needed. Then I asked my daughter and her friend (with whom she used to own a baking business) to give it a try. Unfortunately, they gave me a big thumbs down. My suggestion to you: If you want to add the whimsy of the rosé gummy bears to your party, buy a box from Sugarfina and use them as a special garnish. They're expensive but so darn cute!