What are the first two things that come to mind when you think of summer? A lot of folks might say "sun and surf" or "grill and chill," but if you ask me, it's roses and rosé! And I'm not talking about Lauren Zima's recap show for Bachelor Nation.
For me, summer is about celebrations and relaxation. Flirty and frivolous, rosé is the perfect beverage to enjoy on a sun-kissed balcony, at a bustling beachside bar, or while dining al fresco on a warm summer evening. Add the overwhelming fragrance and stunning beauty of rambling roses and you have the perfect storm of summer perfection!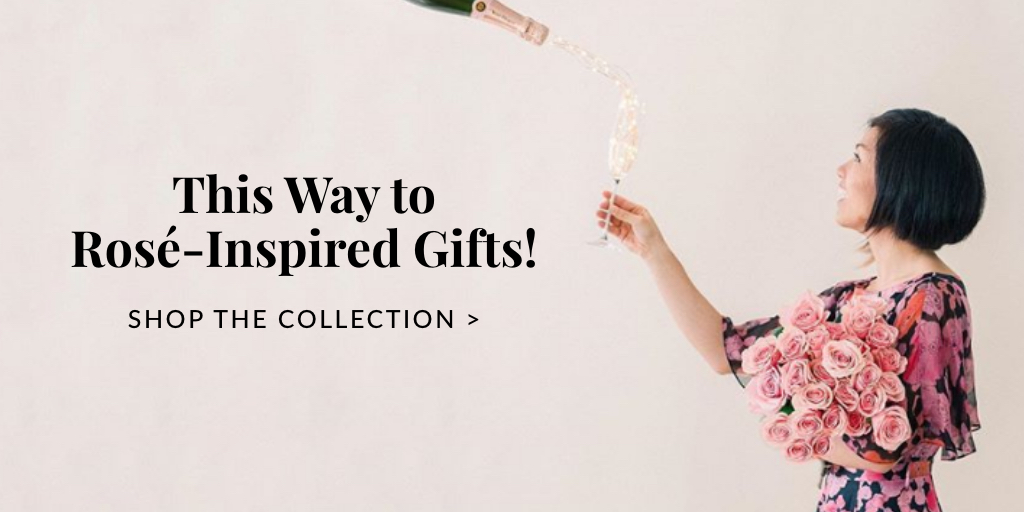 Here are three ways to enjoy roses and rosé this season.
Rosé sangria mojito cocktail
Rosé is extremely versatile and can function as a base for your favorite cocktail, adding lovely flavors like strawberry, raspberry, and citrus. I wanted to create a summer cocktail that was light, with layered flavors, but not sweet. What I came up with is a cross between sangria and a mojito.
This rosé sangria mojito is a more grown-up cocktail. If you prefer your drinks on the sweeter side, you can add some simple syrup to the mix or use a sweetened cranberry juice instead of the flavored seltzer.
This drink pairs perfectly with the chocolate strawberry bubbly bar or rosé-flavored jelly beans that come with the Sip Sip Wine and Chocolate Gift Box. Just mix it up, pour it into the "Sip Sip Hooray" stemless wine glass, and you're ready for any celebratory occasion!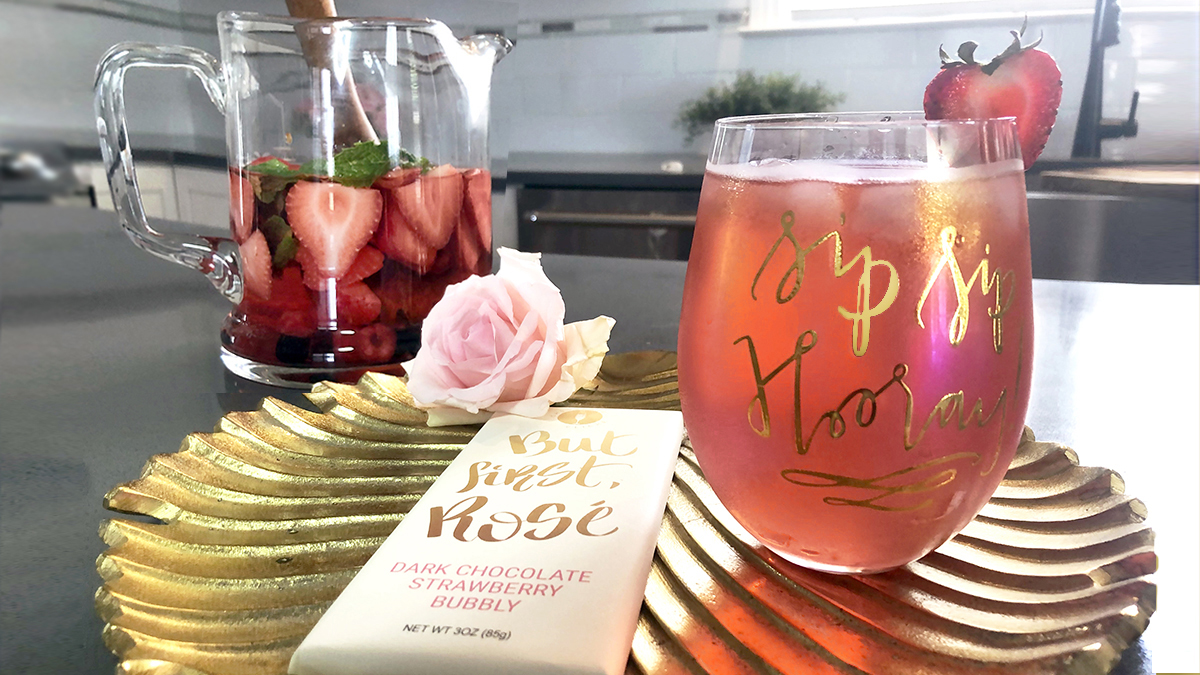 Rosé Sangria Mojito Cocktail
Ingredients:
1

bottle

rosé

1

can

cranberry seltzer

2

cups

rum

½

cup

strawberries, plus more for garnish

½

cup

raspberries

½

cup

blueberries

Fresh mint
Instructions:
Wash all the berries. Remove the tops of the strawberries and cut into slices.

Add all the fruit to the pitcher, along with a few sprigs of fresh mint.

Add two cups of rum, the bottle of rosé, and a can of cranberry seltzer.

Stir to mix all the ingredients together and refrigerate for about an hour.

When ready to serve, pour in a glass over ice and garnish with a strawberry slice.
Wine carrier vase
One more element of the gift box (it's the gift that keeps on giving!) is the Sip Sip Hooray wine carrier. Of course, it can be used as a vessel for wine, but I decided to use it as a vase!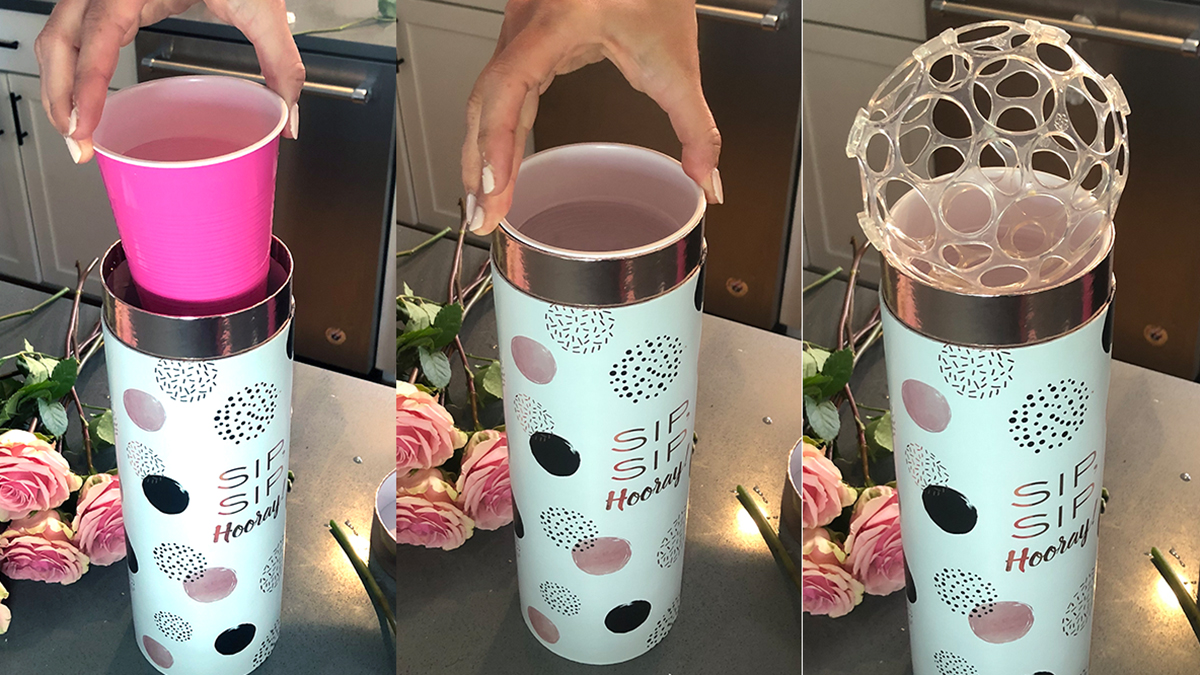 All you need to do is to add a liner that can be filled with water. A plastic solo cup fits perfectly, and because it doesn't go all the way down to the bottom of the container, I can use shorter-stemmed roses.
I topped the container with something called a FloraGuppy. Reusable and made of a soft plastic that allows it to fit many different-sized and -shaped containers, this tool helps with structure and flower placement in your arrangements. It is one of many such tools available online and at your local craft and flower shop that make it easier to create beautiful flower arrangements at home.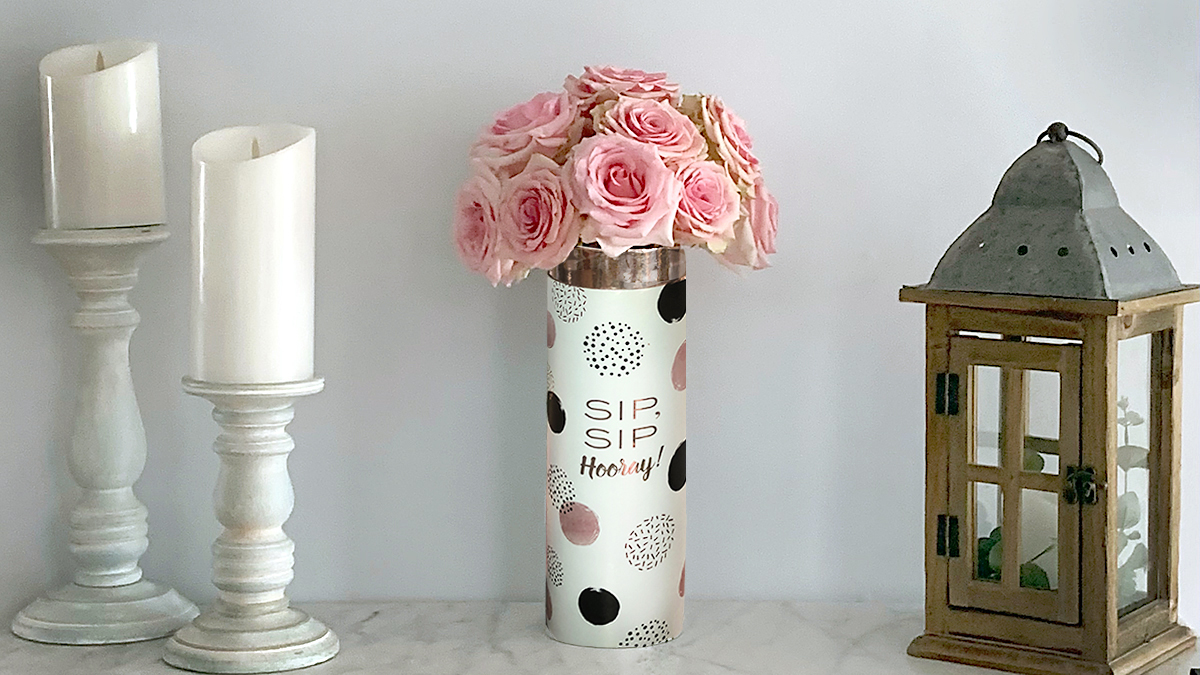 The round plastic grid allowed me to make this mounded-style design that I would not have been able to do otherwise. I love how fresh and modern it looks!
DIY roses and rosé wreath
This summer, everything is coming up pink! And that means lots of fabulous party décor in that trendiest of colors. This roses and rosé wreath is a particularly pretty — and pink — way to display your wine while keeping it chilled at the same time.
If you don't feel like going all out, there's a version of this you can make with a faux rose wreath. Or, meet in the middle and do a little of both.