Today and tomorrow I would like to honor all of our Pet Lover Moms out there in the world. To all they may not be the traditional form of a Mom, but when it comes to their pets – they truly are a Mom. SPOTTED: Yvonne from Scratchings And Sniffings! Yvonne writes a blog that shares pet news from the world of dogs and cats and of course, all other pets you want to hear about.
I for one fall under this category! I have had a dog as a pet almost my entire life, but I have never had one that got under my skin and into my heart like my chocolate lab, Cody! He's 5 years old and the entire family is totally nuts about him. He is the sweetest and cuteness dog and he loves us as much as we love him. So of course I have to share with you a picture of him when he was a puppy and a recent one.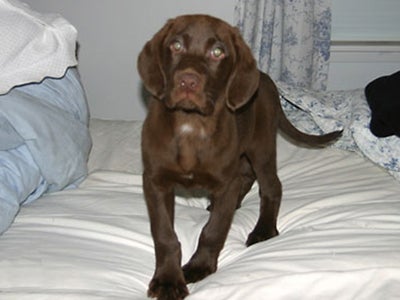 Creating a floral gift for a Pet Lover Mom just takes a little imagination. Here is an idea I was able to come up with and I will be sharing more tomorrow. As I was brainstorming I kept my eyes open for fun items that I could make into a great gift that would bring a smile to my favorite Pet Lover Mom. Being a dog lover myself, I seemed to gravitate towards doggy things, but the same basic ideas can work with any type of pet.
Party Animal
Flowers for mom, treats for her best friend, and a fun book featuring ideas for having a party for your pet make up into a vibrant and happy gift with something for everyone.