The people of Colonial Williamsburg began decorating with fresh greenery and fruit in the 1930s. At that time the pineapple was already a well-established design element in architecture, ceramics, and art. It only stands to reason that beautiful fresh pineapples would become the centerpiece for the creative decorations for which Colonial Williamsburg is known today. The pineapple has become a universal symbol of welcome and hospitality.
For a brief history of how the pineapple has served as both a food and a symbol throughout the human history of the Americas, go to www.levins.com.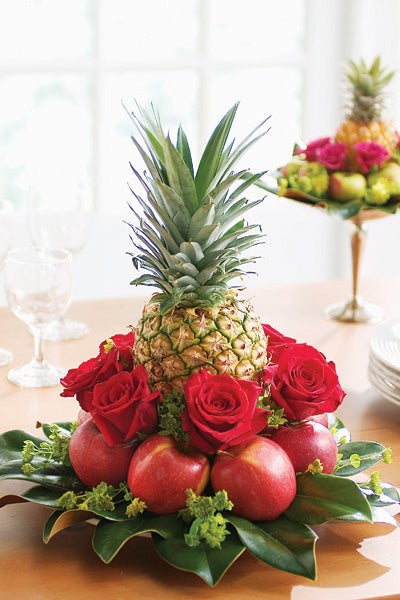 To create your own version of the welcoming Williamsburg centerpiece featured here, follow these simple instructions.
Tape a piece of wet floral foam to a low shallow dish.
Insert a 4" floral or craft stick about 2" into the bottom of the pineapple and insert into the top of the foam.
Insert fresh cut greens, such as magnolia or balsam, into the bottom of the foam to form the base of the arrangement.
Using the 4" sticks insert a row of apples on top of the greenery base.
The next row that will be between the pineapple and the apples will be made with lush red roses. Give each rose a fresh cut on an angle (stem length should be about 5") and insert into the foam.
You can add sprigs of filler flower, such as the blupernum that I used here, or add another variety of evergreen for additional texture.