SPOTTED NEW MOM: Dina from Momformation is dedicated to keeping parents informed on all things kids; from tips on parenting, to which shoes are best for your child. A great website for all Moms! Check out her blog.
I think Erin really hit the nail on the head with her choices for great Mother's Day gifts that she as a new mom would like this year. My suggestion would be to give the lady what she wants – she deserves it! There are so many colorful and fragrant blooms in season right now, so you have lots of options and price points to choose from.
My top flower choices are:
Tulips
Lilies
Hyacinth
Lilac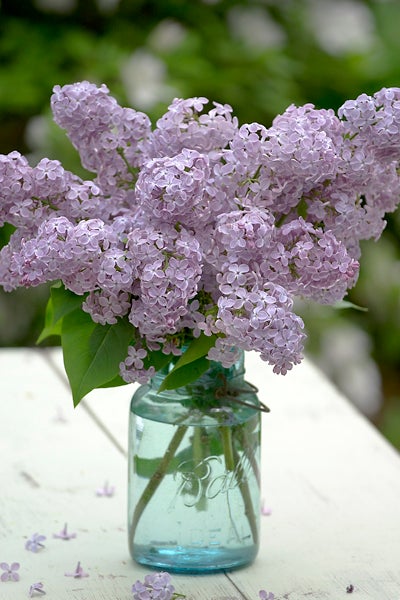 You might even be lucky enough to have a lilac bush in your own backyard (or your neighbor's or friend's)! It probably has just started to bloom. Snip a few branches and put them in a simple container like this old blue Mason jar for a fresh and fragrant breath of spring!
And whether you are giving the new mom a full day of pampering or a gift certificate for a "mani/pedi" or a facial and massage, don't forget to include a coupon for free babysitting services to be used during her treatments. Tie them around the vase or bouquet with pretty ribbons and you can't go wrong! I sure don't fall into the new mom category, but I'd love this gift myself – hint, hint, guys!!