Isn't it funny how things come your way at just the right time? I was introduced to Savvy Auntie's Day a few weeks ago and the first person I thought of was my oldest daughter Meggie. She has always been savvy in my book and she is about to become an aunt for the first time in four weeks by way of my younger daughter Casey. I know that Meggie is going to take her new role very seriously and she will definitely appreciate having SavvyAuntie.com to go to share ideas, find answers, and get inspiration. She's throwing a baby shower for Casey next week and I'm going to surprise her with a gift that I found on the site – the Savvy Auntie tank top. She's going to love it!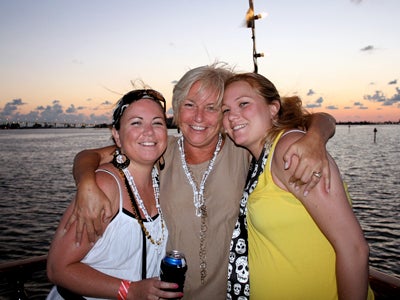 Savvy Auntie-To-Be, The Original Savvy Auntie (me), and the Mommy-To-Be on a pirate cruise recently in Clearwater, FL.
I personally have set the "Savvy Auntie" bar pretty high – if I do say so myself! I have always cherished my role as an aunt to my 12 nieces and nephews. And I know that the feelings are mutual. They even have a song that they sing about me called "My Aunt Julie – She's so Special To Me". OK, so I made the song up, but they do sing it!! I'm creative and crazy and they appreciate that.
I collect (and use) vintage handbags. A couple of my nephews in particular have picked up on this and get a kick out of seeing what purse I'm going to show up with at the next family function. If they saw this image of a floral design I created recently using a1950's "bakelite" evening bag as a vessel to hold fresh pink roses I know that they would immediately recognize it as one of my creations! Sharing my passions and interests with all of my nieces and nephews has always been something that I have appreciated and enjoyed tremendously. Learning about their interests and passions as well, allows you to get to know each one as an individual. Knowing each one individually also helps when it comes to gift-giving time. A "Savvy Auntie" always gives the BEST gifts!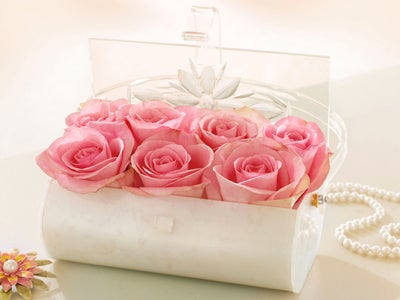 I'm excited to for the first ever Savvy Auntie's Day coming up on Sunday, July 26th. Another reason why I love Savvy Auntie's Day is because its official symbol is a bright, red flower – a sign of warmth and love. In honor of the inaugural holiday, 1-800-FLOWERS.COM has dedicated its Elegant Wishes bouquet as the official "Savvy Auntie's Day" arrangement.
Dedicate Sunday, July 26th to celebrating "Aunt-hood" and all the special ways your Aunt has affected your life!