Cupcakes, Cupcakes, Cupcakes!
I had such a great time last Friday afternoon at Hotel Giraffe in New York City. I had the opportunity to participate in a "Cupcake Party" to celebrate the launch of the NEW! Cupcake in Bloom from 1-800-FLOWERS.COM, as well as, the fresh baked and delicious cupcakes from Cheryl's.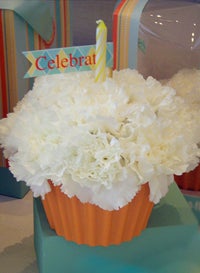 Sometime ago, 1-800-FLOWERS.COM asked me if I would help design a floral cupcake. The Birthday Flower Cake has been such a success for so many years that I knew it was time for the 2.0 version – so to speak. Now that it was time to unveil my cupcake creation, who better to have a cupcake coming out party with, then some of the most diehard cupcake lovers. These cupcake lovers share their passion (or should I say obsession) of cupcakes with us everyday through their blogs. Some of the guests included: Cupcakes Take The Cake, the one and only Milwaukee Cupcake Queen from No One Puts Cupcake in the Corner, Melissa Cohen from MetalSugar and Lisa Lillien from HungryGirl.
There are so many aspects of the "Cupcake Party" that I would love to share with you, so let's start with the decorations…
We started off with a theme and the location. What's better than a chic modern hotel, such as, Hotel Giraffe in New York City? At this event, I worked with a great stylist, Laraine D'Elia. We wanted to keep the look of the party as simple and sophisticated as the room, but of course we wanted to add a touch of sweetness! One of the focal points of the décor was the oversized floral cupcake that I created. Here are some photos of the oversized cupcakes, as well as, other shots of the day.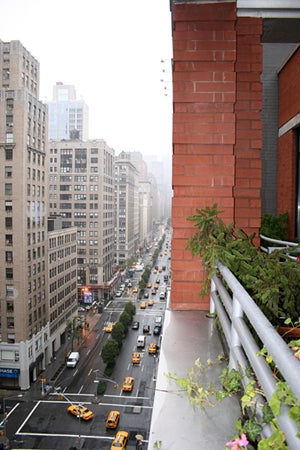 I'll be sharing more details from the party soon. I will give you details on how to make this oversized cupcake and some other great ideas for your next Cupcake Party!