Mother's Day is fast approaching and 1-800 FLOWERS.COM has asked me to put on my creative cap and come up with some unique ideas for their Spot A Mom Movement. While being a mom puts us in a sisterhood of millions, we are all still unique and one in a million to our children and grandchildren. The 1-800-FLOWERS.COM Spot a Mom Movement focuses on celebrating all of the moms in your life.
I think flowers are the perfect gift for anyone at anytime, but somehow flowers seem to be extra special on Mother's Day. From now until Mother's Day, I will take a look at various types of moms and share with you ideas on ways to take a personal gift such as a vintage evening bag, a travel coffee mug, or a galvanized tool box, that you know your Mom needs or covets, and turn it up a notch by pairing it with some of the best seasonal floral and fauna.
So, join me and others in the Spot A Mom Movement! Have you spotted a mom today?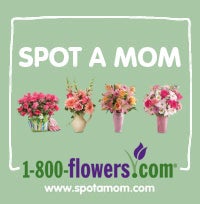 To learn all about this fun movement visit:
//www.spotamom.com
Tune in Tomorrow! Spotted: Red Carpet Mom