While I don't technically consider myself a Foodie Mom, I certainly love food! I love eating out and ordering in! But, I also love reading and trying different recipes. And of course, I love food related gadgets too. Then there's what I would consider a true Foodie Mom. She's the one with the real passion for all things culinary.
Today, I'm spotting Jennifer Perillo from "In Jennies Kitchen". Jennifer is a food editor at Working Mother magazine that adapts recipes to fit busy lifestyles. "In Jennie's Kitchen" dishes up daily recipes that will to keep you satisfied all day long. I enjoyed meeting Jennifer at the 1-800-FLOWERS.COM Spot A Mom event and spending the evening with her at Chic Mom Magazine's Tweet Up. Jennifer truly is a Foodie Mom!
Gifting for a Foodie Mom has limitless possibilities. Some thoughts would be a gift certificate to a new restaurant she has wanted to try, a subscription to Bon Apetit or Saveur magazine, enrollment in a specialty cooking class, etc. I think that any one of these are great gifts on their own, but can be made so much sweeter when combined with fresh cut flowers! Here are just a few delightful combinations that any Foodie Mom would be thrilled to receive for Mother's Day or any day.
PRETTY IN PINK
Instead of just wrapping up that new pink enamel colander that you bought for Mom, why not fill it with beautiful pink hydrangea combined with exotic cymbidium orchids. Just find something to use as a liner, such as, a plastic take out container. Fill the liner with wet floral foam into which you can insert the floral stems. You can use almost any variety flower for this type of arrangement so use your imagination and have fun with it.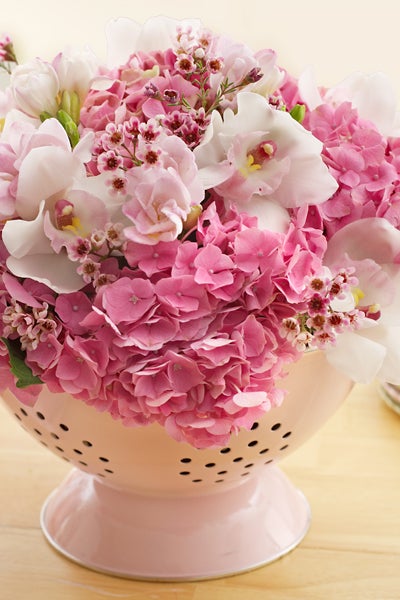 FRESH HERB BOUQUET
There are so many elements that I love about this bouquet starting with the amazing fragrance of all the different fresh herbs used to create it – lavender, rosemary, spearmint, and oregano. The look is rustic and modern at the same time – very French provincial. When you think of Provence and the French countryside, you're sure to see lavender fields and bright sunshine. While there are many elements that contribute to the French Country style of decorating, the resulting look is always rustic, old-world, and welcoming.
Your Foodie Mom will adore displaying this arrangement in the kitchen not only to enjoy visually, but also to snip off a few sprigs to add to her latest concoction.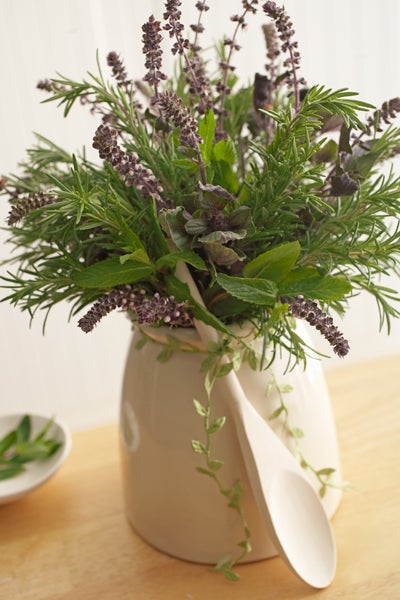 Tomorrow I will share another Foodie Mom and of course, fun gift ideas for her!