This week I will be focusing on the Red Carpet Mom. To quote a song by Tom Jones, "She's got style, She's got grace, She's a winner". The Red Carpet Mom not only knows how to work it, but she knows the importance of having "it". And the "it" I am talking about is what's inside – she knows her own worth and her own style. The Red Carpet Mom always has that perfect accessory whether it's a dress, a vintage bag, or a pair of red high heels.
This brings me to a great blog, A Mom in Red High Heels. Tammy: You've Been Spotted! A Mom in Red High Heels is a blog by and for any fabulous and stylish mom. It has great posts and terrific links – check it out! Tammy's blog inspired my floral tribute to the Red Carpet Mom!!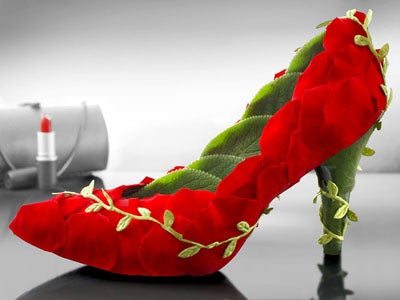 I had this idea for a while, but never got around to actually trying it. As soon as I visited A Mom in Red High Heels I knew now was the time! I picked up a pair of high heels (you can use any color) on sale for $10 and covered the shoe with red rose petals, wrapped the heel with Galax leaves, lined the inside with lamb's ear, and finished it off with a vine inspired ribbon. I absolutely love the finished look and can't wait to give it to my favorite Red Carpet Mom!
Don't forget to check out the Spot A Mom website!