There are so many options for flowers and décor for fall weddings that it can be difficult deciding on one theme or direction. Here are just a few fall wedding flowers and ideas to help you with the perfect autumn combinations to delight and inspire.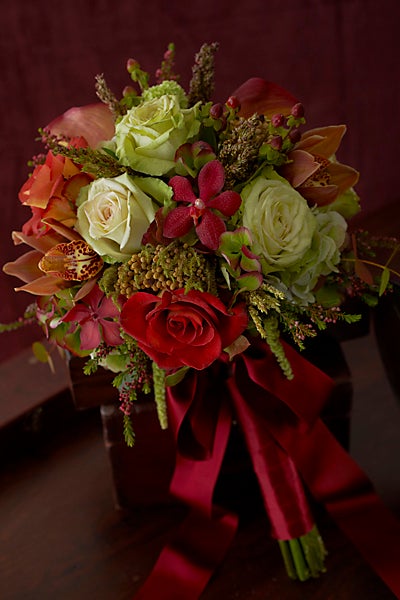 Fall Wedding Flowers – Rich Hues & Texture
Tap into what's in season in the world of flora and fauna for bouquets and centerpieces that are unique and visually stunning.
Adding unexpected natural elements such as grasses, berries and branches adds visual depth to classic wedding flowers such as roses, orchids and hydrangea.
When choosing the classic wedding flowers mentioned above, opt for the rich colors of fall such brown Leondies roses or deep red Black Magic roses. Vanda orchids in burgundy and antique green hydrangeas would are also picture perfect choices.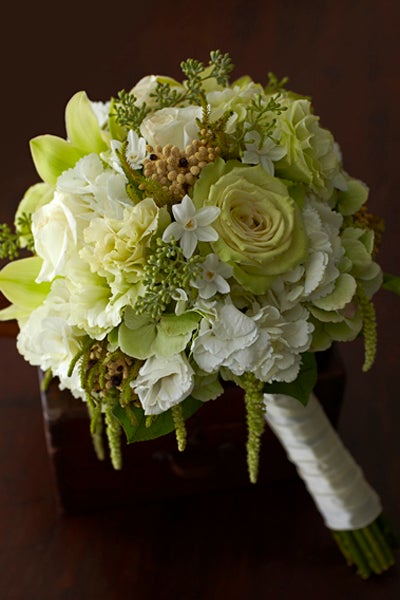 Adding Color to a Bridal Bouquet
It's nice to add a little bit of color to the bride's bouquet in the fall when the rest of the wedding's color palette is so rich and intense. Here I've added subtle touches of soft green with Green Fashion roses, light green hydrangea, seeded eucalyptus, lisianthus and hanging amaranthus.
Personalized Bridal Bouquets – A Hot Wedding Trend Right Now!
I'm finding that more and more brides want their flowers to be personal and have a special or sentimental meaning to them. An easy way to do that with bouquets is to add pieces of jewelry, both to the bouquet and to the stems. In the images below the bride's grandmother had a fabulous collection of costume jewelry that she had been collecting for many years. We were able to go through the pieces and in some cases take apart bracelets and necklaces (most with broken clasps or missing stones) and add them to the bouquets to create one-of-a-kind bejeweled bouquets that were beyond the bride's wildest expectations.