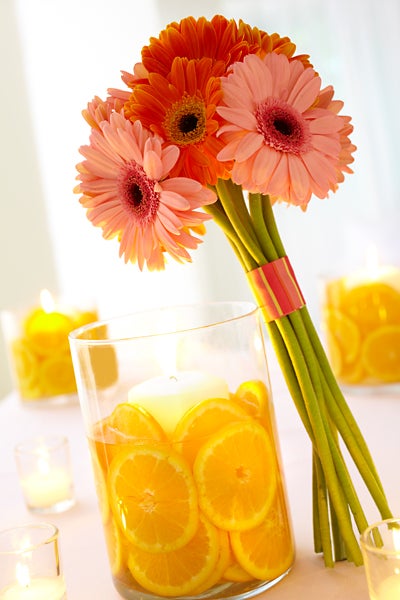 There's a reason for the saying "Fresh as a Daisy." Check out these great fresh floral wedding table centerpieces featureing the gerbera daisy with its wide selection of bold colors and its long green architectural stem adds a modern funky vibe as well. Gerbera daisies look best when used sparingly with no additional foliage both as a bouquet and in an arrangement. I've used a vibrant striped ribbon as a band on the stems for this bouquet – perfect for the bride or bridesmaids.
I love decorating a tabletop with multiples – vases, candles, etc. The look works great on either a round or an oblong table. Choose a modern shape glass vase like the unique fish bowl shaped one I used here. Two or more work best for an oblong table. You can get a nice dramatic look by lining up candles and floral arrangements right down the center of the table. Don't the orange slice candles look fabulous! And in this case, the oranges were a personal shout out to the groom's home state of Florida.
To make these candle arrangements, start with varying size glass cylinder vases. Place a pillar candle in the center. Fill the remaining area in the vase with orange slices and add water. Leave at least the top quarter of the pillar candle exposed for burning.