In order to learn about the creative minds behind our handcrafted arrangements, we interviewed Anthony Swick who is featured in our Local Artisan Collection. From the daily life as a florist to some of the inspiration behind his arrangements, Anthony talks about his favorite holidays, arrangements, his family & more!
How did you get into the flower business and what do you love best about being a florist?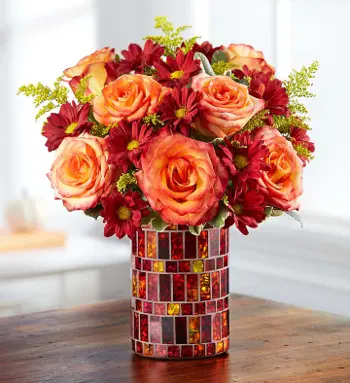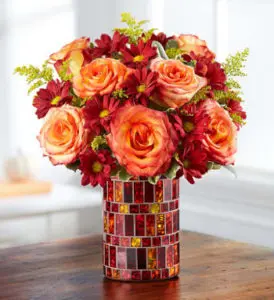 I was in high school and had a part time job as a shop helper in eves in a Mall Florist- many years ago. My
job was keeping things clean and taking care of roses… I'll never forget having to clean and de-thorn SO many roses at Valentine's Day, but I smiled with every stick in my finger. While going through college and growing on my own, I then would buy roses for a little Florist and one visit got me in back making my own, that how the passion got in me. I love the opportunity to create and share such wonderful things and now as an educator and working within the industry, it has made my passion even stronger knowing that I can help someone else find their passion and they can bloom.
What are your favorite flowers?
Calla! No question. This has always been my most favorite as to its masculine and feminine qualities. The ways you can design with it and the pure look makes me thrilled to challenge any design with a calla! Our logo at my stores!
Can you tell us a little bit about Florida? What is your favorite thing about living there?
The weather!!! I can not imagine living in a cold climate. Being originally for the north, I was blessed to enjoy the "beach life" very young. I'd rather clean up sand in my car than to scrap the ice off my windows!!!
What has been the most rewarding experience during your florist tenure?
Being a part of AIFD. The journey to become AIFD and the opportunity to present 2 stage programs at symposium has been the most rewarding. I love sharing, the chance to grow personally and maybe share something that others can grow from. Teaching at Floriology and presenting for Bloomnet has just made the journey even more rewarding for me as a designer.
What is the weirdest thing you have seen or experienced during your floral career?
Wow… only one…? There are many after this many years. I'd have to say the one that sticks the most with me was having to go to a clients home, his wife had past, but they were having visiting hours at the home and he wanted me to put on her favorite flower corsage and flowers in her hair to match. At my age, we didn't go to homes just to funeral homes.
What is your favorite floral occasion?
Weddings for sure. To have the honor in sharing such a lifelong memory and the opportunity to become close with a client on such a deep level is beyond my favorite
What inspired you to design your local exclusive arrangements?
When working with fall items and I saw the classic look of the mosaic vase, the colors were so beautiful. I could imagine the colors of fall, no matter where you live and I was drawn to the flower selection. Working with those colors and pulling in the tones of the roses was just a simple yet perfect fit!
What is your favorite Local Exclusive design that you've made and why?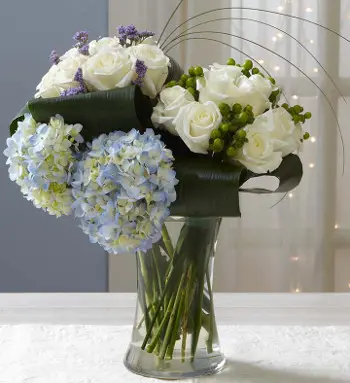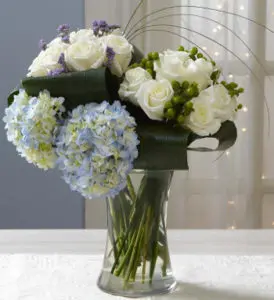 I love the "hand tied rose and hydrangea" design. This design is my take on the traditional style roses. To me it appeals more to today's buyers and incorporates beautiful hydrangea, creating a more trendy and up to date look on the ever loved classic.
What do you love most about your local community?
Tampa is a big city/ small town. It's not the largest metropolitan city, but we enjoy the art, sports, large event and concerts. There are people whom have been here for generations and you have a feeling of Home. You tend to know your neighbors like a small
Town.
What are some "Fun Facts" that your customers don't know about you?
Shoes… I love shoes. I have so many and it gets out of hand some time. But my favorite, which I have about 6-8 at all times, are kinos. They are from key west and they are more flip/ sandals. Like I'm wearing nothing. If I'm not in one of those, I have a wide range of shoes that I love to wear. Look out travel, my shoe bag is normally bigger than my garment bags.
What makes you smile?
My boys! I have 2 sons who are the light of my life. Nothing better than those boys. Good and bad, I smile about their accomplishments and growth everyday.