We're celebrating some of our inspiring local florists, who are passionate about what they do and making a difference in their communities. Meet the women behind some of our new hand-crafted arrangements.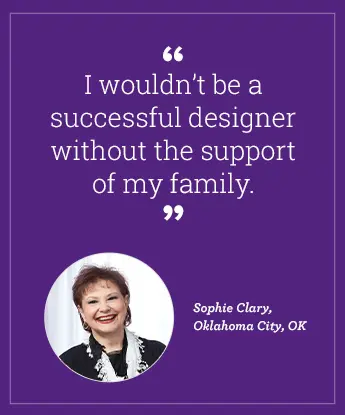 Sophie Clary
Sophie Clary has been an essential designer at David's Flowers in Midwest City, Oklahoma for 35 years.
Sophie is a successful designer, getting support every day as well as on busy holidays from her family. Her husband does everything except design, and her daughter and son-in-law have been running the delivery department around the holidays for eight years.
Sophie says her personal design style is traditional, and lists the Pink Floyd rose and magnum disbud mum among her favorite flowers. When it comes to her customers, they seem to love the everyday arrangements at David's. Succulents haven't really caught on yet, but she's hopeful they soon will, especially given the resurgence of green plants.
When asked what she loves about being a florist in her community, she says it's the repeat customers and the children of those customers. She loves working with different types of flowers and making sure all of her customers are happy.
We were excited to have Sophie join us at our Local Artisan Design Workshop. Her unique designs, Delicate Delight Bouquet and Blossoming Basket, can be found in our floral assortment. Both are charming arrangements featuring bright, cheerful colors for celebrating any occasion.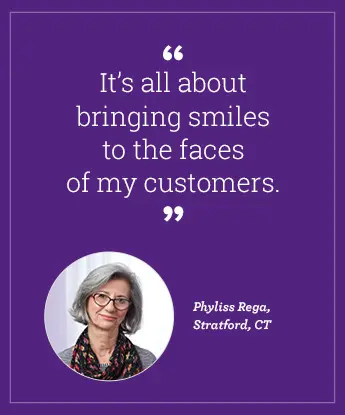 Phyllis Rega

Phyl's Flowers & Fruit Baskets in Stratford, CT has been home to talented local artisan Phyllis Rega for the past 30 years. As the shop's owner, Phyllis first got into the floral industry seven years prior due to her love of flowers and the desire to be her own boss. She got her first job at the upscale flower shop, Taylors in Westport, CT. And that's when things took off.
Phyllis says her personal design style is classic. When asked about her favorite flower? "That's a tough one. It's like asking which child is your favorite. They are all unique in their own way. My favorite color is yellow, so with that I would say Oncidium orchids."
For Phyllis, the best thing about being a designer is having the ability to bring smiles to peoples' faces. She's on a first name basis with many of her customers. Nothing makes her happier than hearing about all the events they are purchasing flowers for.
Taking part in the Local Artisan Design Workshop was something that will always stay with her. "I was honored to be asked and it was a wonderful experience from start to finish."
And we're honored to have several of her creations in our floral assortment. Among them are Delightful Joy Bouquet, arranged in our wood cube vase for a sweet-meets-rustic style; Cottage Blossoms Bouquet, a garden-inspired arrangement in a round bowl vase; and Flower Song Bouquet, a classic, all-white arrangement inside our charming Swiss Dot pitcher.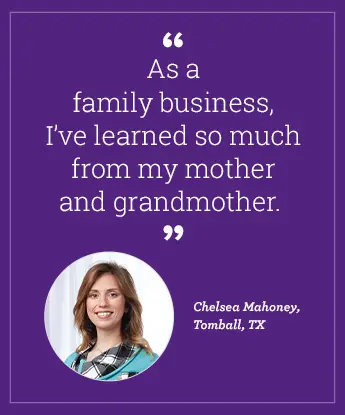 Chelsea Mahoney
Chelsea Mahoney has been an integral part of Bloomers Florist in Tomball, TX for the past 14 years. When asked about why she became a florist, her answer was simple: "It's just in my blood."
That's because she just happens to work alongside the shop's owner, her mom, Doreen, so it naturally sunk in! Chelsea basically grew up in the industry, starting full time after high school. She currently works as the office manager and as a designer, doing whatever needs to be done. Like so many of our shop owners, Chelsea truly wears many hats.
For Chelsea, there are all sorts of fun things about being a floral designer. "You get to design for any and all occasions!" she says. "Flowers can be anywhere and needed for any event. Flowers most always bring a smile to someone's face and joy to the room."
When it comes to her personal design style, Chelsea explains that since a lot of work in their area is in Garden/Outdoors, she creates many loosely gathered arrangements with a variety of blooms mixed together. Her pick for a favorite flower is the green rose, but she also admires a lot of the unique varieties of blooms out there right now.
So what does she love most about being such an important part of the local community? "We are still a fairly small town," she says. "We have repeat regular customers that we get to know on a first name basis, and we love being able to provide them with a personalized shopping experience and know that they trust us to do a great job."
On taking part in the Local Artisan Design Workshop, Mahoney had this to say:
"The experience, hospitality and overall trip was GRAND! Best of all, I had my best friend—my mom—beside me the whole time designing as well! I would gladly come back any day to do it over again!"
You can see some of Chelsea's talent on display in our assortment of designs. Her Garden Inspiration Bouquet will have everyone excited for the arrival of spring, with its pretty pastel blooms showcased in a rich purple vase.
Doreen Gordy and Chelsea Mahoney
Owner Doreen Gordy and her daughter, Chelsea Mahoney, are the talented mother-and-daughter team from Bloomers Florist in Tomball, TX. Gordy has owned the shop since 2000 and has been in the floral industry for 42 years. Mahoney has grown up in the shop, working for the past 14 years as an office manager and designer. In this family-run business, both women wear many hats!
Serving their community for the past 19 years, Doreen and Chelsea have had the opportunity to deliver lots of smiles. Since the shop is located in a small town, they've gotten to know many of their customers on a first name basis, providing them with a personalized shopping experience and forming a trust.
Both ladies have their own unique design style; Gordy's being more traditional and Mahoney's more unconventional. Doreen's favorite flowers are orchids, and Chelsea absolutely adores green roses.
When asked about what it means to work together, each had their own unique and heartfelt response.
"I love being able to work side-by-side with my precious daughter, says Doreen. "I am so very proud of her and all that she is and has accomplished! Bloomers wouldn't be the success it is today with Chelsea in it."
"Working with my mom is a HUGE blessing," says Chelsea. She's taught me everything I know, and I am still able to learn beside her and share a bond with her on a daily basis."
Both women took part in our Local Artisan Design Workshop, where they were able to share their ideas and thoughts about every aspect of 1-800-Flowers. It was even more special for them since they got to do it together.
You'll see some of their one-of-a-kind designs in our floral assortment.
Doreen's Perfectly Peach Bouquet features a sweet, subtle mix of blooms in our rustic wooden cube.
Chelsea's Garden Inspiration Bouquet will have everyone excited for the arrival of spring, with its pretty pastel blooms showcased in a rich purple vase.