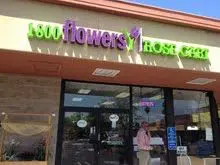 As a 1-800-Flowers.com franchise shop partaking in the 1-800-Flowers.com Local Exclusive program, local florists have the opportunity to showcase original, one-of-a-kind designs that can be ordered online through 1800flowers.com.
Local Sunnyvale florist Ali Arbabi of Rose Cart sat down with us to discuss some of his favorite floral memories and Local Exclusive flower arrangements!
How did you get into the flower business and what do you love best about being a florist?
After working many years in the tech industry, I needed a change to be more connected to my community and to have meaningful face-to-face interactions. As a florist, I love being able to put a smile on someone's face.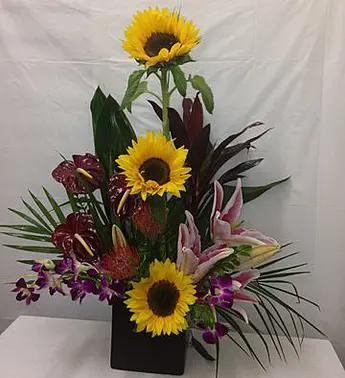 Local Exclusive Product Names:
Our local exclusive product names are the Candle Lit Dreams, Wonderland in a Vase, Tropical Paradise, Vibrant Fields Centerpiece, and the stunning Sunflower Embrace.
What inspired you to design your local exclusive arrangements?
Some customers come in with such vivid ideas that I feel inspired by their creativity. I do my best to bring their wishes to life and create a beautiful, quality product
What do you love most about your local community?
My local community is full of creative ideas, and the flower selections are always unique.
What are your favorite flowers?
Gardenias, orchids and tropical flowers are my favorites. I love the pure white color of the gardenias. Tropical flowers and orchids are so exotic and colorful – they're symbols of paradise.
What has been the most rewarding experience during your florist tenure?
The most rewarding experience is actually the dozens of calls and letters. Each time a customer calls ecstatic about their flowers, I am reminded why I got into this business. The small tokens of appreciation from customers truly make my days worth while..
What is your favorite floral occasion?
Even though it isn't really an occasion, my favorite would be the surprise gift. It makes me so happy to be a part of such a spontaneous act of kindness. Other occasions are fun to design, but nothing quite compares to knowing I helped make someone's day.
What is the weirdest thing you have seen or experienced during your floral career?
One day, my employee was unloading a fresh order of plants in the back. I heard her scream, and she said she saw a giant bug in the box. I went to go help her, but when she showed me the box, a tiny frog jumped out! It was a funny little surprise and very unexpected.
What are some "Fun Facts" that your customers don't know about you?
I keep a small catalog of hammocks in my desk drawer. When I'm having a tiring day, I look through the pictures and fantasize about my time off.
What makes you smile?
When regular customers come back to check in or call to thank me for their arrangements, I can't keep the smile off my face.
In the California area? Visit this San Jose florist:
Rose Cart
1679 Hollenbeck Ave
Sunnyvale, CA 94087
408-732-7673
//www.rosecart.com/