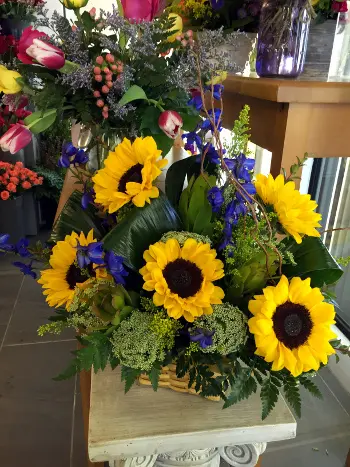 How did you get into the flower business and what do you love best about being a florist?
When I was about 12 years old, my mom would create wedding flowers from our home. She would work all day at her full time job, come home, cook dinner and then start preparing the flower shipment. I would help her clean and hydrate the flowers, sweep the floor and take out the trash. Mom would show me how to wire boutonnieres and corsages, put pearls in stephanotis, how to use stem wrap and package the product. My most important job was holding the bridal bouquets and trying on the flower head pieces/halos for inspection. I thought I was so cool holding something as special as a bridal bouquet! At my age it sure seemed like a lot of work, but nothing compared to what we do now. Having some floral knowledge under my belt helped me get hired for my first job at a florist at the age of 15.
What I love most about designing flowers, (depending on my feelings with the flowers for that day), is creating something from stems and turning it into a beautiful collection. I do my best work when I feel that I am one with flowers. Designing flowers is an art and a feeling for me.
What I love most about being a florist is a different feeling. Our customers are the best part. They bring the love and appreciation to our designs. We share special bonds over their occasions. I've cried, laughed and shared my life with them. Those memories will always be with me. It is the best feeling when you know you have touched someone's heart and have earned the trust of your customers.
What are your favorite flowers?
I love Gerbera daisies! They just say "look at me"! Vibrant, happy and so many colors, how can you go wrong? But of course garden flowers are beautiful too. They're easy to work with.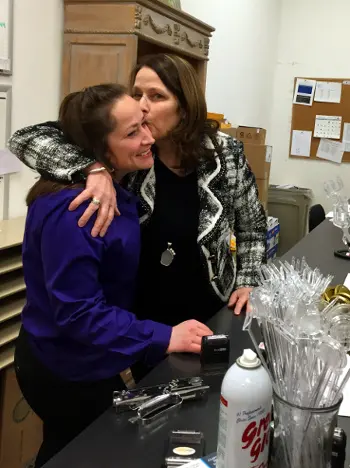 Can you tell us a little bit about Fairfax, VA?
We have 4 distinct seasons and something to do in each one!
What is your favorite thing about living there?
Definitely not the snow! Beautiful, lush green landscapes during spring and summer! Eastern shore beaches in one direction, Blue Ridge and Appalachian Mountains in the other. With the Chesapeake Bay nearby, we are spoiled to have blue crabs at the ready. Love them! We are also lucky to have so much American history: Jamestown/colonial America, Civil war battle grounds and of course, our nation's capital 13 miles from our store.
What has been the most rewarding experience during your florist tenure?
Working with my mom and seeing our business flourish. I have a great amount of admiration for her drive and passion. She inspires me to do the same. Participating in the design competition in Las Vegas was from her prompting and belief in me. And I won!
What is the weirdest thing you have seen or experienced during your floral career?
That is tough to narrow down. We always joke that if we had a reality show we would call it: "As the Petal Turns: A Day in the Life of Twinbrook Floral Design". Just when you think you have seen it all in this business, someone or something surprises you.
What is your favorite floral occasion?
I would have to say Mother's Day. The floral varieties are endless. Blooming plants are popping up in the gardens. It just makes me feel inspired.
What inspired you to design your Local Artisan arrangements?
I really try not to think too hard about designing. If I put too much pressure on the design, it's like writer's block. I have to just let it flow. So I would say my inspiration would be the flowers! When I look at them collectively, I guess instinct takes over. I also want to keep them simple but modern with flowers that are easily accessible to all florists.
What is your favorite Local Artisan design that you've made and why?
So far I would say it is the "Because of You" bouquet. It has a modern, fresh flair and is oh-so-easy to make. By not using greenery in the vase, it gives this arrangement a clean look. It's a hand-tied look but in a vase. I love the hand-tied natural look. There are many options to create this same look in a different color palette: lavender, blue, white, green, hot pink and purple hydrangea. A rainbow of colors for the roses. Lilies in various shades of pink, yellow, orange and peach all make this so versatile.
What do you love most about your local community?
I love that our customers are loyal and know that we are here for all of their needs.
What are some "Fun Facts" that your customers don't know about you?
Last year during Valentine's I wrote the word "warrior" on a head band, cranked up the song "Eye of the Tiger" and broke out in a funky dance in the design area. I wanted to put a smile on the faces of our staff. I always tell them they are true warriors. They work so darn hard. It was the least I could do!
I met my husband at the flower shop.
My husband proposed to me in our flower shop.
I like to sing to classic rock in my car.
Loretta Lynn was my childhood idol.
I talk to my dogs like they are babies… lol!
What makes you smile most?
My family. I love them so much. They make me whole. Oh, and going on vacation to a tropical island!