Sometimes staying in and cuddling up with your Valentine to watch a movie, or binge watch a television series, makes for the most romantic holiday. Whether you're going out to eat first at a local restaurant, cooking dinner at home, or ordering in, leaving time to watch something you both enjoy (or one of you enjoy :), could help make the night (or day) even more awesome. So sit back and relax as we give you some hand-picked favorites for movies and series to watch this Valentine's Day.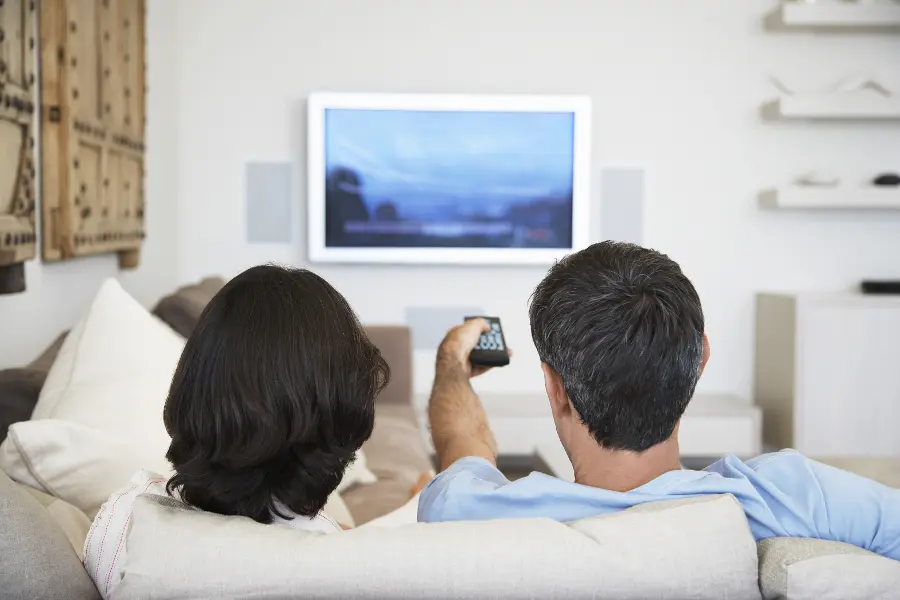 Romantic Cinema at Home Tips:
Flowers and candles on the coffee table or end tables really help set the mood
Don't forget to get both of your favorite snacks! Popcorn helps for theatre authenticity.
Prepare a little and make sure the couch area is ready for hours of comfort and cuddling.
Movie/TV Guide
Series to Binge On:
Netflix
The Chilling Adventures of Sabrina

4/5 stars
Love is magic, so what's better to watch this Valentine's Day than this new Netflix Original about everyone's favorite teenage witch. A little romance, a little magic, and a surprisingly thrilling plot line makes this the perfect new show to cuddle up to.

Friends

4/5 Stars
With love creating all sorts of trouble and heartfelt moments on this hit 90s sitcom, it could be the perfect way to spend Valentine's Day. Whether you're relationship is like Ross and Rachel, or a Chandler and Monica, binging on Friends for days and days on end is easy to do.
You

4/5 Stars
This Neflix Original is a thriller like no other. A clever bookstore manager, Joe, falls in love at first sight with graduate student and aspiring writer, Beck. His obsession keeps us on our toes through the whole series.

Haunting of Hill House

4.5/5 stars
Whats better for Valentines Day than a horror show to make cuddling essential?! This was an awesome show about a cursed house and a family who is affected by it. Many twists and turns, a must watch.

Ozark

4.5/5 stars
A financial planner relocates his family from big city Chicago to a summer resort community in the Ozarks. Marty played by Jason Bateman is on the move after a money-laundering scheme goes wrong. Despite the dire situation, watching the family come together makes it for a heartwarming watch on Valentine's Day.

Love

4.5/5 stars
Seems like with the title of this series, it's a good choice for Valentine's Day. I started watching this because I love the creator Judd Apatow (The 40 Year Old Virgin, Superbad, Forgetting Sarah Marshall, Freaks & Geeks, and a million other comical gems), and found this to be a cute, funny, and awkward comedy about an unusual relationship between a good-natured (and slightly nerdy) boy Gus (Paul Rust) and a rebellious girl, Mickey (Gillian Jacobs).
Stranger Things

4.5/5 Stars
If you haven't watched this hit series yet, you're totally missing out. Not only is the group of kids in the show adorable and fun, but the show itself is solid and will keep you binge watching from start to finish. The creators are also totally on point with the 80s nostalgia paying tribute to classics like T, Goonies, Stand by Me, and more. The premise is a young boy disappears and his friends, his mom, his brother, and a police chief go on a crazy sci-fi ride to get him back. Summary: leave yourself all day to watch this because you won't be able to stop watching all eight "chapters."

Glow

4.5/5 Stars
Our obsession with the '80s continues with this series set in Los Angeles during this time. Follow the journey of an out-of-work actress played by Alison Brie where she finds an unexpected chance at stardom in the world of women's wrestling.

Black Mirror

5/5 Stars
Created by Charlie Brooker, this series is a modern day "The Twilight Zone" where each stand-alone episode explores themes of techno paranoia. Technology is a huge part of our lives today and has changed all aspects of our life, this show is a black mirror reflecting our 21st Century existence back to us. The collective unease about the modern day will make you want to hold your loved one close.
HBO
Insecure

4.5/5 Stars
Created by Issa Rae and based on her popular web series "Awkward Black Girl" this show explores the black female experience from the perspective of Issa and her friend Molly. The two protagonists are based in their late 20s navigating their lives through career and relationships. This light-hearted comedy-drama is perfect to binge-watch on Valentine's Day.
Big Little Lies

4.5/5 Stars
Based on the best-seller novel of the same name this show's stellar cast includes Nicole Kidman, Reese Witherspoon and Shailene Woodley. The series follows the lives of three troubled women based in Monterey, California. With a murder investigation in the town, this critically acclaimed series explores the myths of perfection.

Game of Thrones

5/5 Stars
Now is the perfect time to binge-watch the current seasons in preparation of the grand finale on April 14, 2019. There's a reason why everyone is obsessed with Game of Thrones, including us. This epic fantasy show is based off of the book series, A Song of Fire and Ice, but the TV series has now gone past the books into its own twisted story. With dynastic struggles, magic, and dragons, this show will shock you again and again. Just make sure you don't get too attached to any of the characters (consider yourself warned).
Showtime:
Shameless

4/5 Stars
This raunchy comedy-drama features a dysfunctional West Side Chicago family that will make you laugh and feel uncomfortable all at the same time. Despite the cringe worthiness, we definitely have no shame (pun intended) watching. William H. Macy is phenomenal as dad Frank Gallagher (who is definitely not winning father of the year) and Emmy Rossum is amazing as daughter Fiona who is left taking care of her sister and brothers thanks to her dad's parental incompetency.

Homeland

4/5 Stars
This suspenseful action drama is on it's 6th season for a reason. Episode 1 from Season 6 just started on January 15 so there is totally time to catch up, or watch all of the episodes from the start. Starring CIA officer Carrie Mathison (Claire Danes) who gets herself into all kinds of difficult situations will stop at nothing to get the job done, while dealing with being bipolar. With the help of her mentor Saul Berenson (Mandy Patinkin), this series will keep you at the edge of your seat.

Penny Dreadful

4/5 Stars
Figured we needed some horror in this list so you can crawl into your significant other's arms when you're scared. If that sounds like fun, Penny Dreadful may be the show for you. Starring the gorgeous Eva Green as the troubled medium Vanessa Ives, this series a mix of new characters and a new take on literature's favorites like werewolves, Frankenstein and Dorian Gray.

The Affair

4/5 Stars
Okay, so maybe watching a series about an affair isn't exactly the #1 Valentine's Day thought, but this drama has a lot of sexy scenes and lust that may make it worth the watch. The name of the show very much describes what the series is all about.
Amazon
The Marvelous Mrs. Maisel

5/5 Stars
If you enjoyed Gilmore Girls you will love this show made by the same creator, Amy Sherman-Palladino. The show follows a housewife Miriam Maisel in 1958 New York City who discovers her talent for stand-up comedy. The witty dialogue that's become a trademark of Amy's keeps us hooked on to every word.
Movies to Cuddle Up To:
Netflix:
To All the Boys I've Loved Before

4/5 stars
This teen drama based on the young-adult novel by Jenny Han follows the love life of 16-year-old Lara. Obsessed with romance novels, Lara writes love letters to the five boys she's loved and chaos ensues when the letters fall into the wrong hands. The perfect rom-com to watch with your friends!
Girls Night In (Galentine's Day is February 13):
Netflix:
Legally Blonde 2:

4/5 Stars
The sequel to the classic Legally Blonde the film stars Reese Witherspoon is the perfect movie to watch on a girls night in. Following the journey of our favorite Elle Woods, this time she is on a mission to outlaw animal testing. Despite being considered to be a misfit in her position, she is determined to bring the change she believes in.

Monster-in-Law

4.5/5 Stars
Jennifer Lopez plays the role of an aspiring fashion designer, Charlie, who finds herself at odds with her fiancé's mother. Charlie finally catches on to her mother-in-law to be, Viola's, plan and fights back. This hilarious back and forth between the two makes us keep coming back to this classic rom-com!
Amazon:
Pitch Perfect (2012):

4.5/5 Stars
Aca-believe it! Your girls night in will not be complete without Pitch Perfect. You and your friends will be crying from laughter and singing the night away- a cappella style- with Pitch Perfect.
Valentine's Day (2010):

4/5 Stars
Since this movie is called Valentine's Day, we just HAD to add it to the list. This romcom follows a bunch of different characters and couples and their struggles on Valentine's Day until their stories eventually all intertwine. If you want a lighthearted and easy-to-watch movie, this is definitely a great choice!

13 Going on 30 (2004)

3/5 Stars
When you were 13, how did you expect your life to be at 30? This movie is about a teenage girl who suddenly finds herself as her 30-year old self and struggles to be a grown-up, learning about work, friendship and love along the way. No matter how old you are, this movie is sure to have some life lessons that will get you thinking.
Family Friendly:
Amazon
ANY Animated Disney Movie:

From Snow White to Bambi to Lion King, you literally cannot go wrong with any (or every) Disney movie. They're appropriate for the entire family to watch and you will be able to stroll down memory lane and be able to enjoy just as much.

Shrek (2001)

4/5 Stars
Shrek is truly a family favorite! Follow Shrek and Fiona through their quest for true love; also featuring a donkey and a cat wearing boots? Either way you are sure to laugh through the entirety of the film.

Enchanted (2007)

3.5/5 Stars
Enchanted is both equally cute and hilarious. It's essentially a children's movie, but I can guarantee that the whole family will enjoy it (and won't stop singing). It shows that sometimes love isn't what it seems to be.

The Lorax (2012)

3.5/5 Stars
Seuss does it again with the amazing adaption of the Lorax! The story all starts out with a young boy trying to impress the girl he likes. This leads him on a crazy adventure and shows everyone to take the time out to appreciate the world!

Whatever you decide to watch this Valentine's Day, we hope it's your best yet!
Netflix
Cloudy with a Chance of Meatballs

4.5/5 Stars
This animated science-fiction film follows the journey of an aspiring inventor named Flint who develops a machine that can convert water into food. After many failed attempts the machine eventually starts to develop food storms which Flint must come to terms with and destroy his own creation in order to save the world.

Coco

5/5 Stars
This heartwarming story follows a young boy's determination to follow his dreams of becoming a musician. Inspired by the Mexican Day of the Dead holiday, the protagonist Miguel finds himself accidentally transported to the Land of the Dead when he's running away from his family only to find himself meeting his ancestors.