Sometimes staying in and cuddling up with your Valentine to watch a movie, or binge watch a television series, makes for the most romantic holiday.  Whether you're going out to eat first at a local restaurant, cooking dinner at home, or ordering in, leaving time to watch something you both enjoy (or one of you enjoy :), could help make the night (or day) even more awesome. So sit back and relax as we give you some hand-picked favorites for movies and series to watch this Valentine's Day.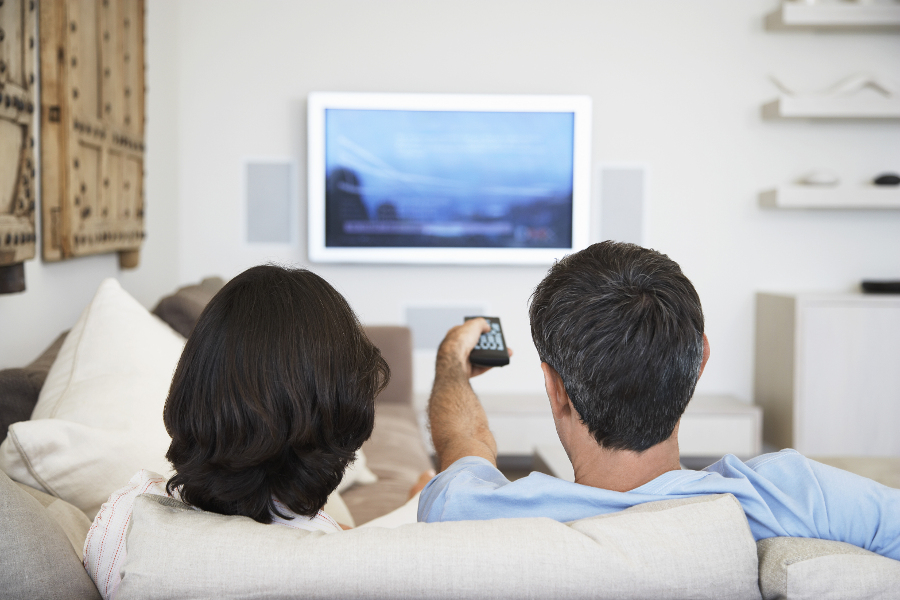 Romantic Cinema at Home Tips:
Flowers and candles on the coffee table or end tables really help set the mood
Don't forget to get both of your favorite snacks! Popcorn helps for theatre authenticity.
Prepare a little and make sure the couch area is ready for hours of comfort and cuddling.
Movie/TV Guide:
Series to Binge On:
Netflix
Love

4.5/5 stars
Seems like with the title of this series, it's a good choice for Valentine's Day. I started watching this because I love the creator Judd Apatow (The 40 Year Old Virgin, Superbad, Forgetting Sarah Marshall, Freaks & Geeks, and a million other comical gems), and found this to be a cute, funny, and awkward comedy about an unusual relationship between a good-natured (and slightly nerdy) boy Gus (Paul Rust) and a rebellious girl, Mickey (Gillian Jacobs).

Stranger Things

4.5/5 Stars
If you haven't watched this hit series yet, you're totally missing out. Not only is the group of kids in the show adorable and fun, but the show itself is solid and will keep you binge watching from start to finish. The creators are also totally on point with the 80s nostalgia paying tribute to classics like T, Goonies, Stand by Me, and more. The premise is a young boy disappears and his friends, his mom, his brother, and a police chief go on a crazy sci-fi ride to get him back. Summary: leave yourself all day to watch this because you won't be able to stop watching all eight "chapters."

The OA

4/5 Stars
Sci-fi is the way to be this year and The OA helps satisfy that craving if you already finished Stranger Things and are hungry for more. While the series received some mixed reviews on the ending, the entire season keeps your interest enough to keep watching. The premise: a blind woman returns home after missing for 7 years, and is no longer blind when she returns. While some call her regaining eyesight as a miracle, some see it as a threat. It will lure you in, disturb you, and give you all the feels!

Michael Bolton's Big, Sexy Valentine's Day Special

♫"How am I supposed to live without you, How am I supposed to carry on" ♫ That's right… we said Michael Bolton, and he is starring in his own sexy telethon which is why we could not miss it on this list. When we first heard of this, we thought it was serious, but it turns out this is scheduled to be a comedic gem with a star studded cast premiering February 7. With Fred Armisen, Sarah Silverman, Maya Rudolph, Will Forte, Andy Samberg (dressed as Kenny G), and Kenny G himself, you may laugh 'til you cry this Valentine's Day if you choose to watch this flick.
Master of None

4/5 Stars
30-something New Yorker Dev, played by comedian Aziz Ansari, takes you through his life as he hilariously goes through relationships, friendships, and his career. While the show does have many cringe worthy moments, it's overall a feel good comedy.

Arrested Development (Seasons 1-4)

5/5 Stars
For those of you just starting out, this Emmy Award winning comedy series involves a wildly dysfunctional wealthy family in Orange County, California who loses everything after their father is imprisoned, and the one son Michael Bluth (Jason Bateman) "who had no choice but to keep them all together." Hilarity ensues and the cast is fantastic with Michael Cera, Portia de Rossi, David Cross, Jeffrey Tambor, Jessica Walter, in addition to a wide array of celebrity cameos from Amy Poehler to Charlize Theron. It's been labeled as one of the best sitcoms ever, and if you decide to watch you'll definitely see why.

Friends

4/5 Stars
With love creating all sorts of trouble and heartfelt moments on this hit 90s sitcom, it could be the perfect way to spend Valentine's Day. Whether you're relationship is like Ross and Rachel, or a Chandler and Monica, binging on Friends for days and days on end is easy to do.

Gilmore Girls: A Year in the Life (2016)

5/5 stars
Fellas, win some bonus points if your lady is a Gilmore Girls fan and you're willing to watching this continuation of the show a decade after the original. While I personally found the episodes to have some shortcomings due to strange life decisions made by some of the characters, it's still totally nostalgia at its finest and makes you feel like you're in Stars Hollow all over again. Kudos to the creators forgetting the entire cast back, even now super famous ones like Melissa McCarthy.

House of Cards

4.5/5 Stars
If you're in the mood for deceit, politics, and suspense, then House of Cards may be the show for you. It's totally not romantic (although it definitely has its share of sex scenes) but it definitely won't bore you. Get involved with the power-hungry and manipulative characters featuring the always amazing Kevin Spacey as Frank Underwood and Robin Wright as his wife Claire, as they fight for power to rise to the top in Washington, D.C.

The Flash

4/5 Stars
For the superhero lovers, The Flash is one CW show that we just LOVE. With both action, adventure and some romance, this series is sure to keep you wanting more. Be prepared for some crazy twists and lots of angst if you're a hopeless romantic.

Sherlock

5/5 Stars
If you love mysteries and all around good television, Sherlock stars Benedict Cumberbatch as the eccentric Sherlock and Martin Freeman as Watson solving cases in modern London.
HBO
Westworld

4/5 Stars
A modern sci-fi take on an old fashioned "Western," Westworld is a theme park for adults to pay a lot of money to live out their fantasies while being invincible, and interacting alongside android hosts with artificial intelligence. This show will keep you on the edge of your seat, but make sure you don't catch any spoilers online! Cast is stellar with Evan Rachel Wood, Jeffrey Wright, Ed Harris, and more. The music is also awesome with Ramin Djawadi composing the score which features modern tunes like Radiohead's "No Surprises," Soundgarden's "Black Hole Sun," the Rolling Stones' "Paint It Black," and The Cure's "A Forest" on a haunting player piano (or pianola).

Game of Thrones

5/5 Stars
There's a reason why everyone is obsessed with Game of Thrones, including us. This epic fantasy show is based off of the book series, A Song of Fire and Ice, but the TV series has now gone past the books into its own twisted story. With dynastic struggles, magic, and dragons, this show will shock you again and again. Just make sure you don't get too attached to any of the characters (consider yourself warned).

The Night Of

4.5/5 Stars
The suspense is REAL with The Night Of. If you're like me and are highly addicted to all these murder/police/mystery shows, you need to check out this series. Just beware…once you start this series you will not be able to stop.
Showtime:
Shameless

4/5 Stars
This raunchy comedy-drama features a dysfunctional West Side Chicago family that will make you laugh and feel uncomfortable all at the same time. Despite the cringe worthiness, we definitely have no shame (pun intended) watching. William H. Macy is phenomenal as dad Frank Gallagher (who is definitely not winning father of the year) and Emmy Rossum is amazing as daughter Fiona who is left taking care of her sister and brothers thanks to her dad's parental incompetency.

Homeland

4/5 Stars
This suspenseful action drama is on it's 6th season for a reason. Episode 1 from Season 6 just started on January 15 so there is totally time to catch up, or watch all of the episodes from the start. Starring CIA officer Carrie Mathison (Claire Danes) who gets herself into all kinds of difficult situations will stop at nothing to get the job done, while dealing with being bipolar. With the help of her mentor Saul Berenson (Mandy Patinkin), this series will keep you at the edge of your seat.

Penny Dreadful

4/5 Stars
Figured we needed some horror in this list so you can crawl into your significant other's arms when you're scared. If that sounds like fun, Penny Dreadful may be the show for you. Starring the gorgeous Eva Green as the troubled medium Vanessa Ives, this series a mix of new characters and a new take on literature's favorites like werewolves, Frankenstein and Dorian Gray.

The Affair

4/5 Stars
Okay, so maybe watching a series about an affair isn't exactly the #1 Valentine's Day thought, but this drama has a lot of sexy scenes and lust that may make it worth the watch. The name of the show very much describes what the series is all about.
Movies to Cuddle Up To:
Netflix:
Fundamentals of Caring (2016)

5/5 stars
If you're looking for a heartwarming dark comedy, this indie film starring Paul Rudd and Selena Gomez (yes you're reading that right, odd acting combo, I know) is really worth a watch. It's about a young disabled teen and his caregiver taking a road trip seeking landmarks, but gaining much more than just that.

Moonrise Kingdom (2012)

4.5/5 Stars
Perfect for VDay, this adorable story from Director Wes Anderson (Fantastic Mr. Fox, Rushmore, The Grand Budapest Hotel) is all about two 12 year-olds falling in love. It's quirky in proper Anderson fashion but really sweet, too, with a star-studded cast including but not limited to: Bruce Willis, Bill Murray, Edward Norton, Jason Schwartzman, Tilda Swinton.
Amazon
The Notebook (2004):

4/5 Stars
I mean of COURSE The Notebook is making the Valentine's Day movie list! This all-time favorite is the epitome of VDay! Plus, ladies, Ryan Gosling. Need I say more?

Titanic (1997)

4/5 Stars
I feel like nothing I say would be able to do Titanic Whether you haven't seen it or the trillionth time, there is no better love story than Jack and Rose. How could it not be, with the ever so beautiful, Kate Winslet and Leonardo DiCaprio. 10/10 Valentine's Day approved.

You've Got Mail (1998):

4.5/5 Stars
I watch You've Got Mail maybe a few times a year, and every time it's over I wonder why I don't order this more often. It's truly a feel-good, cute, sappy love story. And I love every second of it! The chemistry between Meg Ryan and Tom Hanks is so heartwarming, in my humble opinion, it's a must see this VDay.

50 First Dates (2004):

4.5/5 Stars
Ok- I admit it, Adam Sandler and Drew Barrymore are my guilty pleasures. The story of Henry (Sandler) having to win over Lucy (Barrymore) every single day because she can't remember the day before really just makes your heart melt.

Fifty Shades of Grey (2015)

2.5/5 Stars
Even though the movie might not be as good as the books, Fifty Shades of Grey is a great way to heat things up this Valentine's Day. If you've read the books, you know what you're in for; if you haven't, just be aware that it's rated R for a reason! If you were to ever describe a movie as "sexy," it would probably be for this one.
Girls Night In (Galentine's Day is February 13):
Netflix:
Magic Mike (2012):

4/5 Stars
Ladies, who says you need a date this Valentine's Day? Grab your best girlfriends and watch Channing Tatum dance through the stage (and your heart?). You definitely will not regret it!
Amazon:
Pitch Perfect (2012):

4.5/5 Stars
Aca-believe it! Your girls night in will not be complete without Pitch Perfect. You and your friends will be crying from laughter and singing the night away- a cappella style- with Pitch Perfect.

Valentine's Day (2010):

4/5 Stars
Since this movie is called Valentine's Day, we just HAD to add it to the list. This romcom follows a bunch of different characters and couples and their struggles on Valentine's Day until their stories eventually all intertwine. If you want a lighthearted and easy-to-watch movie, this is definitely a great choice!

13 Going on 30 (2004)

3/5 Stars
When you were 13, how did you expect your life to be at 30? This movie is about a teenage girl who suddenly finds herself as her 30-year old self and struggles to be a grown-up, learning about work, friendship and love along the way. No matter how old you are, this movie is sure to have some life lessons that will get you thinking.
Family Friendly:
Amazon
ANY Animated Disney Movie:

From Snow White to Bambi to Lion King, you literally cannot go wrong with any (or every) Disney movie. They're appropriate for the entire family to watch and you will be able to stroll down memory lane and be able to enjoy just as much.

Shrek (2001)

4/5 Stars
Shrek is truly a family favorite! Follow Shrek and Fiona through their quest for true love; also featuring a donkey and a cat wearing boots? Either way you are sure to laugh through the entirety of the film.

Enchanted (2007)

3.5/5 Stars
Enchanted is both equally cute and hilarious. It's essentially a children's movie, but I can guarantee that the whole family will enjoy it (and won't stop singing). It shows that sometimes love isn't what it seems to be.

The Lorax (2012)

3.5/5 Stars
Seuss does it again with the amazing adaption of the Lorax! The story all starts out with a young boy trying to impress the girl he likes. This leads him on a crazy adventure and shows everyone to take the time out to appreciate the world!
Whatever you decide to watch this Valentine's Day, we hope it's your best yet!