While we all wish we could celebrate the holidays in person with friends and family, that's not the reality for some of us. Maybe you live on the opposite coast from your family and the cost of a plane ticket is too big for your budget. Maybe your boss is making you come into work the day after Thanksgiving. (We have some separate advice for you if that's the case.) Or maybe you just flat-out don't want to deal with planes, trains, or automobiles during this, the busiest travel time of the year.
If you're missing out on the experience of baking in the kitchen with Grandma, singing holiday songs surrounded by loved ones, or drinking cocoa together with your siblings as you decorate the house, all is not lost. There are still plenty of ways you can stay socially connected to your nearest and dearest this holiday season — especially if you're willing to get a little creative.
Here are seven tips that can help bring you closer to your loved ones this holiday season, even if you can't physically be with them.
1. Schedule virtual holiday parties
A holiday party, even if you're having it from far away, is still bound to be a blast. You just have to commit to going all-out — and all-in — on decorations, entertainment, refreshments, and more.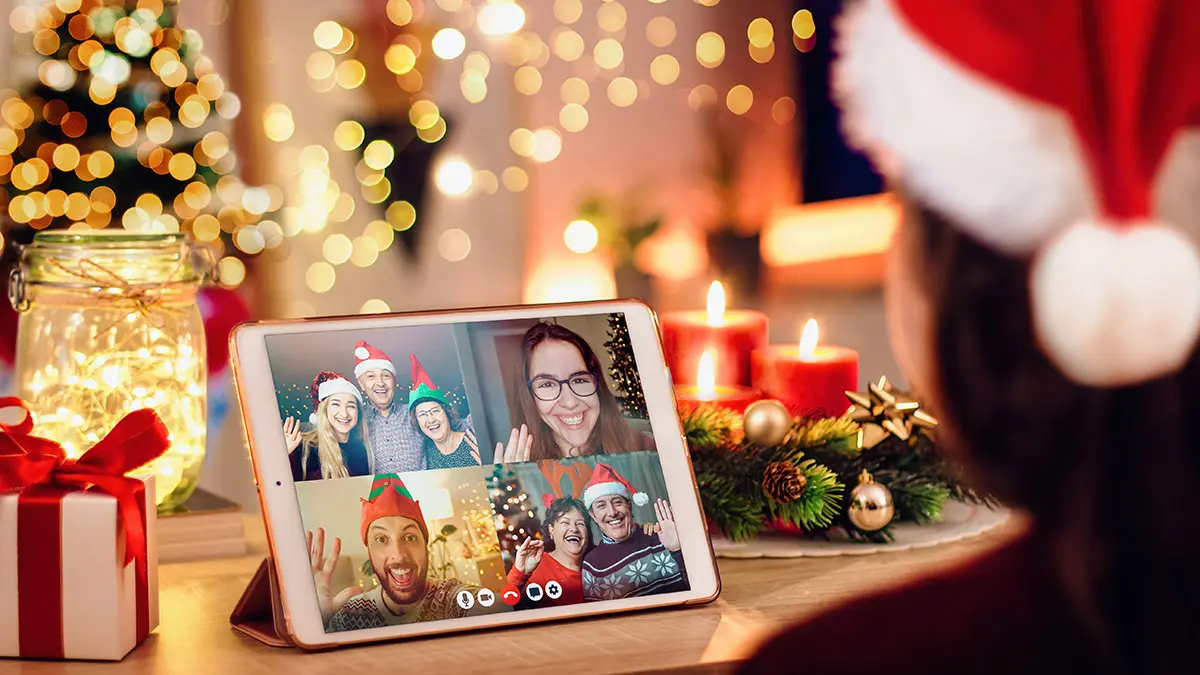 Send out online invitations to make sure guests know the details of the party. Once you get a headcount, you can make arrangements for the fun, incorporating food, drinks, games, and more ahead of time — just like you would an in-person party. Take it a step further and send out physical gifts; that way, you can open presents together during the party.
2. Hold a holiday book club or movie screening
If you and your loved ones read books or watch movies together as part of your annual holiday festivities, you can still keep the tradition going this year. Plan ahead and spend the month leading up to the holidays reading the same book or watching the same movies. Then, schedule a phone call or video chat to discuss them. Some streaming services even have a feature that lets you watch shows or movies with others at the same time.
Want to take the party to the next level? Share your favorite eggnog recipe with all the attendees and set up a cozy, holiday atmosphere to really get in the spirit.
3. Organize a gift exchange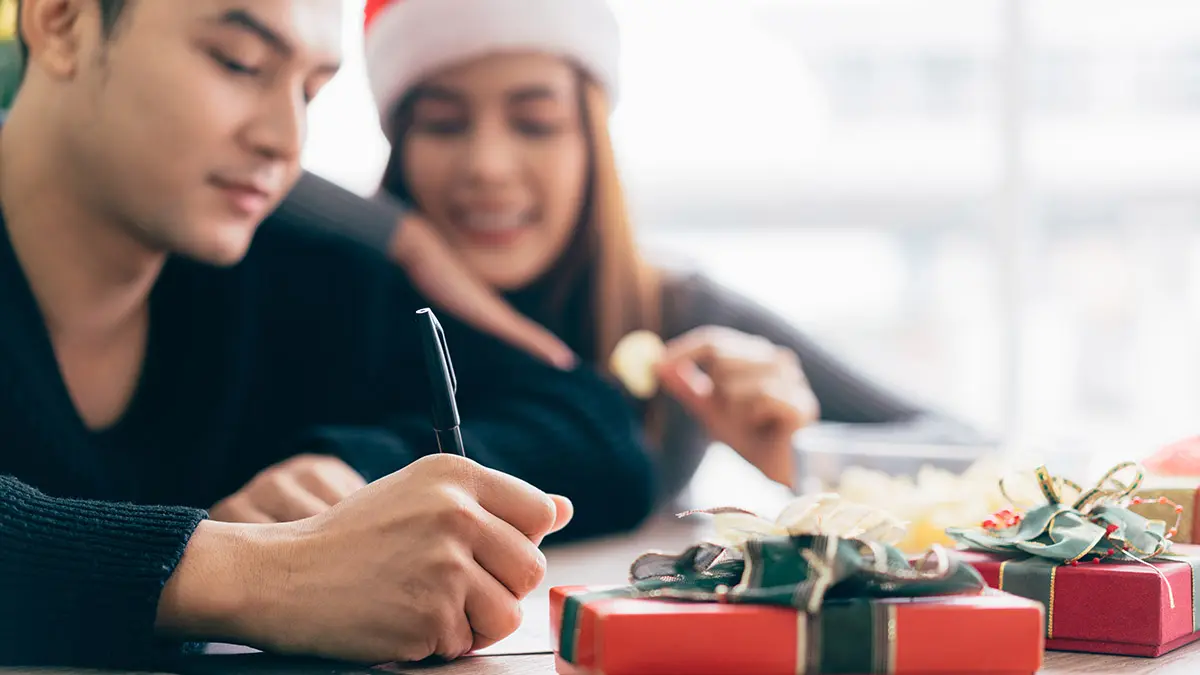 Being there and watching as a friend or family member unwraps the present you got for them is a great feeling, as is receiving a gift from someone and giving them a big, ol' hug afterward. But if you can't physically be together this year, you can still make your loved ones feel special with a gift exchange.
Designate one family member to be the point person, and have that individual match up givers with receivers. Then, have everyone pick out something thoughtful and send it to their intended recipient. On the big night, instruct everyone to hop on a video call and open up their presents, one by one. Or make it extra fun and go the Secret Santa route, and have people guess who they think got them their gift.
4. Make and send holiday letters and cards
Who says snail mail is boring? Communicate with your loved ones the old-fashioned way with holiday cards and letters. Those folks are sure to appreciate such a well thought-out, dedicated effort. Whether it's planned or spontaneous, this is a great way to stay socially connected and show someone you're thinking of them this holiday season.
5. Participate in virtual holiday classes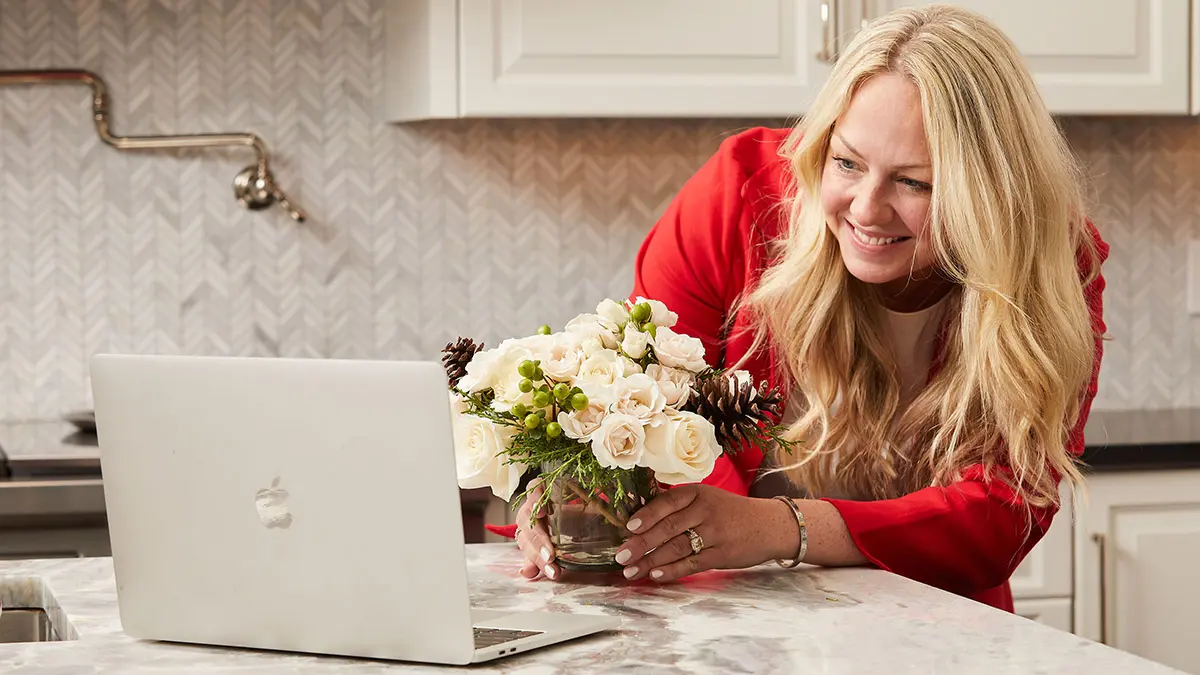 Many of us associate the holidays with making (and eating!) our favorite foods with our closest relatives. If cooking and sharing a meal with family isn't an option this year, you can still replicate this tradition by whipping up a favorite seasonal dish or dessert and sending it to the people who will be missing it most this season.
Or, take advantage of the wonders of technology and sign up for a virtual culinary workshop, wherein you and your loved ones will learn to create the same holiday treats from an expert instructor. Then, when you're done, enjoy the fruits of your labor over a holiday movie marathon! If the members of your crew aren't all that skilled in the kitchen but are more the crafty type, enroll in a holiday flower arranging class and beautify your homes with fresh and festive blooms.
6. Invent a new tradition
There's no time like the present to shake things up. Get Grandma to play a round of Fortnite with you, ask your mom to send over photos so you can create a holiday card together, organize a virtual toast with your entire family to foster the community spirit, or institute a holiday-themed family game night for those you already live with. Whatever you do, make this new tradition a fun favorite that will last for years to come.
7. Surprise loved ones with thoughtful gifts
If you're still looking for the perfect way to stay socially connected and spread holiday cheer from afar, browse our Christmas collection to find floral arrangements and gifts for those you hold dear.