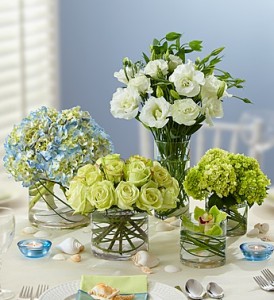 With its clear, sunny skies and its abundant fields of colorful flowers, summertime is every bride's dream! More flowers are in full bloom now than in any other season, so there's a whole rainbow of blossoms to choose from for your wedding flowers. Picking in-season blooms doesn't just ensure that your bridal arrangements are more affordable; it means your flowers can stand up to the heat and stay fresh all day long too! Strong, sturdy blossoms with a waxy texture are best at beating high temps and humidity. Plus, they come in any vibrant color to perfectly match your décor, from happy yellow to sophisticated crimson. To help you pick the right arrangement for your big day, we picked our favorite in-season summer wedding flowers for every theme!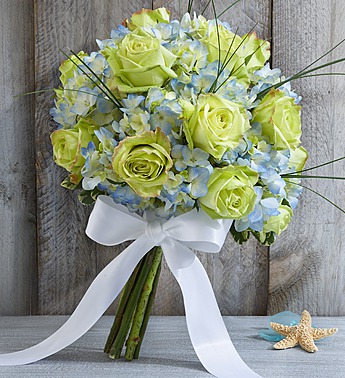 Best Beach Summer Wedding Flowers: Hydrangeas
Reminiscent of the charming, laid-back shores of Cape Cod, hydrangeas are the perfect summer flowers for a mellow seaside wedding. Their blue, pink, purple and white hues add a soothing pop of color to any beach-themed bouquet, plus their large blooms allow you to cut down on the amount of flowers you buy, saving you money. You can make an entire bouquet with just a few stems! Pair them up with roses of any color—especially greens and pinks—for a summer arrangement that's as light and airy as the ocean breeze.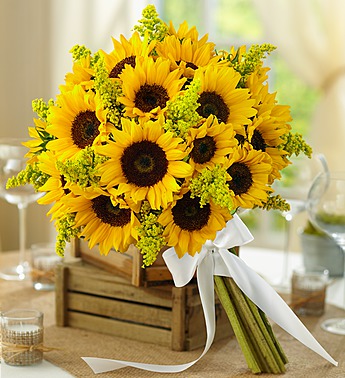 Best Country Summer Wedding Flowers: Sunflowers
For a rustic wedding with a golden summer glow, there's no better choice for a bride than a sunflower bouquet and centerpiece. The ideal summer blooms, cheery sunflowers shine rays of happiness and excitement over your big day, whether you're getting married in a wide open field or in a quaint cottage. Just like hydrangeas, their big, vibrant petals allow you to create an abundant arrangement with half the blooms. Just add a few blue or green accent flowers and you have a perfect bouquet for the sunny, budget-conscious bride!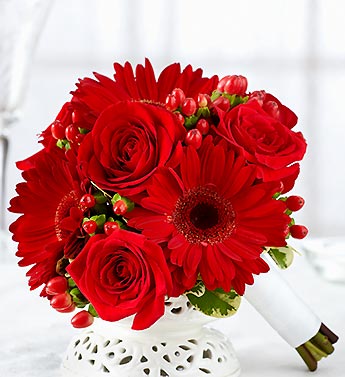 Best Colorful Summer Wedding Flowers: Gerbera Daisies
Nothing shouts summer louder than bursts of neon color, so bright rainbow-like Gerbera daisies are the perfect pick for the sunny-season bride. They come in every color on the spectrum—like red, orange, yellow, pink, white and more—and they can be mixed-and-matched with any of your favorite blossoms and accents. Vivid yet simple daisies add a major wow-factor to your modern wedding decor without going overboard—and without breaking the bank. These little pops of color are one of the most wallet-friendly flowers around!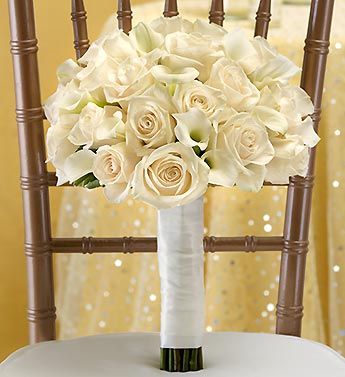 Best Romantic Summer Wedding Flowers: Roses
A classic beauty, the rose is a timeless choice for a fairy tale summer wedding. A longstanding symbol of true love and happiness, roses offer a wide variety of colors to help you tell your love story—from blushing pinks to passionate reds. This ageless wedding-day favorite can truly do it all. Create a dreamy traditional arrangement by grouping together roses of the same soft, summery color, or combine bold roses with any assortment of flowers to make a whimsical bouquet with a touch of modern flair.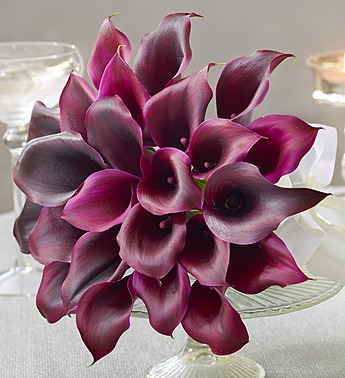 Sophisticated Summer Wedding Flowers: Calla Lilies
A chic modern bride deserves equally elegant flowers for her summer wedding. With colors ranging from silky white to cabernet red, the sleek trumpet-shaped calla lily brings an understated touch of both sophistication and tropical panache to summer wedding décor. Whether you group them alone or combine them with classic roses, calla lilies wrapped in a simple white satin ribbon give your wedding flowers a neat and polished look—a stunning statement for the upscale summertime bride.
Which summer wedding flowers match your bridal style?