On September 15, 2012, two lives joined together to become one perfect pair when Cristal from our Human Resources team walked down the aisle with her other half. For their special day, they chose to celebrate with a theme that's just as sweet as they are: love birds! The lovely couple chose to match their love bird theme, along with their favorite season (fall), to make their autumn wedding flowers and décor a magical day inspired colors and fall foliage inspired by their favorite season.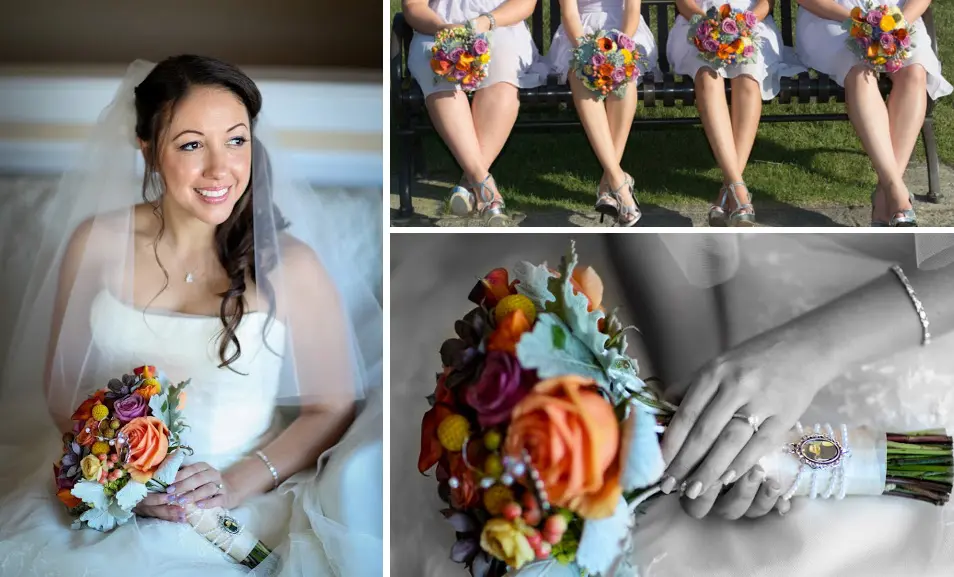 "Early Fall is our favorite time of the year," Cristal shared. "Our wedding day turned out to be a beautiful sunny day with a hint of Fall in the air. It was the perfect weather to enjoy the outdoors and feel comfortable."
From the love bird inspired centerpieces to earthy detailing, guests were transported to a room full of beautiful fall foliage and décor inspired by nature's brightest colors.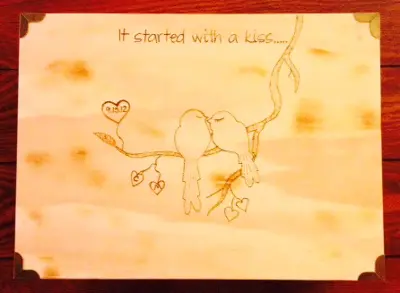 "Lovebirds were the theme of our wedding. At the time, the trends were pointing to more natural and earthy themes. Our wedding card box was a wooden chest with two lovebirds carved in the center. Brown kraft envelopes were used for our save the dates and invitations. We used moss and nest-like baskets for the floral centerpieces," Cristal described. "Our guests wrote messages on wooden hearts that they then hooked to our wishing tree. Our plan is to use these heart messages as Christmas ornaments in the future."
Cristal worked with 1800Flowers Carle Place's talented Floral Designer, Phil Devito to create her beautiful and unique wedding floral arrangements from the centerpieces to the bridal bouquets. Cristal expressed her gratitude to local Carle Place flower shop by saying, "I can't thank Phil and the team enough for creating floral arrangements that went above and beyond all of my expectations, the attention to detail and the personal touches that they handled so lovingly."
Cristal's Fall Wedding Color Scheme

Taking inspiration from fall's most beautiful colors, Cristal set the scene with calm shades of gray and purple, enhanced with the lively and bold hues of autumn.
"Initially, the colors we chose were neutral in nature: gray suits for the groomsmen and light purple or iris for the bridesmaids' dresses," Cristal said. "We then decided that we had to brighten the color scheme with a pop of color, so we added some fall hues such as yellow, orange and deep purples into our floral arrangements."
The Wedding Centerpieces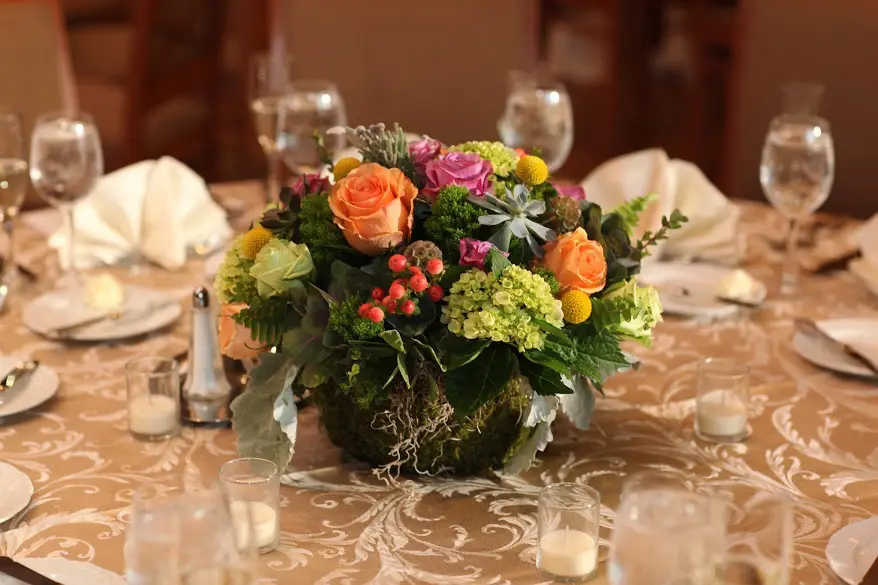 The subtle light purple bridesmaids' dresses perfectly complemented the bright floral arrangements and centerpieces. Each table housed a wow-worthy bird nest centerpiece bursting with natural themes and fall foliage. The bride and groom were seated at a beautifully decorated table, adorned with the bridesmaid and bridal bouquets that tied the floral details together.
Cristal used ideas and inspiration from the internet to help mold her vision together. "During the 9 months of wedding planning, I created an inspiration board where I posted floral ideas and pictures from magazines, blogs, and Pinterest." She left the rest up to the creative mind of her floral designer! Cristal continued, "When it came time to select our floral pieces, I handed over my inspiration board to Phil DeVito, 1800Flowers.com Floral Designer. Phil created the most beautiful floral pieces, artistically integrating many different elements from my inspiration board."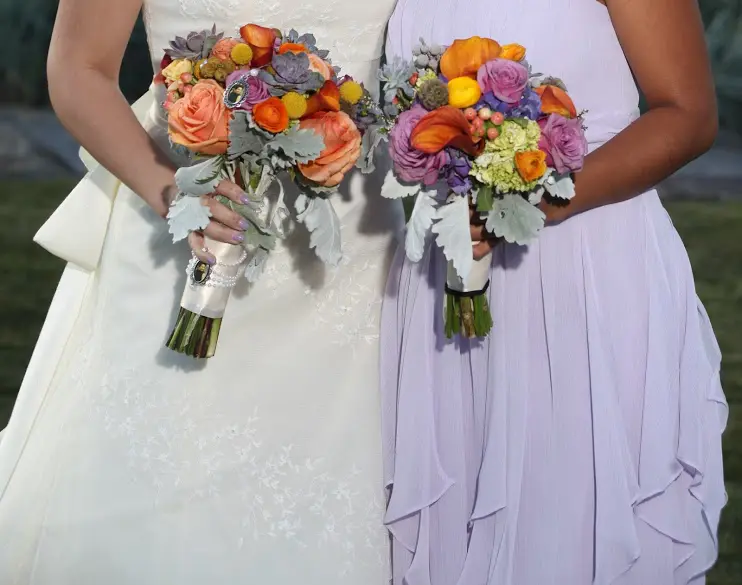 "While creating my floral inspiration board, I fell in love with Echeveria which is a rosette-like succulent plant in which the leaves change shades, sometimes shades of purple. Phil added these plants to all of the arrangements and added a few extra to my bouquet. He also dressed up our wedding cake table with the Echeveria plants."
The Bridal Bouquet
Consistency is important to Cristal, so they chose to use the same type of flowers for all of the flower arrangements from the bridal and bridesmaid bouquets to the bird nest centerpieces. The flowers they used included orange, peach and light purple roses, orange calla lilies, yellow billy balls, pink berries, and echeveria.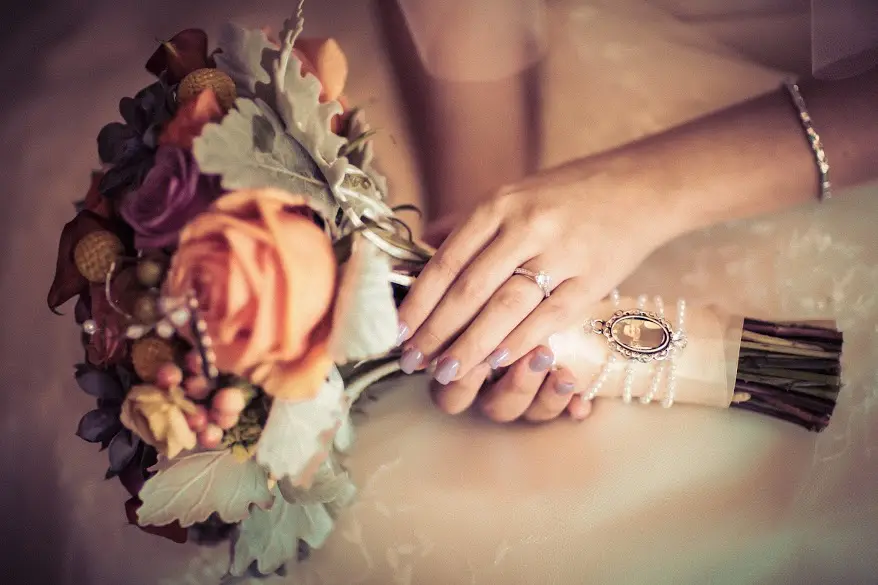 To make Cristal's bridal bouquet stand out from the others, she added an extra personal and sentimental touch that she would treasure forever. "Three years before my wedding, my mom had passed after a 6-month long battle with cancer. I asked Phil to add a tiny photo frame with a picture of my mom to my bridal bouquet. Phil beautifully placed the photo in the center of my bouquet. When he delivered the flowers the morning of my wedding, the first thing I saw as he handed me my bouquet was the photo of my mom. Seeing the photo that morning, reminded me that my mom was celebrating with me in spirit and it made the day a little more complete," she shared.
The Bridesmaid Bouquets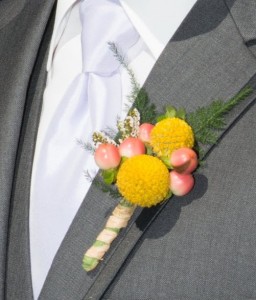 On her special day, Cristal was surrounded by twelve beautiful ladies dressed in the bride's favorite color: iris.
"Iris (a light purple shade) was the color of the bridesmaid dresses. I love all things purple. It's my favorite color." She continued, "Deciding on which shade of purple was probably the most challenging decision I had to make."
The bridesmaids were a vision in iris, but the real show-stoppers were their bouquets which transformed each bridesmaid into a work of art.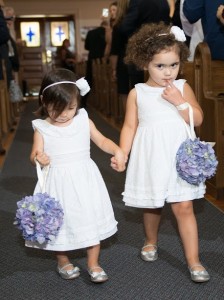 Even the groom was treated to a pop of color! Yellow billy balls were used for the groom, groomsmen and ring bearers' boutonnières.
The flower girls held purple hydrangea balls dangling from a ribbon that were feminine yet age-appropriate, and easy to hold for little hands.
Cristal and her guests enjoyed the evening surrounded by stunning décor, good food, and great friends, which made for a magical wedding day.