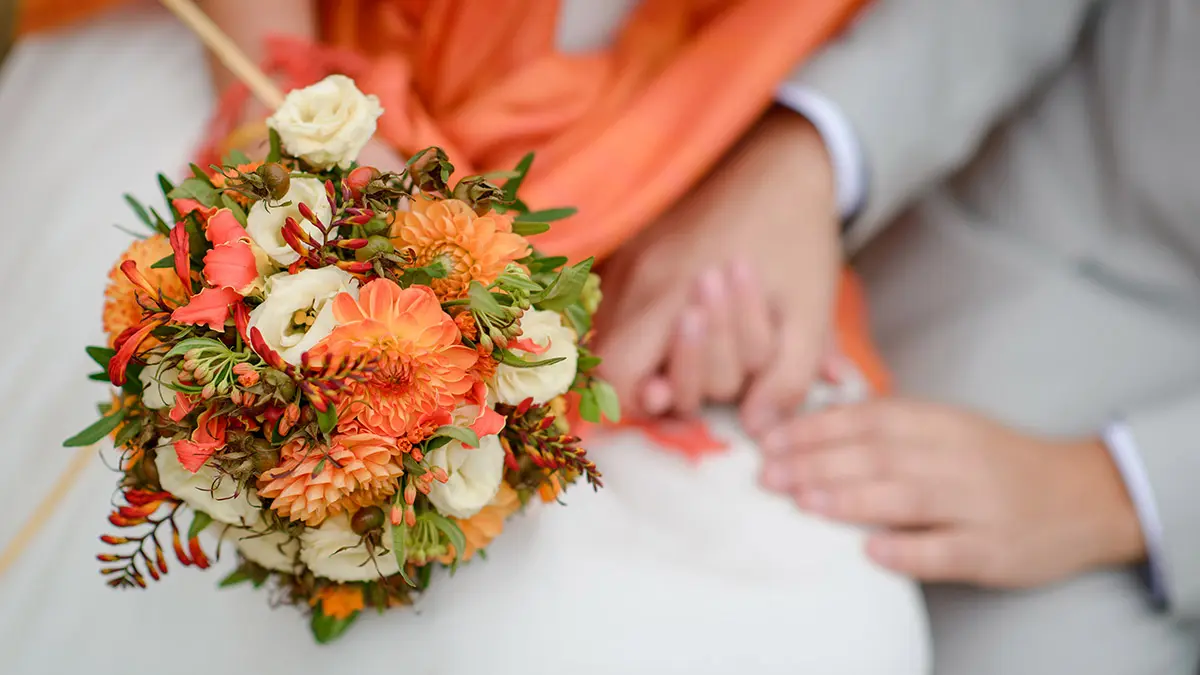 Fall, with its breathtaking hues and cozy atmosphere, offers a perfect backdrop for romantic celebrations. When it comes to planning a fall wedding, flowers play a pivotal role in setting the tone and enhancing the overall ambiance. From warm and earthy color palettes to rich textures and unique blooms, autumn provides abundant inspiration for crafting stunning floral arrangements.
To help you with everything from bouquets to décor and even accessories, we compiled a list of the most popular flowers to use in a fall wedding as well as ideas for how to embrace the beauty of the season on your special day.
6 flowers to incorporate into a fall wedding
These six flowers will help create an romantic and elegant ambiance for you and your guests while capturing the essence of this magical season.
1. Dahlias
Dahlias are a splendid choice for fall weddings, with their wide range of colors and intricate petals. These stunning blooms come in various sizes and shapes, offering versatility in floral arrangements. From vibrant oranges and deep reds to soft pinks and creamy whites, dahlias add a touch of drama and sophistication to bouquets, centerpieces, and even flower crowns.
2. Sunflowers
Radiating joy and warmth, sunflowers embody the spirit of fall with their bright golden hues. These cheerful blossoms are perfect for creating a rustic or country-inspired wedding theme. Whether used as standalone blooms or combined with other autumn flowers, sunflowers evoke a sense of happiness and abundance, making them an ideal choice for fall nuptials.
3. Chrysanthemums
Known as the "queens of autumn," chrysanthemums are classic fall flowers that symbolize longevity and happiness. They are available in a wide spectrum of colors, including vibrant yellows, rich purples, and warm oranges, and infuse a touch of elegance into any wedding décor. These resilient blooms can be used in bouquets, centerpieces, and even floral installations, creating a captivating autumnal atmosphere.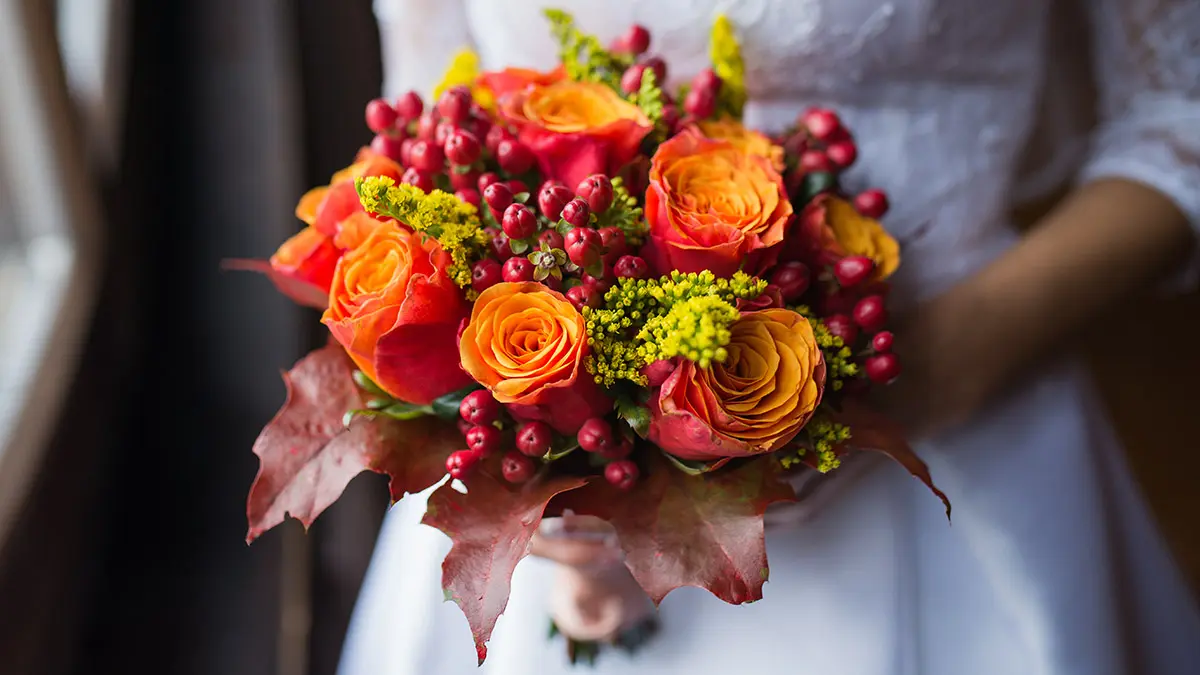 4. Roses
Roses, the epitome of romance, are a timeless choice for any season, including fall. Opt for roses in deep burgundy, burnt orange, or champagne shades to complement the earthy tones of the season. Mix them with seasonal foliage like eucalyptus, hypericum berries, or even wheat for a charming and sophisticated fall-inspired bouquet or centerpiece.
5. Zinnias
If you're looking for vibrant and cheerful blooms for your fall wedding, zinnias are the way to go. These whimsical flowers are available in an array of striking colors, including oranges, yellows, pinks, and purples. Zinnias add a playful and festive touch to wedding arrangements, making them perfect for outdoor ceremonies or barn weddings.
6. Proteas
For couples seeking unique and eye-catching blooms, proteas are an excellent choice. These exotic flowers, with their bold shapes and textures, create a captivating focal point in any arrangement. Varieties like king protea or pincushion protea, which showcase warm tones of red, burgundy, and pink, add an unexpected touch to your fall wedding floral designs.
7 tips for decorating a fall wedding with flowers
Here are seven ways to create a truly unforgettable wedding filled with enchanting floral arrangements that reflect the majesty of the fall season.
1. Embrace the colors of the season
Autumn's rich and earthy color palette includes shades of deep red, burnt orange, golden yellow, and rustic browns. By incorporating flowers like dahlias, sunflowers, marigolds, and roses into your wedding arrangements, you can infuse your special day with a sense of warmth and elegance.
2. Incorporate seasonal foliage
Autumn foliage provides a stunning natural backdrop for fall weddings. If you're looking to create a more organic look, consider bringing in lush greenery, such as eucalyptus, ivy, or ferns, along with colorful leaves like maple, oak, or birch. These elements add texture and depth to floral arrangements, bouquets, and centerpieces, creating an enchanting forest-like feel.
3. Exquisite floral accents
Floral accents, such as berries, branches, feathers, and dried grasses, can create a whimsical and rustic vibe, and add personality and charm to your wedding décor. Combine these elements with traditional flowers like hydrangeas, anemones, or ranunculus to make eye-catching arrangements that showcase the beauty of the season.
4. Cascading bouquets
Add a touch of drama and elegance with a cascading bouquet. These abundant arrangements feature a waterfall-like effect, with flowers and foliage flowing gracefully downward. Flowers like orchids, roses, calla lilies, or amaranth create a visually stunning bridal bouquet that embodies the season's splendor.
5. Moody and romantic blooms
For couples seeking a more sophisticated and moody aesthetic, consider using dark-hued blooms in your wedding floral design. These include flowers like black dahlias, scabiosa, dark calla lilies, or anemones, which come in deep burgundy, plum, or purple. All lend an air of mystery and intrigue to a fall wedding, and add a touch of romance and allure.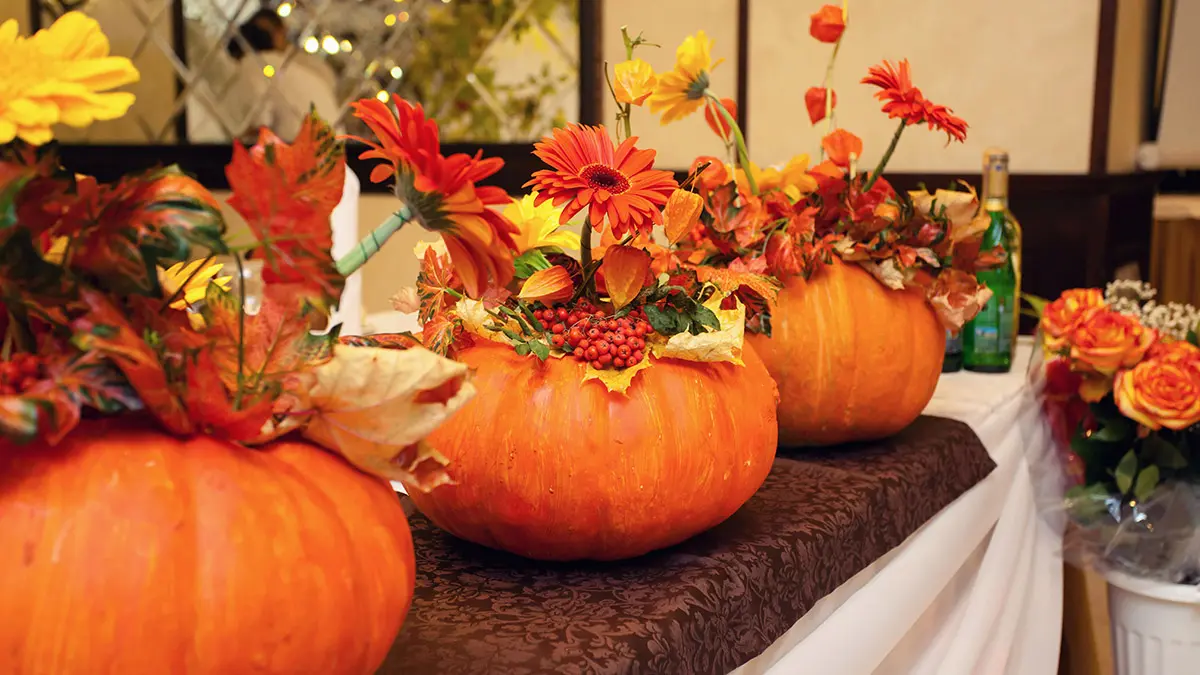 6. Whimsical pumpkin accents
Incorporating pumpkins into your wedding floral arrangements will have you embracing the autumn spirit. Use hollowed-out pumpkins as unique vases for fall flowers to create a rustic and whimsical centerpiece, or adorn your venue with mini pumpkins, gourds, or squash for an enchanting autumnal display.
7. Rustic chic themes
A popular home décor theme nowadays, rustic chic seamlessly blends a natural, more vintage-looking style with elegant elements. For a fall wedding, choose flowers like wildflowers, lavender, roses, and daisies into mason jars, wooden crates, or vintage containers, and combine these with burlap, lace, and twine accents to create a charming and relaxed vibe.