Winter is a magical time of year to get married. The holidays engender a festive atmosphere throughout the season; snow, in many places, blankets the ground, creating a beautiful backdrop to our outdoor activities; and the nights are filled with cozy fires, comforting foods, and hot beverages.
"When I think winter, I think of the brisk air, ice, earmuffs, twinkle lights, and sugar plum fairies," says veteran florist Lynn Mehl, founder of Good Old Days Eco-Florist in New Windsor, New York.
No matter what part of the country, whether temperate or seasonal, evergreens are always top of mind in the winter.
Lynn Mehl
Founder, Good Old Days Eco-Florist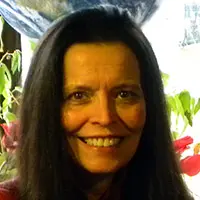 These elements, and others that conjure up images of the season, can provide inspiration for your winter wedding flowers, Mehl says — but don't feel beholden to them. While you may opt for a more traditional winter look, with white roses, baby's breath, and red winterberries, keep in mind that this is, after all, your wedding, and whatever decorations you choose should match your aesthetic.
"Don't be afraid to get creative with your winter wedding floral décor," she says.
A winter wedding, Mehl notes, doesn't even have to include flowers typically associated with the season. "Depending on when in winter your event is happening, you can weave in hints of first spring as well!"
With so many beautiful flowers to choose from, you might feel overwhelmed when it comes to creating a stunning backdrop for your nuptials. To provide some guidance, Mehl offers her top four winter wedding flower trends for 2023.
1. Green winter botanicals: The evergreen trend
"From the cypress and pines in the southern states to the spruces and cedars of the north, no matter what part of the country, whether temperate or seasonal, evergreens are always top of mind in the winter," Mehl says.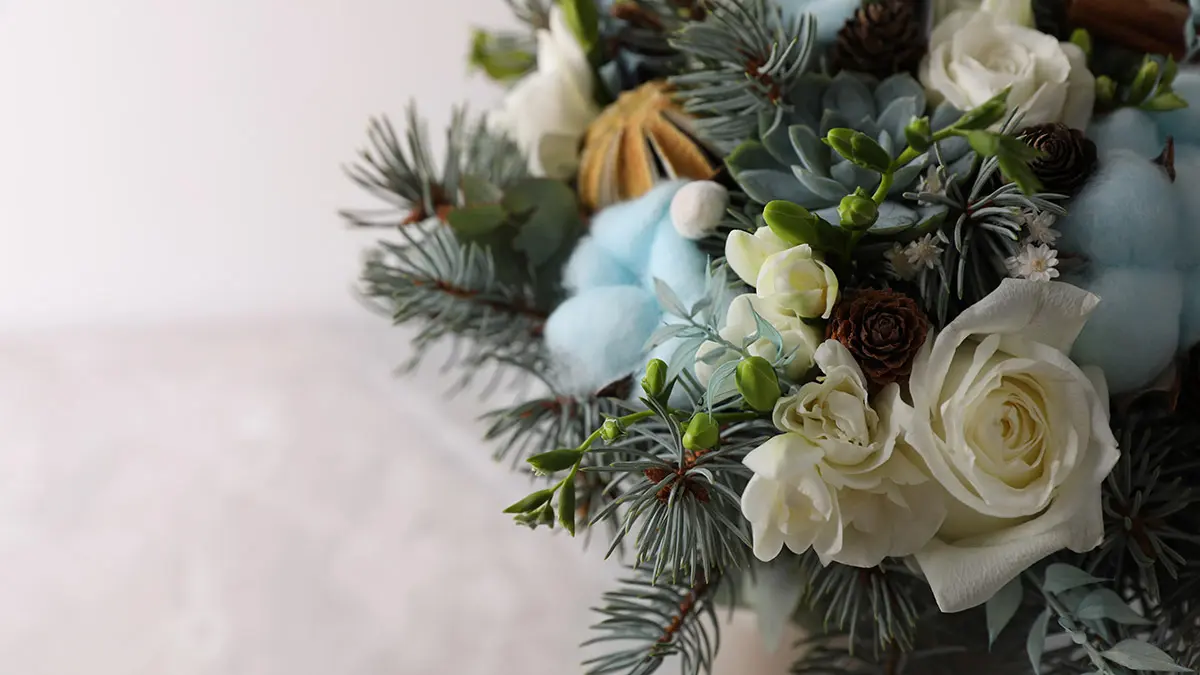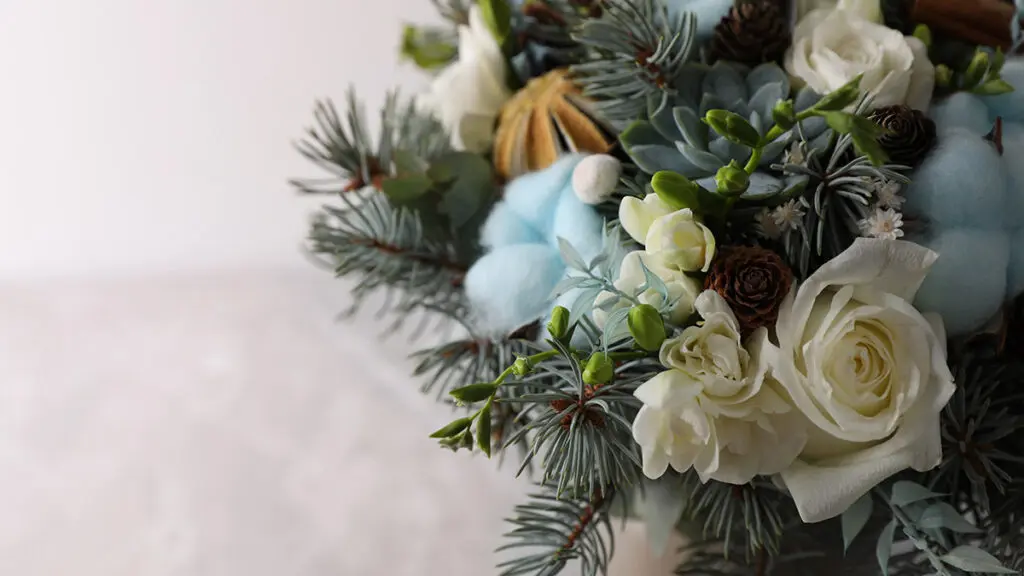 So, how do you showcase these evergreen treasures in your wedding floral décor? Mehl suggests mixing two popular trends, weaving a natural "unconstructed" look with a popular vintage wedding style. "Consider a bouquet of mixed evergreens with bits of dried flowers, magnolia and kale, miniature pine cones, and even mosses," Mehl encourages. For even more drama, add sprigs of baby's breath along with a multitude of satin shower ribbons, she suggests. "The effect makes for a beautiful and historical representation of the season."
2. Holiday time trimmings: The spirit of Christmas
"Holiday bouquets have always centered on a Christmas spirit, and still do," Mehl explains. Many brides have opted in the past to include a small cross amid a bouquet of lush evergreens to signify the promise of new life. "They often surround these greens with red everything and anything," Mehl says. But now she is seeing a new twist on this classic Christmas wedding look. "The trend is for the festive bouquet to include tiny, vintage ornaments or little silver bells on shower streamers to ring as the bride walks down the aisle." Sometimes these items come from one or both couple's families, bringing "something old" to this new stylish trend.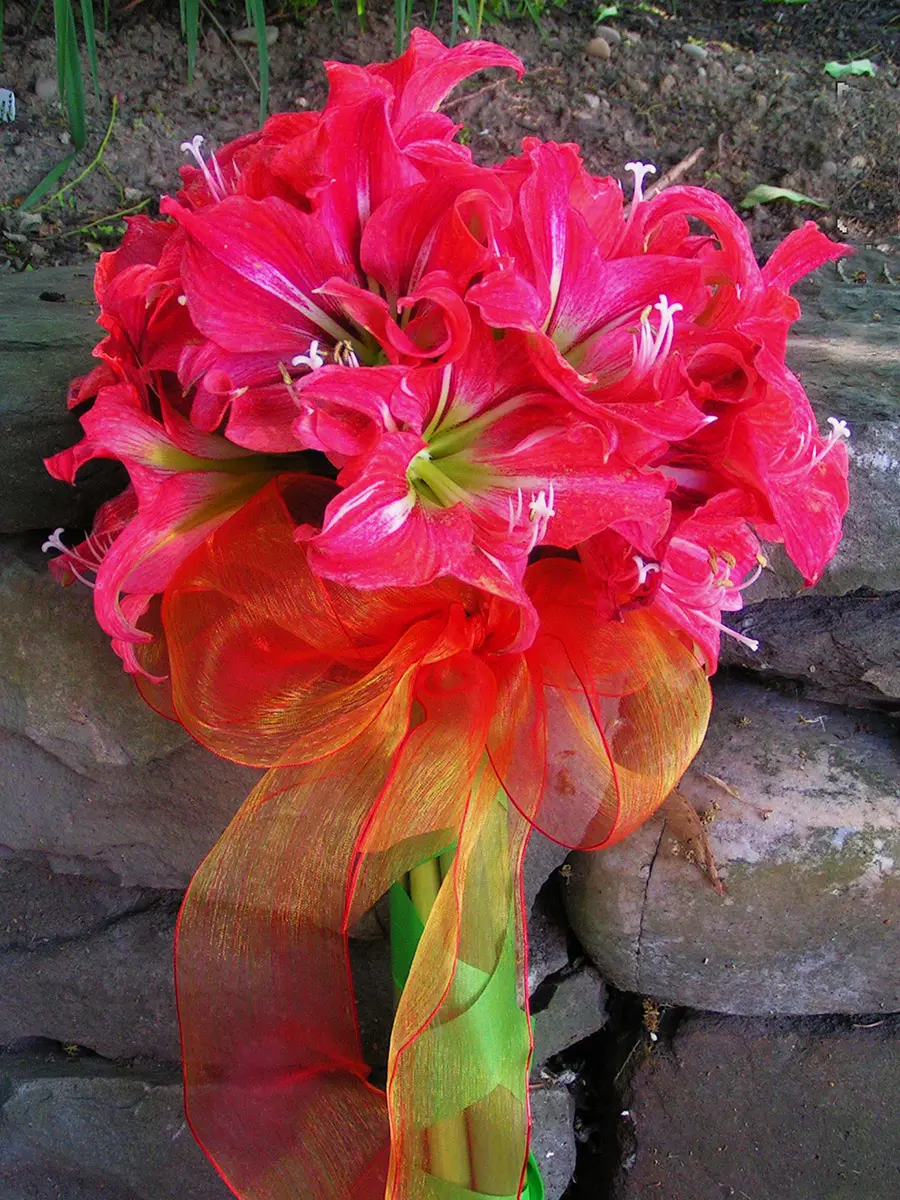 As for the red floral elements, couples are opting for classic and simple choices, "such as a solid bouquet of stunning dark roses or an arm bouquet of red amaryllis. Then evergreens or evergreen trees, such as lemon and magnolia, provide the winter background," Mehl explains.
Her favorite up-and-coming bouquet choice for couples looking to infuse the holiday spirit into their special day is "a lush bouquet of holly, with its bright red berries, to represent 'domestic happiness.'"
3. Winter wonderland: January sparkle
It's impossible to think of a winter-themed setting without imagining strings of enchanting twinkle lights. "The ethereal appeal of the dreamlike winter wonderland never wanes, and for good reason," Mehl says. "Everything in snowy winter is white, crisp, sparkling, and magical…so what better background for a bride to be surrounded by?"
In addition to using Christmas lights on and around the ceremony site, Mehl says to play up the enchanted aspects of a winter wonderland theme and embrace the popular 1940's floral trends that have come back around, with "large bouquets of snowball hydrangeas accented with fluffy cotton bolls, faux pearls, and fresh lemon leaves." For the reception, she suggests adding a mix of "paper snowflakes, white birch, and lacy hemlock and blue spruce evergreens with candles everywhere" to create an instant wonderland.
4. Late winter wedding flowers: Add hints of spring
For couples who choose to hold their wedding in late winter but before spring has sprung, finding a floral décor that bridges the seasons is a great way to make a splash. "Although the winter season is nearing its end, evergreen bouquets are still perfect as a base bouquet, but you can freshen them with the first blooms of spring," Mehl explains. "In many parts of the country, early spring flowers, such as white tulips and narcissus, are available by late January. You can pair these with delicate Muscari (aka grape hyacinths) and miniature roses for a truly gorgeous result."
Silver is a trending late winter color, and "popular accents this year will include silver artemisia, snowberries, and the perennially popular varieties of eucalyptus. Complementing evergreens are juniper, with its blue berries, and the feathery gray cypress, both touched with a bit of faux snow just to keep the winter wonder."
---