Get Inspired by These Wine-Themed Wedding Ideas From a Real 1-800-Flowers Bride!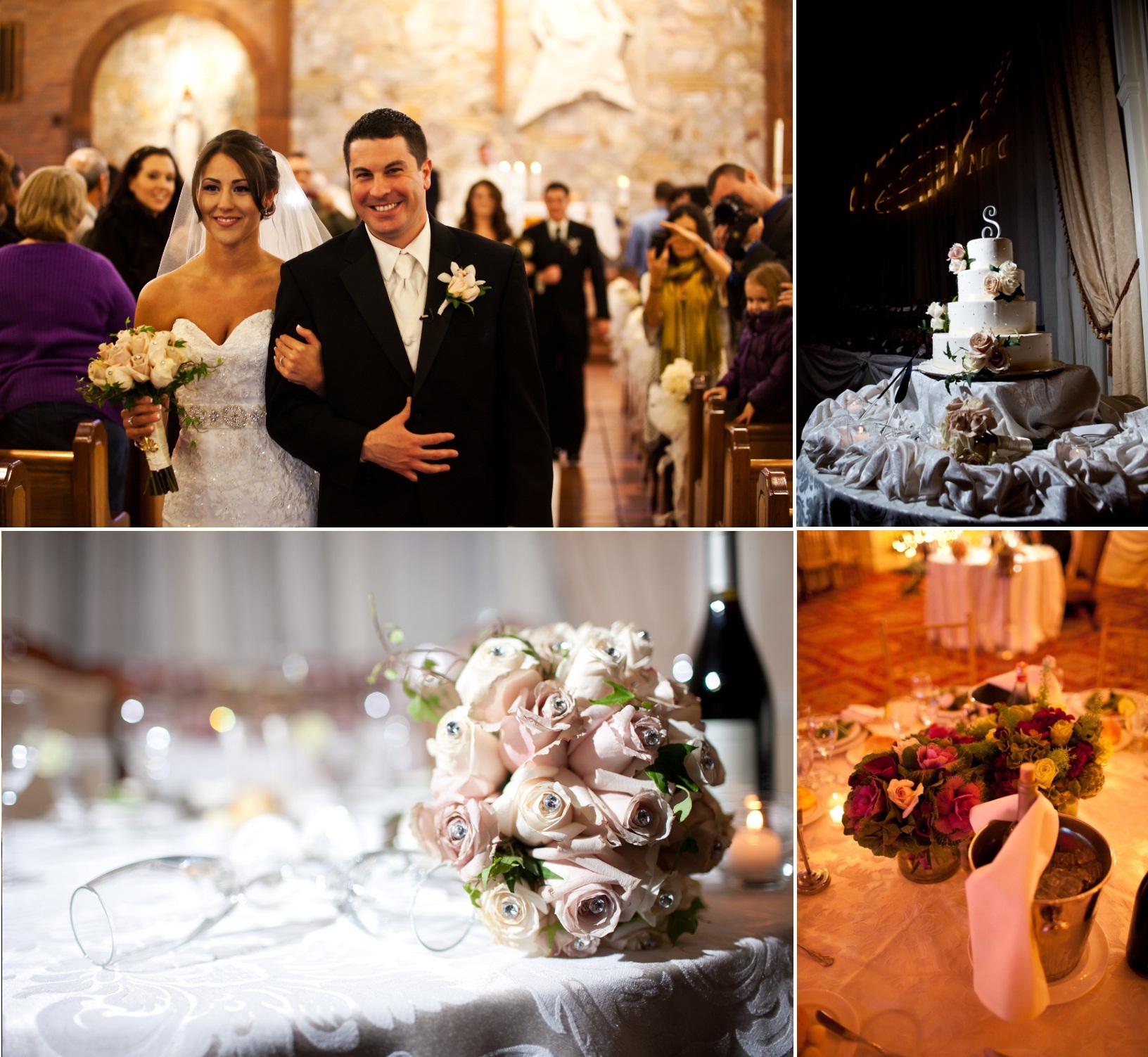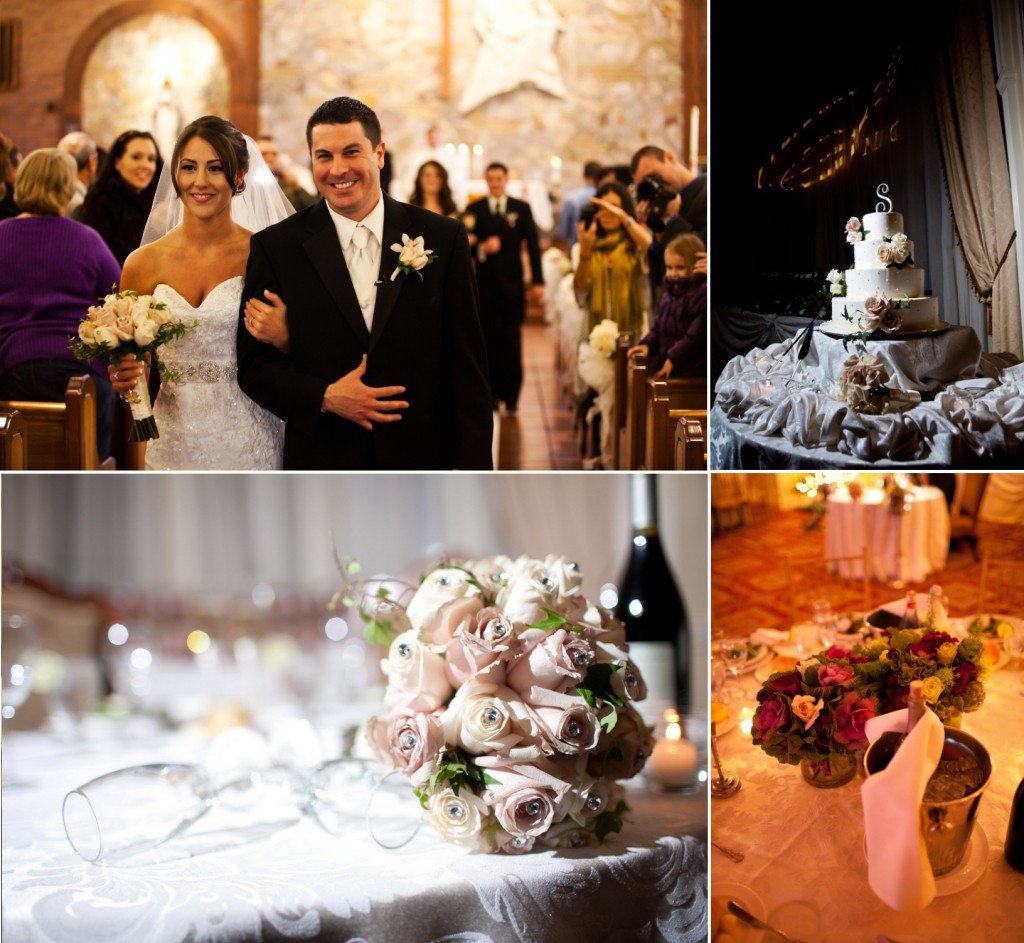 When Marianna, our Senior Email Marketing Manager, exchanged vows with her hubby, Chris (who also works at 1-800-Flowers as Director of Merchandising!), on November 19, 2011, it was an occasion to celebrate. So to raise a toast in honor of their love, Marianna chose an intoxicating theme for their wedding: fall vineyard! From the deep merlots to the champagne whites that abound during the season, their wedding perfectly captured the rich and fragrant essence of autumn. The fall time has always had special meaning to this couple, so it was only natural that they plan an autumn wedding and infuse it with everything they love about the season—especially those naturally luxurious fall colors.
"Chris and I love wine and enjoy going to the vineyards during this time of year," says Marianna. "Drinking wine together at the vineyards is one of our favorite pastimes. Incorporating these memories and colors into the wedding had a personal meaning for us on our special day."
Learn all about how Marianna and her 1-800-Flowers floral designers—Julie McCann-Mulligan and Cynthia Thompson—used those rolling green fields of grapes as inspiration to create simple yet decadent wedding décor. Then, use her fall wedding inspiration tips to express your punch-drunk love on your own wedding day!
The Wedding Color Scheme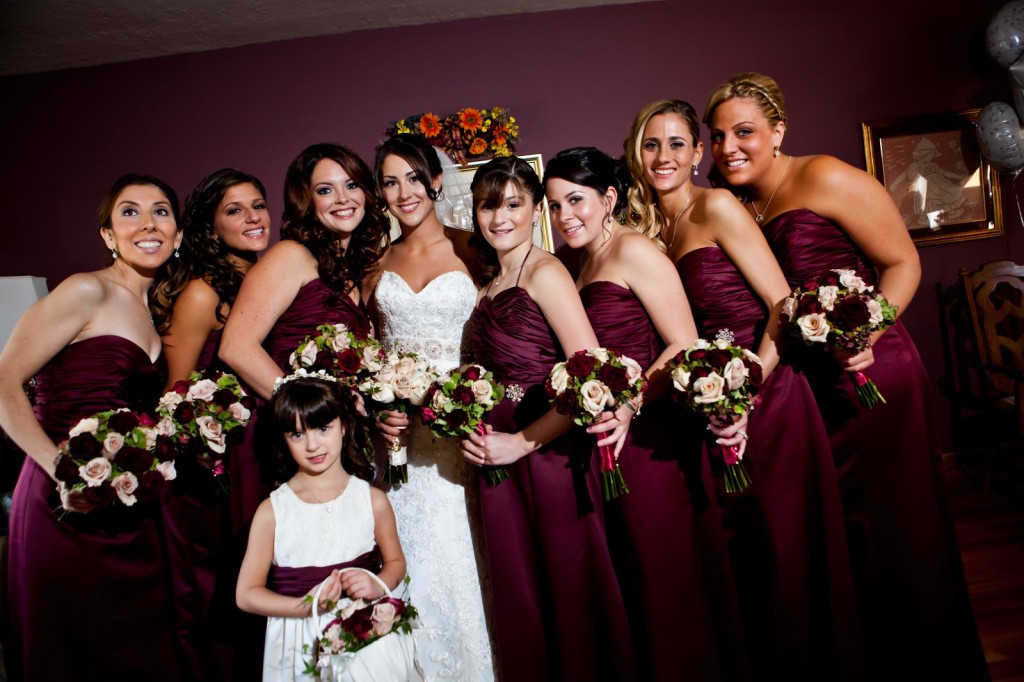 To give her wedding the vintage vineyard look she loves, Marianna opted to pass on the typical fall colors, like oranges and yellows, and instead went with the lusher, more opulent colors of autumn. The romantic mood that could only be set by a good bottle of vintage wine was recreated with the deep, rich red color of the bridesmaids' dresses.
"The color of the bridesmaids' dresses was actually called 'Merlot.' When I realized that, I knew we had picked the right color for the dresses!" says Marianna.
With this sumptuous shade of Merlot at the center of her color scheme, Marianna completed the look with hues of old-world ivory, mossy greens, and velvety purples.
The Wedding Centerpieces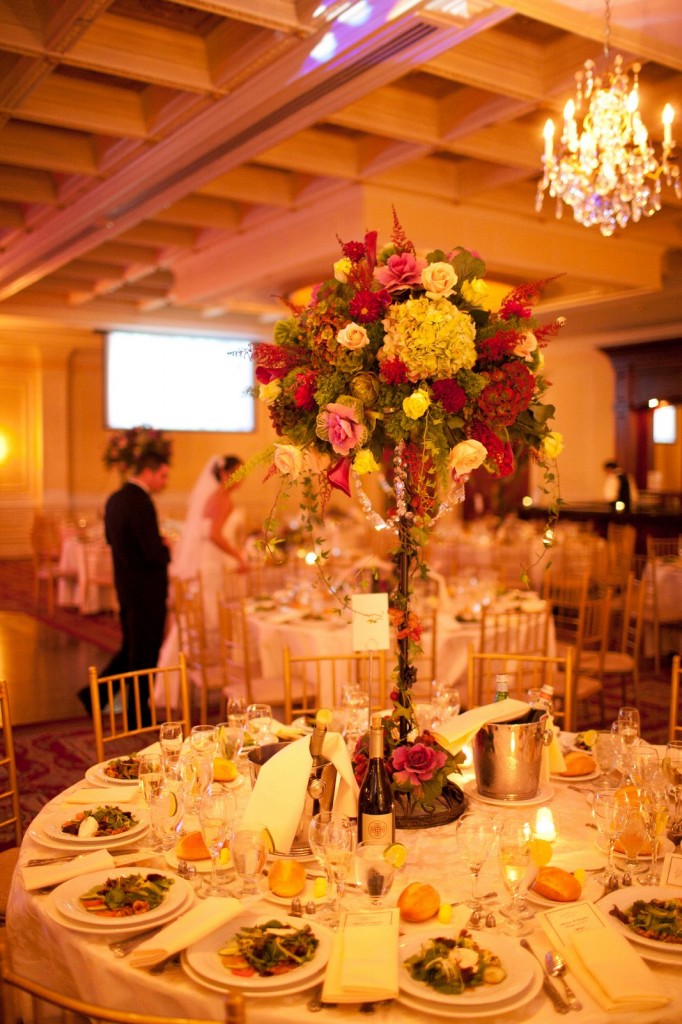 To keep the vineyard theme going, Marianna and her floral designers selected a mixture of unique flowers that matched the look they were aiming for. For the place card table, they even arranged flowers in a vintage wine press, and guest cards were displayed on repurposed wine corks! But because fall is most famous for its bountiful harvest, Marianna chose to add some natural, unexpected elements to her flowers: food!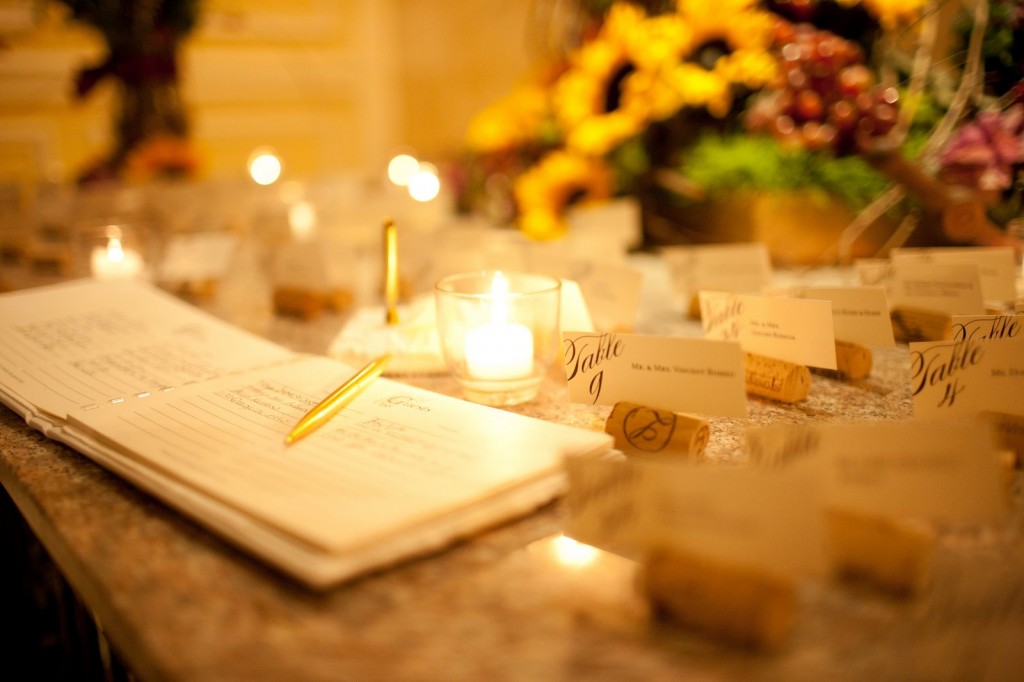 "A floral trend I've noticed a lot lately is incorporating fresh produce with flowers," says Marianna. "For our fall vineyard theme, we chose to use fresh grapes, kale and artichokes in our wedding flower arrangements. It was so unique, and our guests were very impressed!"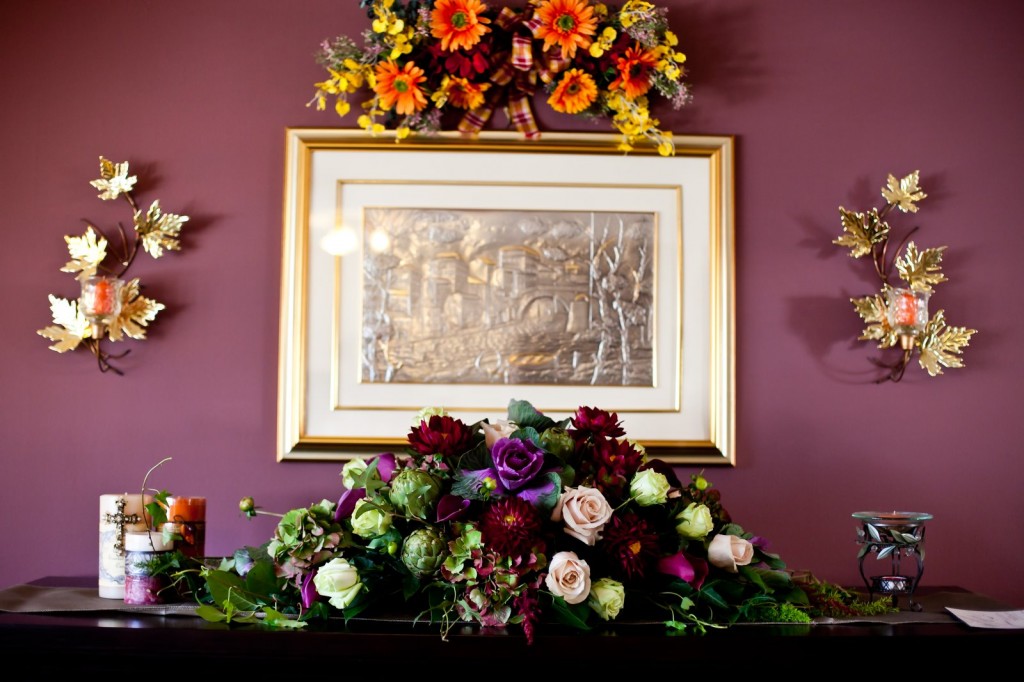 Tying everything together and paying tribute to her Italian heritage, Marianna also chose to decorate her bistro tables with lanterns, sunflowers and cascading grapes. Set against the backdrop of a piazza-style ballroom, this wedding was the next best thing to strolling through the sun-drenched chateaus of Tuscany.
The Bridal Bouquet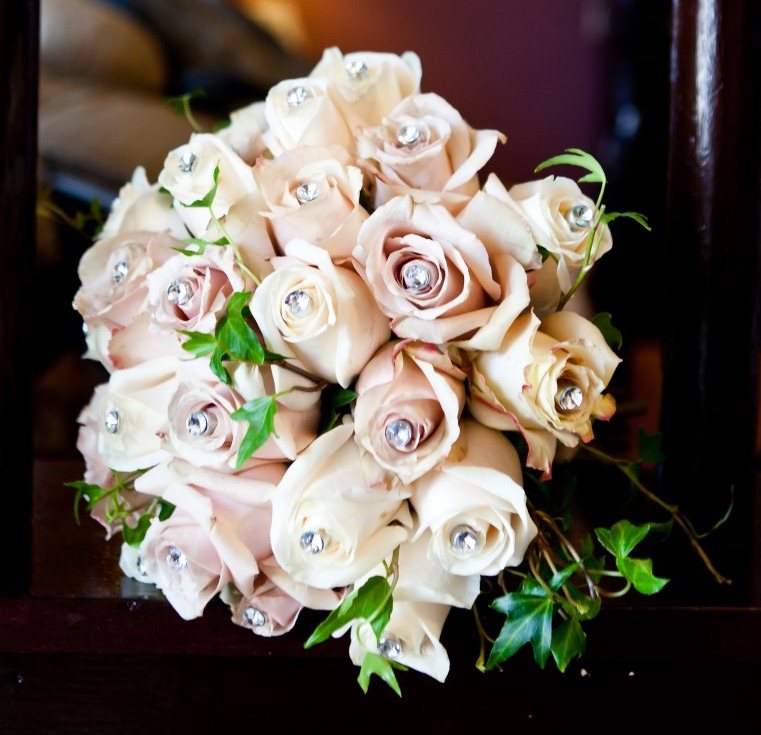 Roses are Marianna's favorite flowers, so they were a must for her bridal bouquet. But rather than going with a traditionally colored rose, she and her designers preferred an ivory rose that had an almost antique look. The edges of the flowers were tinged with a soft pink color that complemented the bridesmaids' dresses and bouquets. In addition to being bejeweled with brilliant little crystals, Marianna's bouquet was also given another unique touch that was evocative of the twisting and curling of grape vines: Woven between the vintage-inspired roses were verdant green strands of ivy.
But the truly personal and meaningful element of Marianna's bridal bouquet was her grandmother's gold pin from Italy, which she added herself.
"I'm very close with my grandmother, and I wanted to use something of hers as my 'something old.' She gave me a beautiful pin, which actually had an ivy vine design for me to pin to my bouquet. It went perfectly with the flowers," says Marianna.
The Bridesmaid Bouquets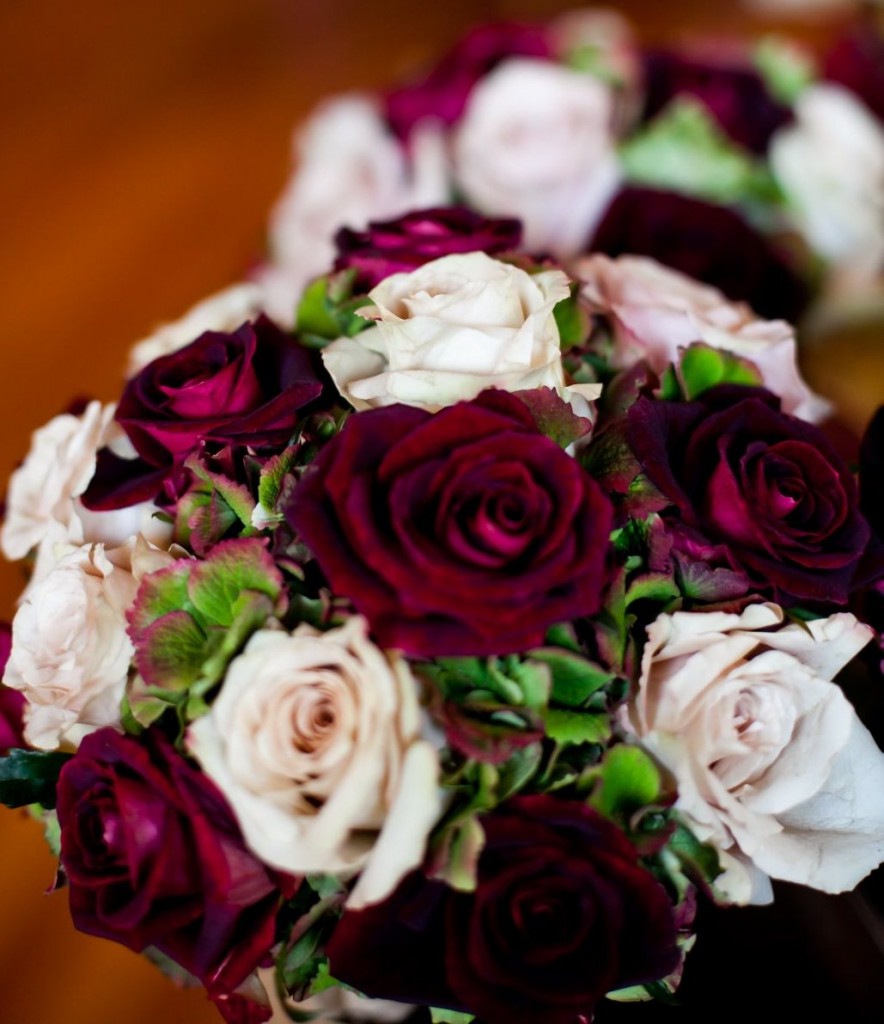 The bouquets held by Marianna's bridal party incorporated all of the most beautiful and important aspects of her winery-inspired wedding décor: Merlot-colored roses to match the bridesmaids' dresses, vintage-y pink roses to harmonize with the bridal bouquet, and bright greenery to complement the fresh produce in her unique centerpieces.
The groom picked his boutonniere himself and gave it his own unexpected twist: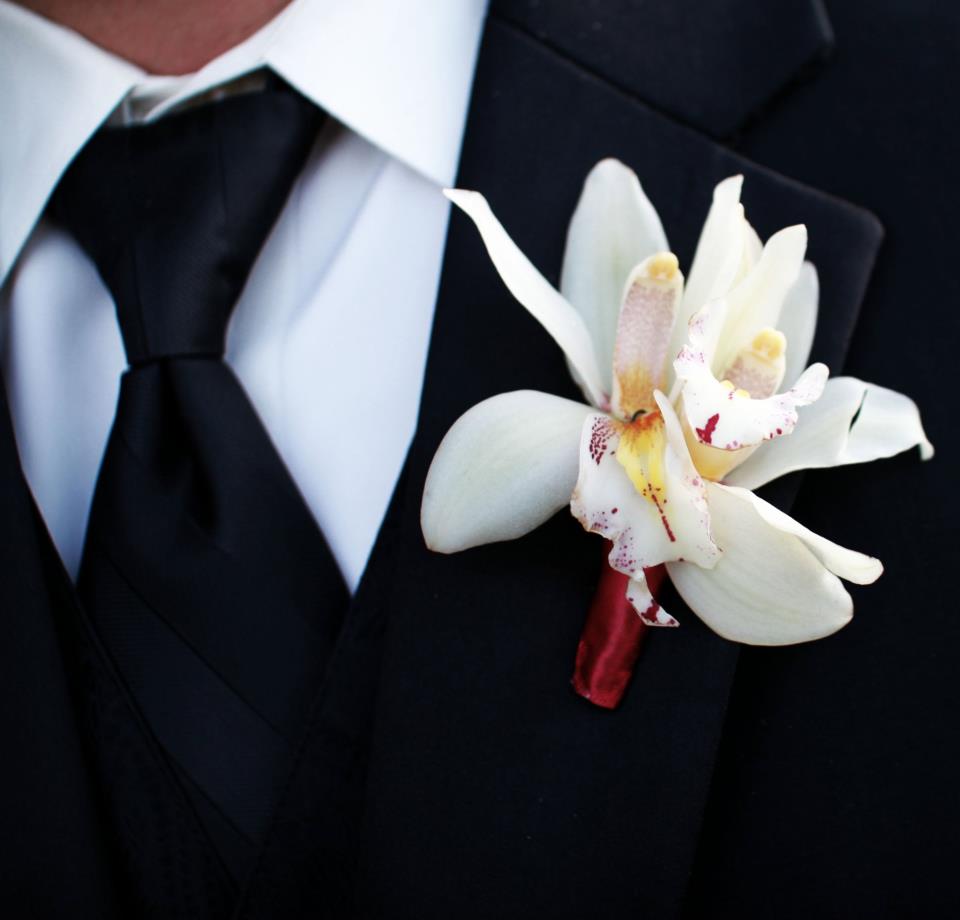 "One of Chris' favorite flowers is the orchid," says Marianna. "When he expressed he wanted to use this for his boutonniere, I was a little nervous that it wouldn't match our fall theme since it's a tropical flower. However, our designers made it work! We used a white cymbidium that had just a touch of red, which tied in nicely with our other flowers. They also added a spray rose in the same color that I had in my bouquet so that we had the same flowers—something a bride and groom traditionally do."
What do you love most about Marianna's vineyard wedding? Tell us which of her décor tricks you'd want to incorporate in your own wine-themed celebration!