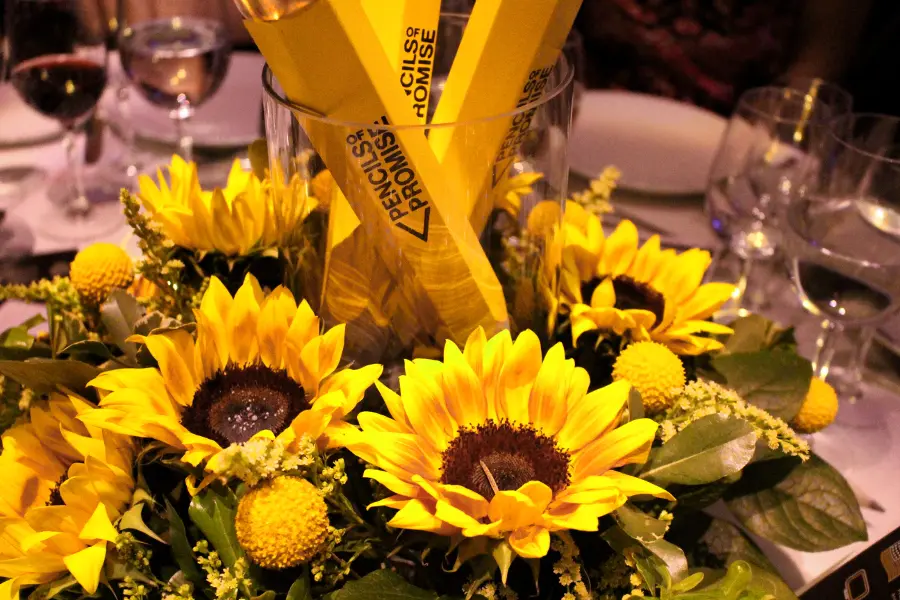 NEW YORK, NY – On Wednesday, October 21, 2015, Pencils of Promise celebrated their 5th annual gala at Cipriani Wall Street in Manhattan. Pencils of Promise is a global community that believes everyone has the right to quality education, and takes action for the cause by raising funds to build schools in countries where children are often deprived of that very right such as Ghana (Africa), Guatemala (Central America), and Laos (Southeast Asia).
Since 2009, Pencils of Promise has grown leaps and bounds building 319 schools, with 33,856 students served! Even though PoP has made amazing progress, with 250 million children lacking basic reading, writing, and math skills, they believe there is more to be done, which is what brings us to the reason for tonight's gala.
For all five galas, 1-800-FLOWERS.COM has been thrilled to have the opportunity to work with and support Pencils of Promise, and are honored to have donated the education inspired sunflower centerpieces for this year's event.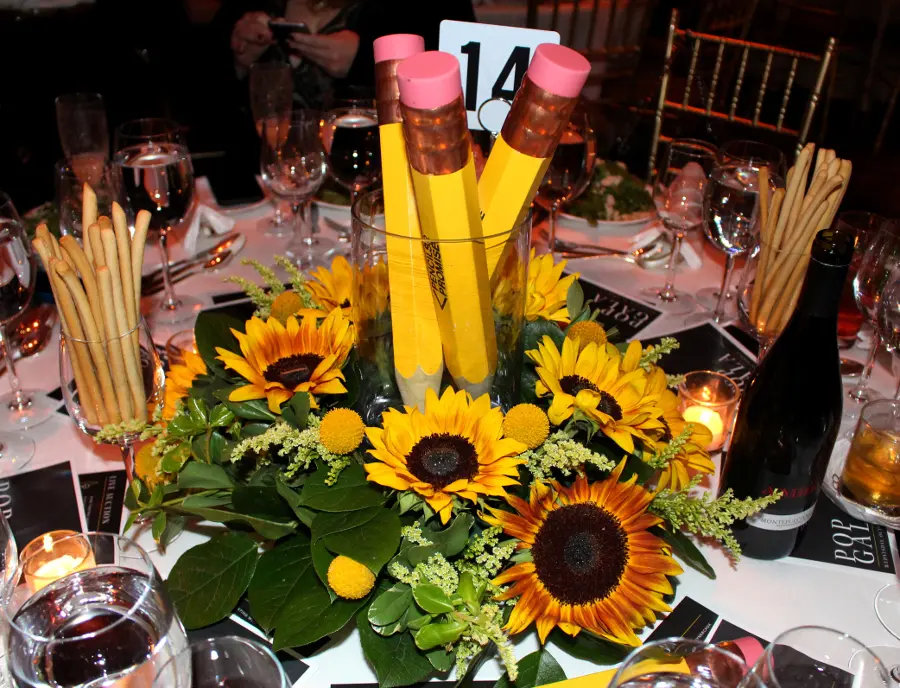 1-800-Flowers.com Vice President of Brand Strategy Lisa Hendrikson manages the Pencils of Promise relationship and enthusiastly stated: "1800Flowers is proud to be a longtime supporter of Pencils of Promise. Partnering with this amazing organization over the past 6 years, including our Prom Program and support for all 5 galas, has allowed us to witness the amazing growth of schools and students firsthand. 1800Flowers' mission is to deliver smiles and we look forward to a continued relationship with Pencils of Promise in their efforts to deliver smiles through education worldwide."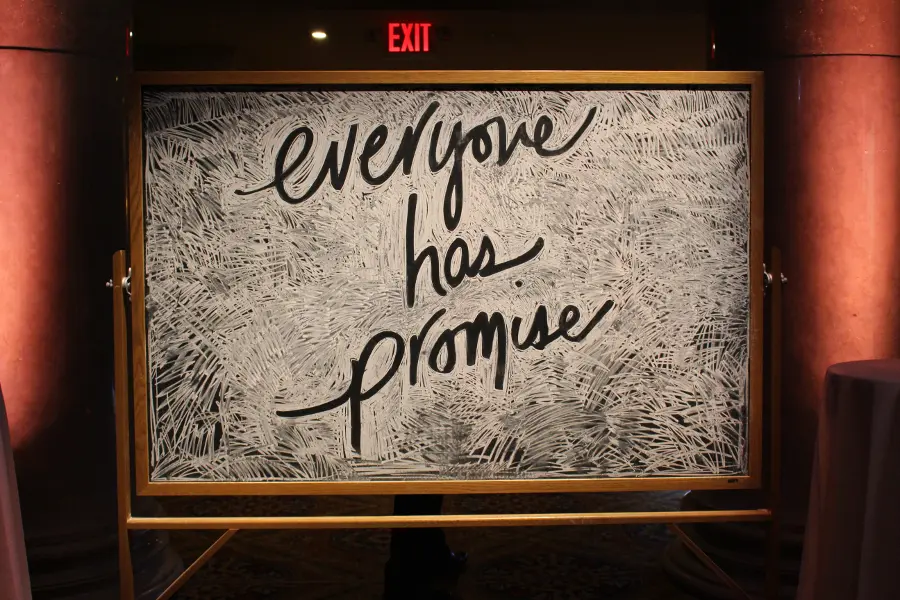 To kick off this year's Gala, Adam Braun, Gala Host and Founder & CEO of Pencils of Promise, introduced a very special musical guest… John Legend!  After speaking about the importance of education around the world in addition to praising Pencils of Promise for the amazing work they do, John also delighted the audience with his amazing voice by singing "Bridge Over Troubled Water" followed by his GRAMMY Award winning hit "All of Me," while playing piano.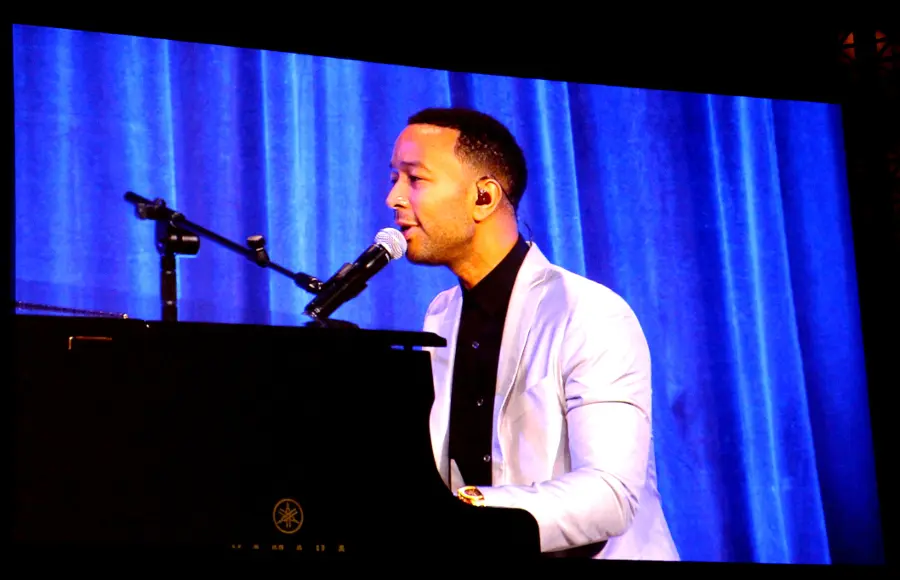 Although Mr. Legend was a hard act to follow, the Gala continued by honoring extraordinary Pencils of Promise supporters. Leslie Engle Young, PoP Director of Impact started as Country Director in Laos and now helps the entire international team who she describes to be "the most inspiring people in the world." PoP CEO Michael Dougherty was one of the next speakers who "got hooked" to the organization through his 3 daughters. In addition to dedicating two schools to both John Legend and his manager for their gala contribution, Michael also shared his heartfelt connection to PoP by telling heart wrenching stories of witnessing illiteracy around the world firsthand. "A life of literacy is light and full… Let's guide them to a literate life," encouraged Dougherty.
The next speaker and honoree was Mike Weiss, VP of Growth for Maple Food Co., and Founding Member and current Board Member of PoP.  Adam and Mike were friends since middle school and Mike told stories about the early days of Pencils of Promise.  He thanked his parents for his education (who were in the audience) and expressed how much PoP has positively impacted his life, and how fortunate he feels to continue to help kids around the world receive quality educations. The next honoree of the evening was Salesforce & Salesforce Foundation, a longtime supporter of PoP. Salesforce Foundation President Suzanne Dibianca and Salesforce.org CEO Rob Acker accepted the honor.  While helping Pencils of Promise which they described as a joy and an honor, Suzanne mentioned how much they themselves have learned from Adam, who gave the great advice to "think big, keep it simple, and stay focused." Rob Acker & Suzanne Dibianca.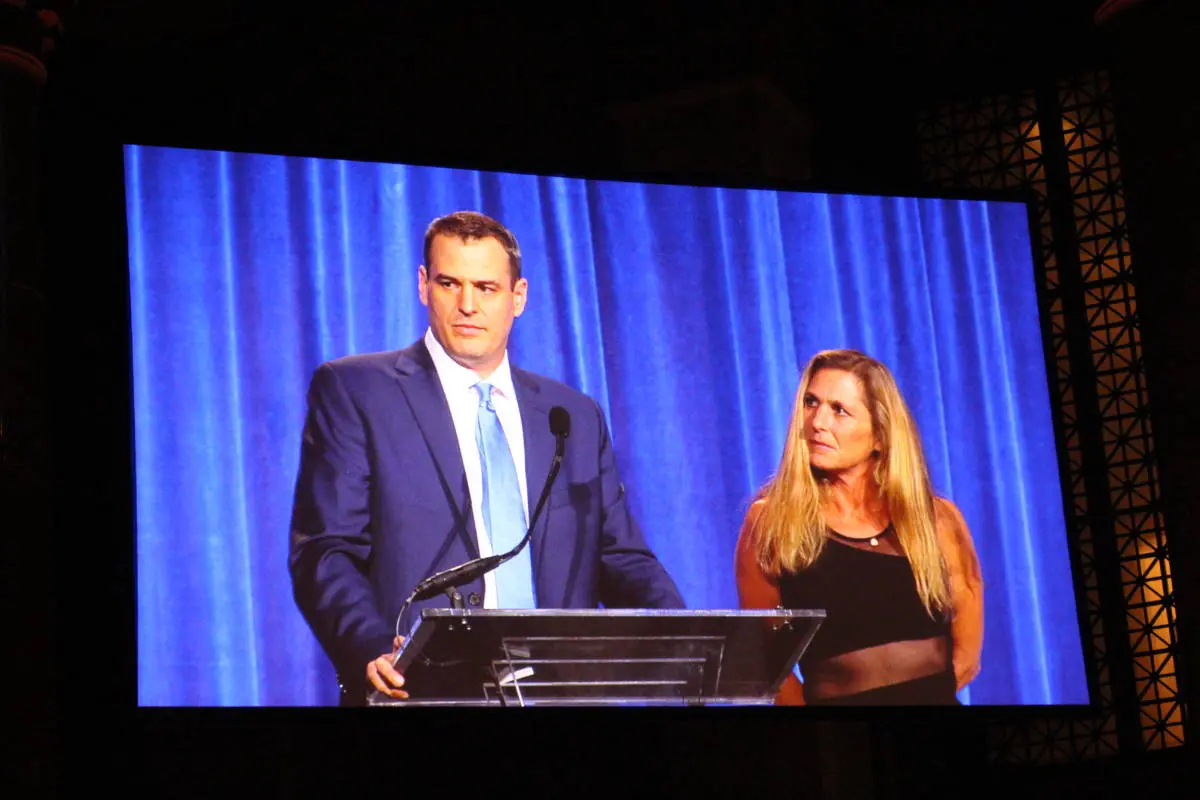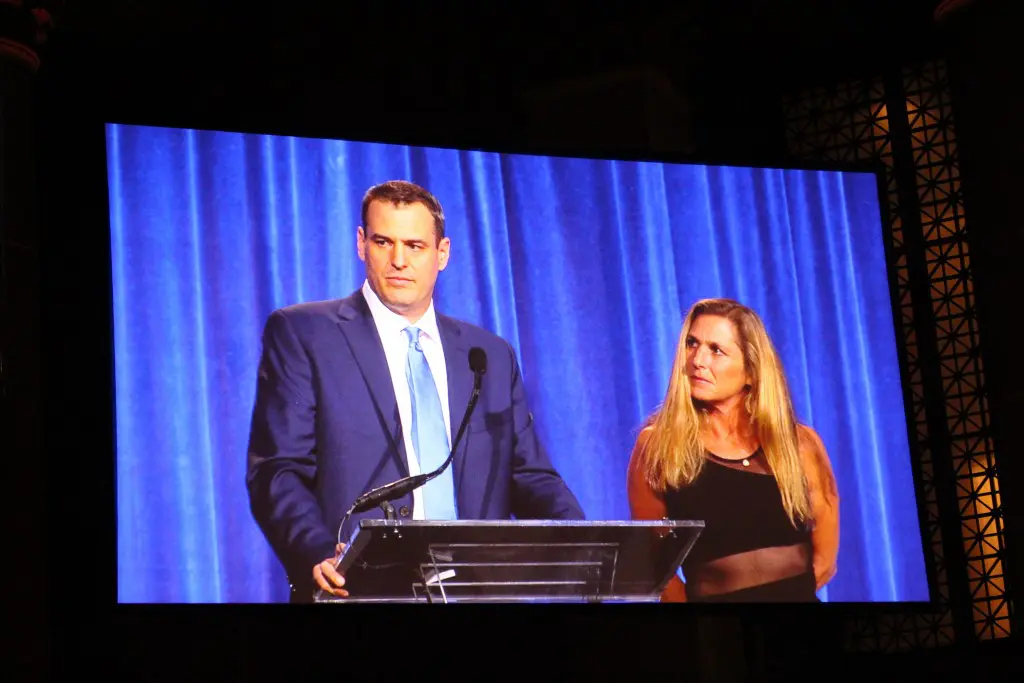 Another speaker who took the stage to tell his heartfelt Pencils of Promise story was PoP Guatemala Country Director, Jorge Bolom. As a native Mayan language speaker, Jorge spoke about the difficulty in writing, reading, and speaking in Spanish like his teachers. Thanks to a scholarship he received, he was able to continue in education, and now helps with the PoP initiatives in Guatemala which gives him great joy.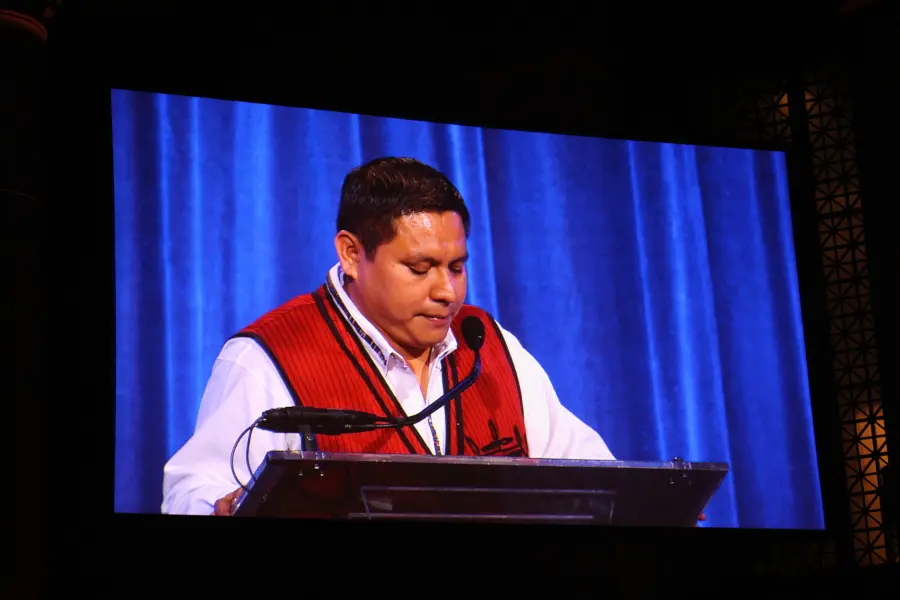 Last year's Gala Honoree and CEO of Vaynermedia, Gary Vaynerchuk spoke next about his love and respect for PoP, followed by an introduction to the lively Auctioneer, CK Swett who then took the stage to start the live auction. Live auction items included an exciting mixture of donation gifts: Wine Tasting with Gary Vaynerchuk, #EDUCATIONLIFTS Artwork by Kelsey Montague (recently made famous by Taylor Swift), a Vaynermedia Internship, the Malala Experience featuring a screening of her new movie, the Clinton Experience including getting a chance to attend an event with the former President himself!, and the Usher Dance Experience which Usher himself presented! During the auction, CK Swett enthusiastically emphasized, "We're building schools!!"
Other cool things to note about this awesome organization include: every dollar donated goes directly to their education programs, all Local Leaders for the schools are from the country they're leading, and every school opened to date is successfully educating students daily and is fully operational.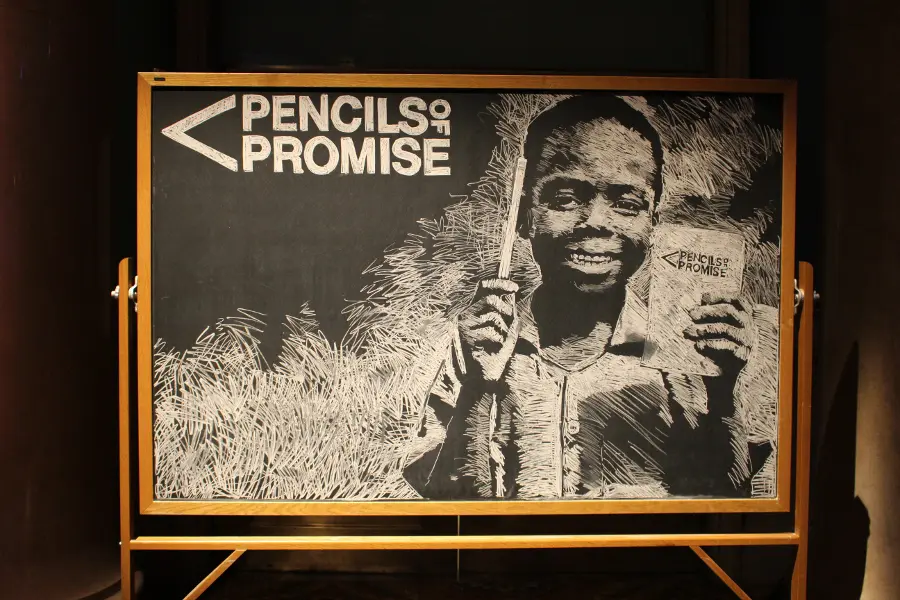 If you'd like to learn more about Pencils of Promise, please visit their website at pencilsofpromise.org and thanks to everyone at the organization for the amazing work they do, and for allowing 1800Flowers to be part of it.