Love Knows No Bounds
The COVID-19 pandemic has caused massive upheavals in consumer spending. As people change the way they gift and spend, our State of Gifting report gives you a look into the changing patterns of consumers during these turbulent times. Season of Love Gifting Behavior: 2020 vs 2021
Although our lives drastically changed in 2020, we discovered that love is still very much in the air in 2021. Some people sent more gifts this year to more recipients compared with Valentine's Day last year.
Others planned to ensure their loved ones would receive gifts in time: We saw a 12% increase in early orders. And most notably, we discovered a little extra gifting went a long way — with a 74% increase in 100 premium long-stem roses orders and a 31% increase in add-on-cart items like chocolates and balloons.
We also found that people were very interested in engaging in dialogue and joining the conversations prompted by our brands about how to share appreciation and affection during 2021's season of love. Plus, we saw a tremendous increase in social media engagement on the topic of love compared with last year.
Love is a Verb
Expressing Our Love Language
Love was top of mind this year.

People sent thoughtful deliveries in all shapes and sizes to show how much they care — many with heart-warming messages to match. These word callouts represent the most popular sentiments delivered with gifts during this and last year's season of love.
~6x↑
Increase in eCards sent compared with 2020*
180%↑
Increase in social media engagement compared with 2020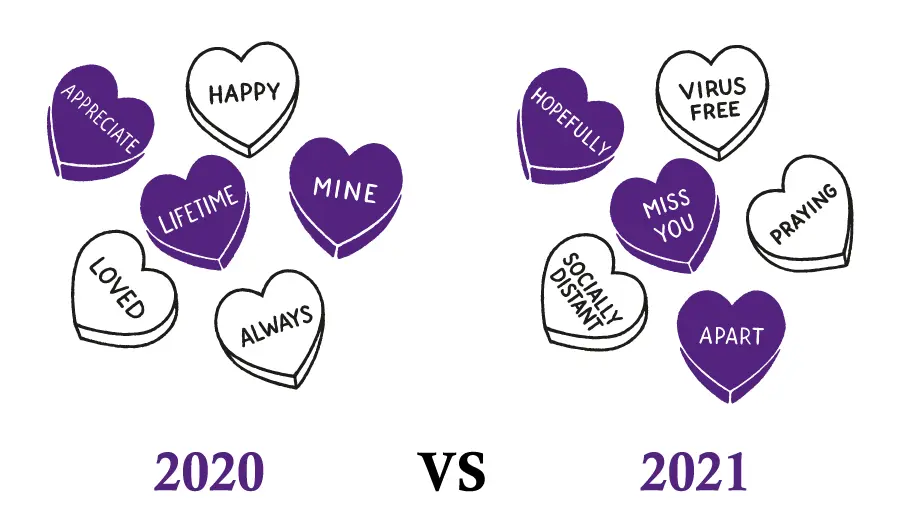 When couples, families, and friends couldn't celebrate together, our online community offered opportunities to engage in uplifting conversations about romantic and platonic love. And online gifting provided people creative ways to show how much they care.
Expanding Recipient Lists
People Shared More Love
People celebrated with friends and family — not just their partner.

This year, people celebrated the season of love by increasingly sending gifts to recipients beyond their significant other, including family, friends, classmates, and colleagues. Not to mention we also saw a double-digit rise in first-time 1-800-Flowers gift-givers.
105%↑
Increase in Galentine's gifts*
70%↑
Increase in Kids Valentine's gifts**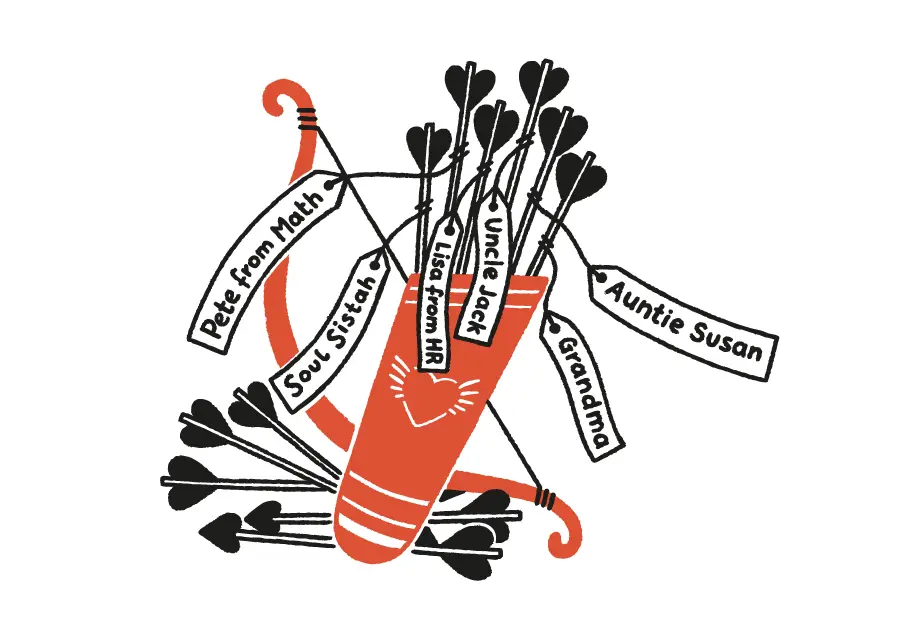 More than ever, people uplifted one another and celebrated relationships they may have taken for granted in the past. That's why this year, people leveled up their gifting game by sending their partner, friends, and family gifts through our brands.
Finding Ways to Celebrate
Gifts Created Experiences
This year, more people had to create their desired outings at home.

We asked our Instagram community to weigh in on what way they would make their Valentine's Day special this year. With choices ranging from a day out trekking, throwing a big celebration, and sending more gifts, the majority chose to spend it cozy at home (79%).
With limited ways to celebrate, people designed their ideal romantic settings at home. Some recreated restaurant moods, others treated their partner to a personalized gift, and some invested in long-term love-inspired décor.
~268%↑
Increase in orders of wine gift packages*
50%↑
Increase in personalized robe sales**
50%↑
Increase in personalized home décor items***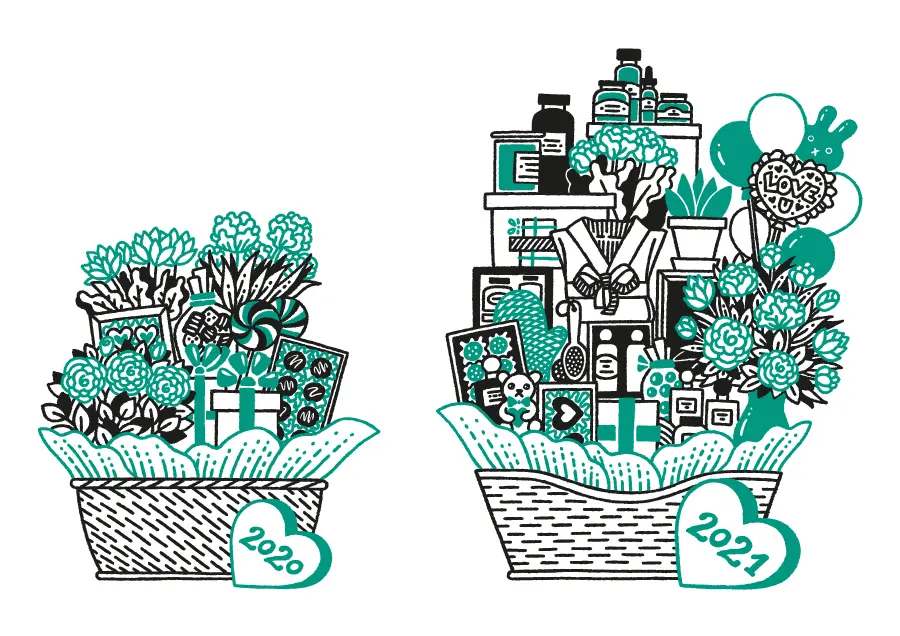 Restaurants and spas may not have been as accessible as usual, but that didn't stop couples from getting creative and enjoying a romantic night together at home. Proving you can celebrate love anywhere; all it takes is a little planning and creativity.
There are #NoLimitsOnLove in 2021
The data confirms what we always believed. There are #NoLimitsOnLove, even during a global pandemic. This season, we received an overwhelming amount of responses around redefining love. Not to mention over 102,000 combined likes and views on our #NoLimitsOnLove Instagram posts. People made new connections, shared their personal love stories, and exchanged thoughts on the building blocks of a long-lasting relationship.
From grand gestures to cozy nights at home, singles and couples stopped at nothing to show their loved ones how much they care. As we move forward into the future, we hope this trend continues even after things return to normal.
Together, we can put more love into the world.
All data unless otherwise noted is from the 1-800-FLOWERS.COM, Inc. family of brands.