Valentine's Day shouldn't be just about romantic love. It should be about celebrating the love you have for everyone in your life, whether it's a child, co-worker, parent, or sibling. Valentine's for all is an opportunity to connect with friends and family, express your feelings, and celebrate all the people who are important to you.
Celebrating Valentine's Day for all takes inspiration from Galentine's Day, Palentine's Day, and other riffs on Valentine's Day — and nobody is left out.
"In today's push to be all inclusive, Valentine's Day for all is an opportunity to include the whole family," notes Jackie Lacy, past president of the American Institute of Floral Designers and director of education and industry relations at Floriology, powered by BloomNet.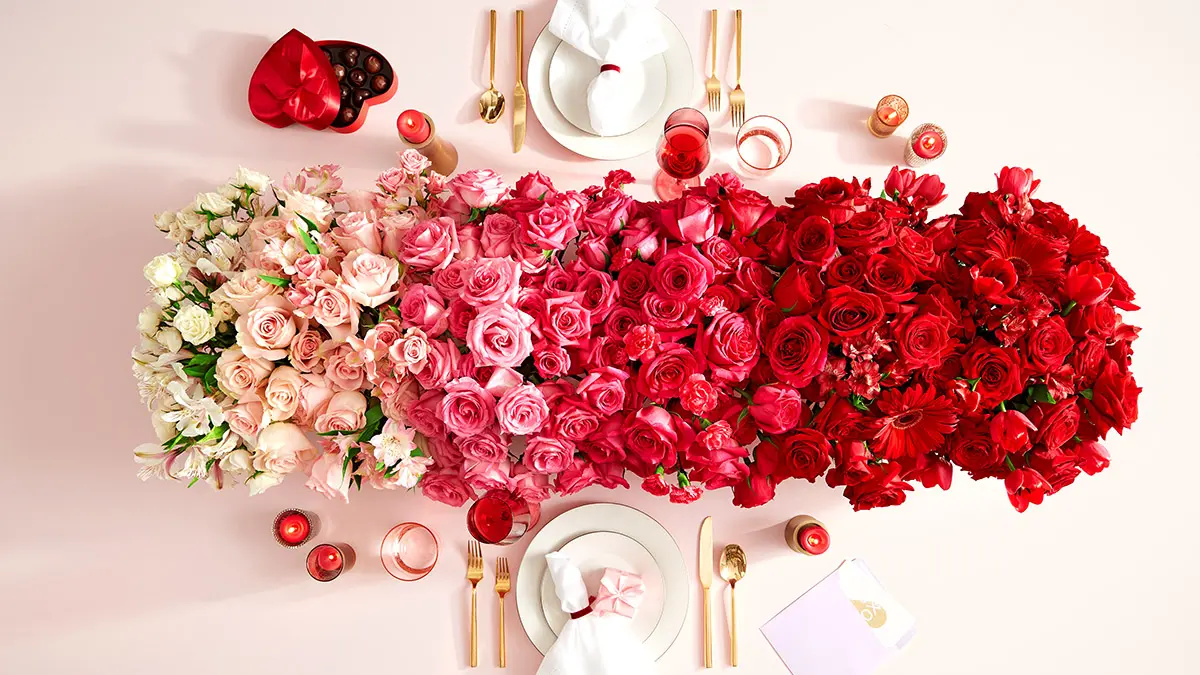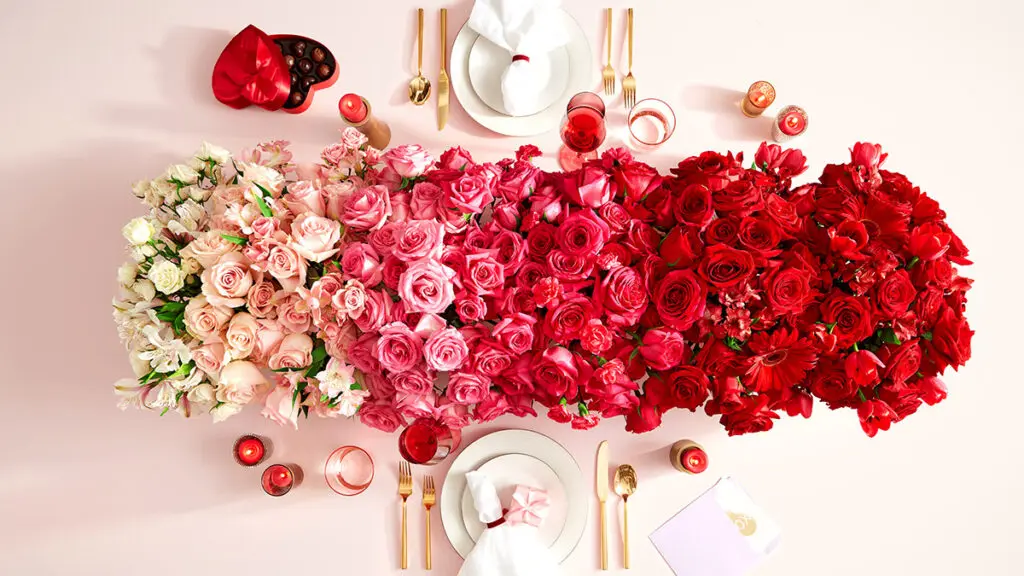 "Use it as a teaching moment for your children about caring for others and that it is OK to love someone without being romantically in love with them," he says. "The more love, respect, and kindness we can show each other, the happier we can all be."
It's time to celebrate love in a whole new way, with a festive gathering for those special people in your life. Here are three fun and creative ways to host a Valentine's Day party for all.
A take on the classic Valentine's Day party
We'll start with a true-blue traditional celebration, with plenty of good food, hearts, and flowers. Think of everything you love about Valentine's Day: red and pink decorations, sparkling hearts, loving messages, and tempting sweets. These are all on the table for showing love in all its varieties.
Invite everyone over for a festive evening of dinner, games, and music. Twister is a game that brings everyone closer together. Another game idea: Ask everyone to write down something they love about someone else at the party in a pretty card. Then, when the party is over, offer each person the card(s) with a sparkling heart attached.
Everyone loves charades, so fill a box with slips of paper naming movies, books, and TV shows that depict friendship, family love, and even pet love. If you like, keep score and give out fun prizes for categories like "Best dramatization," "Least likely to keep mouth shut," and "Most outrageous guesses."
For the feast, consider asking everyone to bring the dish they love best and spread them on a long table set with a pretty spring tablecloth. You may also wish to make the main course yourself; consider mac and cheese or seafood pasta as options.
A cozy movie night
February is the perfect month for movies. Why not screen one with your favorite people in the world? Make it a double feature, with the kids' animated favorite shown during the appetizer course and the second film (preferably one that's appropriate for all ages) showing after dessert.
Host this Valentine's Day party for extended family or make it a gathering of favorite neighbors. Ask everyone to come in their coziest PJs and bring a pillow or favorite stuffed animal.
This is an inside event, preferably with a large flat-screen TV handy. Create a drive-in movie feel with blankets, sleeping bags, and plenty of sitting cushions.
For the food, consider easy treats that people can eat with their hands. Small quesadilla triangles with guacamole, spring rolls, and savory meatballs make a good entrée trio. Then, add strawberry and pineapple fruit chunks and a raw vegetable platter with dips. A fun add-on would be fresh popcorn served in red-and-white striped bags. Serve iced heart-shaped cakes for dessert.
The ultimate "All you need is love" Valentine's Day party
How about a trip back in time to the Summer of Love, with the era's incredible music and a kaleidoscope of colors? The grownups can groove to classic songs from the '60s while the kids try their hand at painting their very own rock band poster or coloring pages with hippie designs. Since this was the era of the flower children, go crazy with flower crowns and flower lights.
1. The guest list
Start with your family and close friends, and make sure everyone knows that kids are welcome! Have fun with the invitations: Make your own, personalizing them with pertinent information and colorful imagery that evokes the message of love: flowers, peace signs, and rainbows.
2. The venue
If the weather is mild, your backyard can be turned into a Woodstock festival setting complete with picnic tables and colorful tablecloths. Colder climates may require an indoor setting, so be prepared and turn your living room or family room into a beatnik paradise. Use props such as strings of beads to make curtains and lava lamps placed on tables.
3. The decorations
Fill the walls with posters of rock and folk artists like Jimi Hendrix, The Beatles, the Mamas & the Papas, and The Doors. Use tie-dyed or other colored tablecloths and create groovy centerpieces with classic flowers — daisies and carnations are great choices.
4. The activities
Offer a karaoke setup and list of suggested songs that all celebrate love. Create a "stage" festooned with colored streamers and a large painted background with the words "All You Need Is Love." The audience can watch comfortably from beanbag chairs or cozy throw pillows. When you're not playing karaoke, make sure the playlist continues with all the great tunes from the era. Set up a small dance floor or designated area in the house, if you have the room.
5. The menu
Serve fun, retro items that recall relaxed music festivals or maybe the classic backyard family barbecue. Start with fun finger foods. For the main course, shape hamburger meat into hearts, make a heart-healthy salad with tons of vegetables, sunflower seeds, and, you guessed it, hearts of palm, along with a dessert board that has something for everyone — just like our broadening of the holiday. For those who prefer to avoid cooking on holidays, there are always food delivery options for your premade favorites.
Other flower ideas for a Valentine's Day party
Take inspiration from Valentine's Day, with a new twist. "Plants, and hand-tied bouquets of mixed flowers in the traditional red, white, and pink colors of the holiday are great," but don't be hesitant to branch out into other, more vibrant shades, Lacy notes.
Buy a big bouquet of Gerbera daisies, separate them, cut 8-by-8 squares of craft paper, and wrap each one around a flower with some green leaves to hand out throughout the day.
Tie a flower to a small box of chocolates for a special treat that says Happy Valentine's Day!
Snap a picture of your flowers and share them with all your social media friends.
Celebrating a day where everyone in our circle feels the love? We're all in!